5 Ways To Prevent Arm And Side Boob Chafing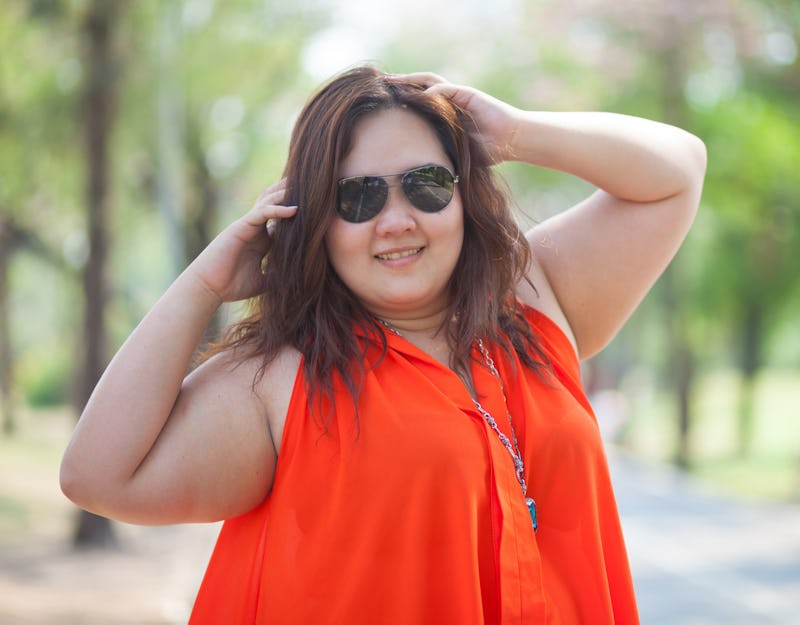 For many women, summer is the time to be on high alert when it comes to the prevention of chub rub between our thighs. We're all pretty schooled on how to avoid thigh chafing, but what are the ways to prevent arm chafing or side boob chafing? You know, the arguably less common but no less painful occurrences.
With the plus size and body positive revolutions upon us, there has arguably never been a better time for women of all sizes to feel free and confident to wear whatever we damn well please. We're starting to say goodbye to the dated (not to mention unfair) notion that anyone who isn't a size 4 should cover up, and instead, many of us are embracing the freedom of wearing shorts, mini skirts, crop tops, bikinis, and sleeveless shirts. To be honest, it feels amazing.
Well, almost amazing. Summertime may be all about shedding layers of clothing and showing off more skin, but unfortunately for many women, shedding layers and showing off skin also result in the chafing of skin. While we are basking in the freedom and glory of it all, we are also biting our lips and screaming inwardly at the burning pain created when our skin sweats, rubs, and chafes.
Although we may have our thigh chub rub prevention routine locked down, avoiding the chafing under our arms and side boob (hey, it happens) may not be something we've mastered quite yet. Let's take a look at five different ways to remedy that.
Co-Ord Festival Top in Sequin, $69, Asos Curve
Many of us adore fancy schmancy tops and dresses. You know, the ones completely covered in sequins or decorated by tiny beads and embellishments. Perhaps you're obsessed with a top or shrug made entirely out of lace. As beautiful as these decorated items can be, they are also one of the worst things to wear when it comes to underarm chafing. The rough fabric of these items will rub underneath your arms and side boob, causing a whole lotta friction. Avoid them as much as possible.
Monki Chambray Shirt Dress, $34, Asos
Like all chafing, arm and side boob chafing are caused by a combination of sweat and friction from the skin rubbing together, so one of the best ways to prevent that area from rubbing is to wear a layer of soft, breathable fabric. Cotton and chambray are always great ways to go, as they are soft and smooth against the skin as well as breathable and absorbent. Whether you're wearing something with short sleeves or sleeveless, having that soft layer on your skin is a sure way to prevent your arms and side boob from causing you grief.
Hanky Panky Signature Lace Aurora Blue Bralette, $68, Asos
If you're anything like me, you have a plethora of sexy bras in your drawer that are not only pretty but that also pull in your cleavage like BAMF. These bras are great, but probably not the best choice when it comes to preventing your side boob from chafing.
If your bra is covered with any lacy detail, has pokey under-wires, or is perhaps strapped too tightly around the middle, it can cause very uncomfortable side boob chafing. When sweating or partaking in any outdoor activity in the summer, make sure you wear a bra that is smooth and fits properly and comfortably.
ASOS Curve Off The Shoulder Dress with Embroidery, $25, Asos
Having anything tight around your boobs and arms is a no-no when it comes to chafing prevention. If you're prone to this kind of chafing, make sure that you stay away from tight bras as well as shirts with small or constricting arm holes that could dig into your armpits. Also, try to avoid anything else that may cause aggravation in the area, such as backpack straps, handbag straps, or a clutch under your arm.
BAN Powder Underarm Antiperspirant, $3, Target
Since chafing is caused by friction and sweating, making sure you keep some antiperspirant handy is key to helping prevent chafing. It may be that your single daily morning application is not enough to keep the all day underarm sweating at bay, so keep a stick of your favorite antiperspirant in your purse or bag for reapplication. Your arm and side boob areas will be totally dry and smooth.
So go forth on your summer adventures with this newfound comfort. Chafing, you ain't got nothing on us.
Images: Fotolia; Courtesy Brands