5 Trends From The '80s & Their Modern Counterparts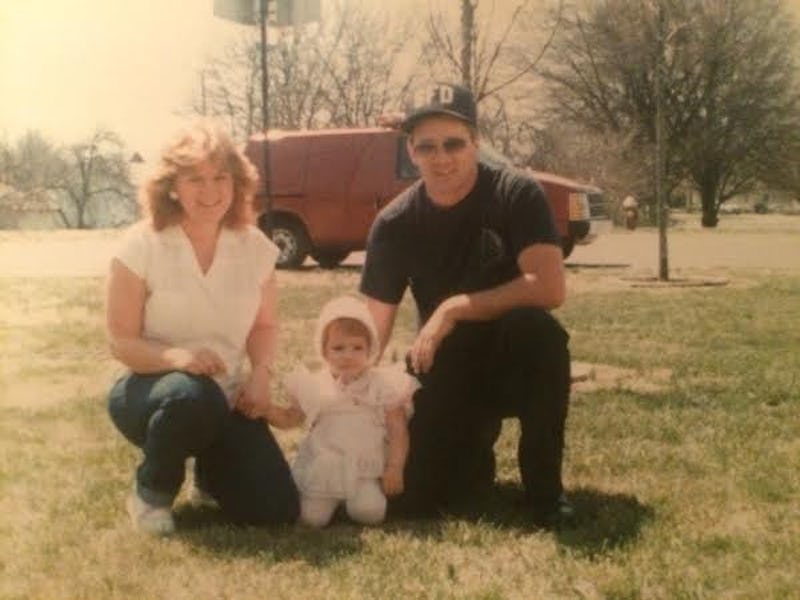 Glancing at the headline "The World As It Was" at the top of one of the pages in my 1984 baby book (filled out by my mother), a huge smile spread across my face. Among the topics included on that page were popular TV shows, current events, and '80s fashion trends. I sat on my mom's living room couch having already looked through the photos from when I came home from the hospital as a newborn.
"Here," she said, placing the book in my hands. "I found it."
Delighted to scour the 31-year-old volume, I squealed when I turned to the aforementioned page.
"This is so cool!" I exclaimed. "OK, I'm definitely doing one of these for my daughter."
As a fashion and beauty writer, the fashion trends list especially caught my eye. It's not hard to find out — and for the most part I already knew — what major styles were trending during the '80s and at the time of my birth from movies, music, and general media circa 1984. However, the particular trends my mom decided to list caught my attention. So here are the five looks she thought worthy enough to record, and a modern day interpretation of these fun and fantastically '80s classics.
1. Mini Skirts
The mini skirt has been a fashion classic since the '60s, but each decade has certainly put its own spin on the leg-revealing trend. In the '80s, however, leather and shimmery nylon materials reigned supreme when it came to the mini skirt.
My mother's idea of a great place to wear her mini skirt back in 1984? The club. "I wore a white mini skirt out dancing one time, and it certainly got the attention of men," she told me.
Mom went on to add that her spray-on tanning lotion was a great accessory to her mini skirt ensemble.
My mom, front and center, with some of her friends in the early '80s.
Our current translation of this enduring fashion feature? Perhaps an ensemble like this one:
Horizontal stripes, classic leather, and the perfect boots to match. Although still probably a staple for the club scene, the mini skirt has now made its way into the professional world. The legendary fashion item will not be denied.
Mini Skirt With Wrap, $18, asos.com
2. Muscle Shirts
My dad, my aunt wearing a rad muscle shirt, and me holding my baby cousin.
The muscle shirt was not quite a T-shirt, not quite a tank top. Essentially, it wore like a tee without the sleeves, and was especially trendy for guys at the time.
In present day, muscle shirts are still around and have, and unlike the '80s trend, seem to be even more popular among the ladies.
It's a great, laid back clothing item perfect for comfortable daywear or for your workout routine.
Americana Freedom Muscle, $18, target.com
3. Pin Stripe Baggy Jeans
Acid wash definitely had its hey day in the '80s, but pinstripe jeans were equally on trend.
My mom in classic denim jeans and me on the playground.
The loose boyfriend jeans are a modern day equivalent, proving that casual, distressed denim never goes out of style.
Destroyed Pinstripe Boyfriend Jeans, $37, wetseal.com
4. Net Shirts
Popular for men during the '80s, net shirts — like the mini skirt — also had a home on the dance floor. Or on the basketball court, of course. The net shirt has morphed into two different styles over the years. It's great for the current athleisure trend and it's a longstanding staple for more gothic looks.
Try out a cool, sporty vibe with a piece like this one.
ELOQUII Bonded Mesh Crop, $47, nordstrom.com
5. Parachute Pants
Who can forget the style MC Hammer probably single handedly brought to hip hop? They've got plenty of room to move in and they're comfortable. What's not to love? While these pants were super trendy at the time, they probably got their fair share of ridicule for the exaggeration of fabric in the crotch area.
"Sure they were popular, but you'd have never seen me in a pair," my dad told me. Dance and hip hop music have never been my father's jam.
My dad in his element at the time of my birth: an immature goofball. He was only 21 when I was born, with a penchant for plaid.
But the modern day interpretation has certainly given parachute pants a return to the spotlight:
Harem pants, anyone? Justin Bieber digs it.
ASOS Petite Harem Pants, $29, asos.com
If the baby book I get for my future daughter has a section for current fashion trends, I'm excited to decide which styles I'll list. I'm sure 25 years from now, she'll get a kick out of crop tops and culottes, unless those particular trends are back in style for her, too. So the world of fashion tends to go.
Images: Getty Images; Courtesy Brands