How Rompers Helped Me Understand Body Positivism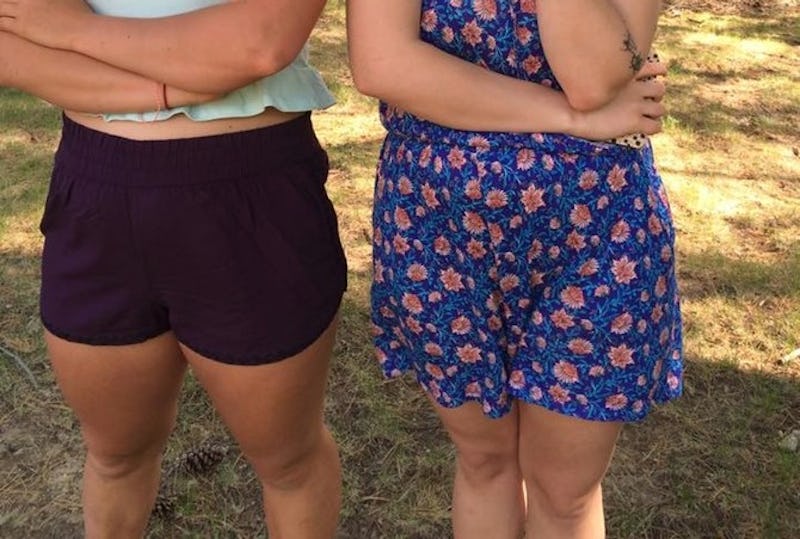 There are few things I love more in this world than the romper trend. I never expected that the super functional and compact outfit worthy of infinite styles and derivatives would impact my perspective on body positivity, though. From childish daywear to cutesy dinner getups to sexy and professional jumpsuits, saying there's a romper out there for everyone doesn't seem too presumptuous. Lately, they've even been taking to the streets, the runways, and the red carpet. For me, however, the romper is much more than a trend.
I got my first romper when I was about 15. It was an all-black casual piece with spaghetti straps and buttons down to the waist. It was definitely more of a "childish daywear" item than a "chic kid of New York" one, and I was obsessed with it. Unfortunately, our relationship was short-lived as it quickly began to fall apart. The elastic band in the waist of the romper broke in the wash, leaving me with a virtually shapeless potato sack. Matters were not helped by the fact that it was a size too small (hey, it was on clearance!), which caused it to ride up into a wedgie of epic proportions.
For one reason or another (maybe rompers just weren't cool enough circa high school; maybe I was disheartened by the death of my first), it wasn't until years later that I decided to give the look another go. In retrospect, I have Hannah Horvath to thank. When GIRLS was released on HBO in 2012, I was quickly hooked. It's a sentiment I credit to Lena Dunham herself, who promptly became one of my feminist role models and official romper ambassador.
There are a million reasons I fell in love with Lena Dunham, but one of the biggest ones was her commitment to body positivity. Her body doesn't necessarily conform to the strict beauty norms laid out by society, but she is unapologetically loving every bit of it onscreen nonetheless. Among her arsenal of quirky cool ensembles, one of Dunham's go-to's on the show in inarguably the romper.
As Dunham explained in one "inside the episode" feature and as GIRLS costume designer Jenn Rogien has also commented on, Hannah is often intentionally dressed in clothing that does not necessarily fit her "perfectly," and the outfits aren't meant to be traditionally "flattering." If you ask me, rompers definitely play into this characterization and costuming.
One thing that held me back a bit from wearing rompers was the concern that my belly would be accentuated too much. With the way rompers cinch at the waist and then transition into a looser version of the high-waisted short, your belly is on full display. As someone who has felt insecure about their slightly larger, more roll-filled tummy, it was hard for me to wear the trend I loved so much.
It was seeing Dunham (who has a similar belly to mine) rock the hell out of romper after romper that became one of my first lessons in body positivity. Slowly, I began to realize that my tummy wasn't something to be ashamed of. In fact, it was something I could take ownership of and actually highlight in any which way I wanted.
It takes a certain amount of confidence to be able to wear clothing that hugs every aspect of your body. In the past, I would gravitate towards larger and looser silhouettes in order to hide any parts of my bod that I thought were "a little extra." When I wore my first romper after years without, I felt very insecure. The way the garment perfectly revealed the shape of my belly conjured up genuine feelings of shame.
Convinced I was on to something in the re-discovery of the item — or that Lena Dunham was on to something, I should say — I stuck with it, continuing to wear rompers every now and again. Gradually, I became more and more comfortable with what I was seeing in the mirror — what I was showing the world with intention and no apology. It occurred to me that it was pointless to be ashamed of my belly. It was a part of my body and I wanted very much to learn how to love it.
These days, I can proudly say that I feel amazing in a romper. I love my belly, and no longer shroud it in embarrassment embodied by extra fabric. I love the way my romper shows off my tummy in the same way that I love how it shows off my legs and breasts. My belly deserves to be shown off and accentuated like the rest of my body, and it's only through forcing myself to wear something with the potential to breed insecurities that I actually got over those insecurities.
My favorite romper ever!
So screw people's ideas of "flattering." If you appreciate showing skin or wearing body-hugging outfits, then your body (in all its supposed "flaws" and shapes) deserves to be seen by the world. Of course, it can be hard to get to a place where you feel that way. For me, Lena Dunham and the inspiration to wear rompers was what it took. I have to say, though, the positive attention that my belly gets to enjoy simply by my wearing a romper is the most healing experience ever.
Images: Meg Zulch (4), Giphy; HBO