The 'Xena' Reboot Couldn't Come At A Better Time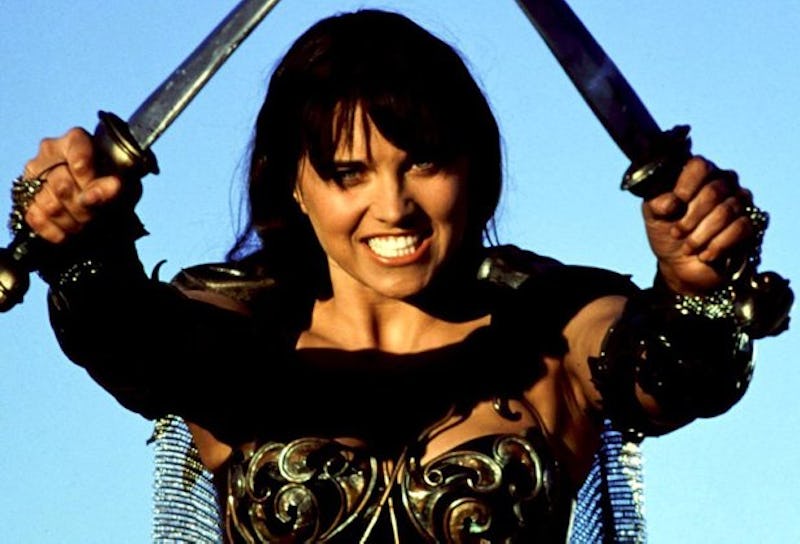 Strap on your protective gear, girls. (And no, I'm not talking about prophylactics.) Soon enough, it will be time to wield your leather tops and chainlink skirts unironically, because Xena: Warrior Princess may be returning to your television screens and your themed parties. According to The Hollywood Reporter, sources say that NBC and NBCUniversal International are currently searching for a writer to pen a reboot version of the '90s classic, and I for one cannot wait. And I know I'm not alone — twenty years after the cult show originally aired, it's never been a more awesome time for Xena to make a reappearance.
Just think: Two decades later, we now live in time that actually is all about the ladies. (Or at least, getting way better in that department.) We have a woman running for President, more movies that are interested in kick-butt female protagonists than ever before, and a much better social awareness of how women are being portrayed in the media. Of course, we still have a long way to go. But it seems like finally, people are more interested in counteracting female stereotypes in film and television than in the days Xena first hit the small screen.
We're entering the age of the Fierce Woman: Fierce politicians, fierce comedians, fierce writers, and even fierce reality stars. Never before has the world been so hungry for powerful ladies, which means there has never been a better time for Xena and her leather bikini tops to come on back into our lives. But maybe (and hopefully) with a more practical and modern remix? 'Cause, seriously, who can kick medieval ass in a corset?
Production for the Xena reboot is still in its early stages, according to THR, but the production company is already looking for ways to include the show's previous producers and original star, Lucy Lawless. At the same time, NBC is making clear that this new version would have to have both the charm of the original show and the smarts for a new generation. Like, picture the sophistication of Katniss Everdeen mixed with the inner complexity of Beatrice Prior. DREAM COME TRUE! Now throw in some leather costuming and stunt-proof hair, and you've got one fiercely modern Xena on your hands.
And it sounds like Lucy Lawless has been on board with a reboot for some time. In a recent interview with HitFlix at this year's Comic-Con, the actress said that not only was she interested in a Xena reboot, but she's been pitching it for ages. "Guys, I'm pitching my ass off to make it happen, whether it's with me or not," she said in the interview. "I think it's be funny to have a reboot… like middle-aged Xena in a muumuu with a bad attitude and a smoking habit."
OK, so that's not exactly what I had in mind when I pictured a modern-day Xena, but I'll take a smoking, whiskey-swilling Xena over no Xena at all. So, make this happen, Hollywood. The world needs more fierce women on television and in films. And who better to include than the OG badass woman herself, Xena: Warrior Princess?
Image: Giphy; Renaissance Pictures (2)