The Top Weekend Spot To Have A Summer Fling Is...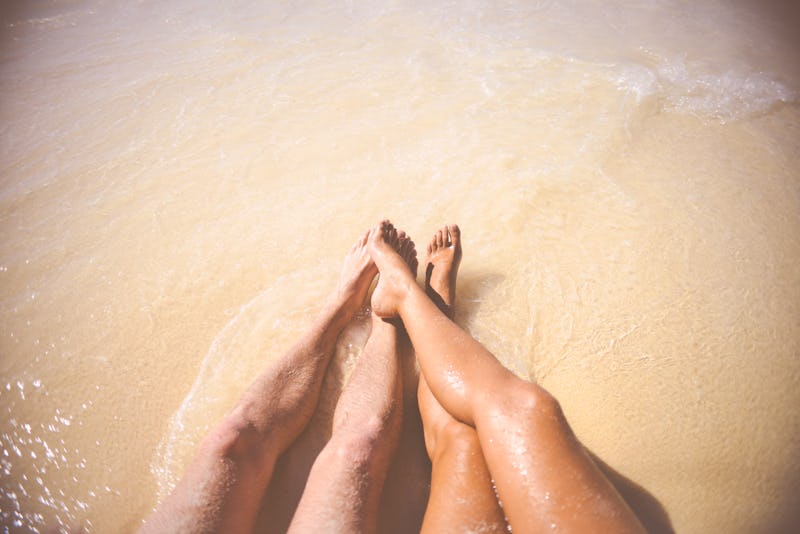 We may be creeping up on the end of July, but that doesn't mean it's too late to have a summer fling. I mean, what else is summer for, if not to find someone for a quick rendezvous just so you can say adieu the day after Labor Day? According to dating app The Grade, summer is all about flings, weekends away, and, of course, meeting someone through their app.
With roughly six weeks to Labor Day, we all still have plenty of time to go out there, find ourselves a lil' something, and make the most of it before sweater weather kicks in. Because that's the case, The Grade was kind enough to do some research on the matter. Tallying up data from 500 New York users and 100,000 swipes, the app was able to compile a list of top weekend destinations for both single men and single women, how many of these singles are looking for a fling, and the "hotness ratio" of these happening places. What it found is that single men and ladies are at least on the same page when it comes to finding temporary love.
Trying to figure out where you should go this weekend to get yourself some short-lived action? Here are some six important bits of info to know.
1. The Hamptons Is The Top Weekend Spot For Men And Women
Just a couple hours from the city, the Hamptons is the place where you can find single men and women every weekend. According to the study, 36 percent of women and 32 percent of men will be headed out there later this week on the Hampton Jitney. Well, probably on the Hampton Jitney, because most New Yorkers don't have cars.
2. Newport Is The Hot Spot For People Looking For Flings
For those who really want to get in on some fling action, there seems to be no better place than Newport to do so. Of those surveyed, 93 percent of women and 96 percent of men who go to Newport for the weekends are looking for a fling.
But when it comes to the second-most-popular places for flings, men and women differ. In the second-place spot for men is Long Beach / Jones Beach, at 94 percent, and for women, it's the Hamptons, at 93 percent.
3. More Men Than Women Want Flings
Although the percentages aren't too different, men are definitely more interested in flings than women.
For the six top locations for weekend getaways, the range of men on the prowl is anywhere from 90 percent to 96 percent. Women, however, seem less concerned with procuring a fling, with a range of 81 percent to 93 percent.
4. Fire Island Has The Best-Looking Men
Um, well of course it does!
If you've ever been to Fire Island, you already know it's to New York what Provincetown is to the Cape. Or, to be more specific, it's simply loaded with gorgeous gay men. But, at least according to The Grade, there must be some straight guys out there, too, because the female users of the app give it a 61 percent "like rate," which means women are swiping right on male users 61 percent of the time.
5. Montauk Has The Most Attractive Women
We shouldn't be surprised that men, the pickier gender, would have a far lower rate of swiping right to "like" someone, with percentages in each location all lower than 20. Still, men think that Montauk is where you can find the loveliest ladies. Montauk has a 19 percent "like rate," and not far behind, at 18 percent, is Fire Island.
6. No One Likes The Jersey Shore
For both men and women, at 10 percent and six percent, respectively, the Jersey Shore is the least desirable place to go. It's also on the Jersey Shore where people are less likely to want a fling and "like rates" are the lowest of all. Women only gave it a 51 percent like rate (although still more than half!), and men gave it ― wait for it ― an 11 percent like rate!
Wanna know what Bustle thinks about summer flings? Listen to our new podcast, I Want It That Way, which delves into the difficult and downright dirty parts of a relationship and find more on our Soundcloud page.
Still not enough sex? Download Bustle's app from iTunes for all the most recent sex and relationships news, advice, memes, and GIFs from around the Web. Guaranteed to fulfill you more than your ex.Images: Pexels; Giphy(6)