Ian Ziering Reveals His 'Sharknado 4' Dreams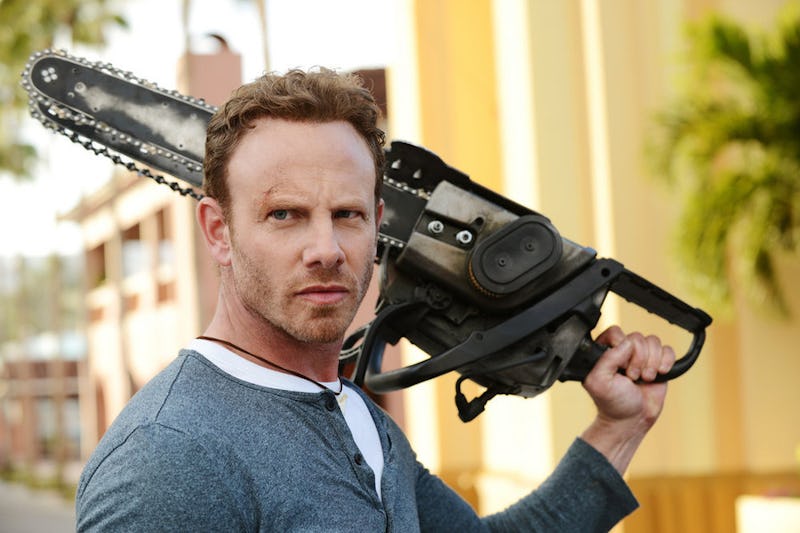 Could you imagine the Sharknado franchise going any bigger or any harder than it's set to when Sharknado 3: Oh Hell No! premieres on July 22? Well, franchise star Ian Ziering assures me that he absolutely does see Sharknado taking it to the next level if a fourth installment makes it way to TV. Sure, Sharknado 3 is "literally out of this world," says Ziering, but he has a few ideas for how the film that "puts an ordinary man in an extraordinary situation and, because of his love for his family, he goes to great lengths to make sure they're safe — including diving into the belly of a shark with a chainsaw" can top it's notoriously insane action.
"I'd like to see us shoot on foreign shores," Ziering tells Bustle, because of the global popularity Sharknado and it's sequel Sharknado 2: The Second One have experienced over the past few years. "There are so many fantastic cities that we can 'destroy'," the actor says, "It'd be great." Sharknado 3 is set in Washington, D.C., but ultimately features action in space — making it, as Ziering says, "literally out of this world." But, the actor's ideas that Sharknado 4 might "right the Leaning Tower of Pisa" or rip through major international cities like London, Tokyo, or Sydney might just be crazy enough to top sharks in space. And Ziering's ideas for the future of the franchise don't stop there.
"If we could just break with reality a little further," he says, "You know, Theodore Roosevelt was a big game hunter — he'd probably make a good sidekick — him and his big shotgun." Naturally, after space travel, the only way to go is to up the ante by bringing a former POTUS back to life. And, honestly, I can't help but agree with Ziering's ideas. Back in the present, however, Ziering had a bit to tease for fans of the first two Sharknado films about what they can expect from Sharknado 3.
"There are more sharks, it's a bigger storm," Ziering tells Bustle, "It's escapism and it's pure entertainment." And there's definitely no such thing as "too much of a good thing" when it comes to the Sharknado franchise.
Images: Gene Page/Syfy, Kris Connor/NBC