3 Sandra Bland Petitions You Can Sign Right Now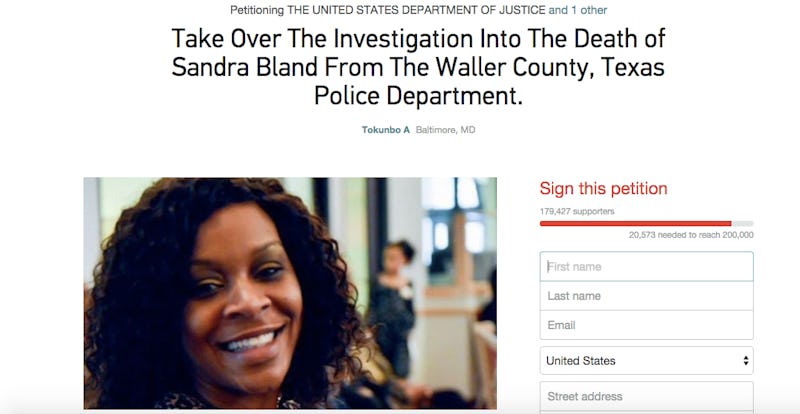 Over and over, the question has cropped up: "How did a routine traffic stop end with a woman dead in a jail cell?" Sandra Bland, a 28-year-old black woman, was pulled over by a trooper in Waller County, Texas, earlier this month for failing to signal while changing lanes. Police claim that Bland assaulted the officer, though video of the arrest doesn't definitively answer the question of whether that's true. Three days after her arrest, police say they found Bland dead in her jail cell from an apparent suicide. Now, investigators say her death is being treated like a murder, and activists and social media users have started petitions seeking justice for Bland, a #BlackLivesMatter activist who often spoke out against police brutality on social media.
Police have already placed Brian Encinia, the trooper who arrested Bland, on administrative duties for violating traffic procedures on pulling people over, according to the New York Daily News. On the Friday after her death, nearly 100 protesters marched from the Waller County jail, where police say Bland hanged herself, to the courthouse in Hempstead, Texas, where Bland had recently moved to start a new job at her alma mater, Prairie View A&M.
In video of the arrest, which shows Encinia and another officer holding Bland against the ground, Bland can be heard saying, "You just slammed my head into the ground. Do you not even care about that? I can't even hear!" according to the Daily News. Now, activists and social media users have started a number of petitions calling for Bland's treatment and the mystery surrounding her death to be formally investigated. Here are three petitions calling for justice for Bland.
The Change.org petition has almost 179,000 signatures, and seeks 200,000. It targets the U.S. Department of Justice and Attorney General Loretta Lynch. It requests that the DOJ take over the investigation into Bland's death in the interest of impartiality, and because of the growing awareness of police brutality against unarmed black people:
Because it has become painfully clear through a pattern of heavy-handed, hyper-violent and wantonly callous interactions between police and citizens, particularly black citizens nationwide...that the system of law enforcement as currently practiced is broken. And we need change.
Lois Wilkins' petition on MoveOn.org has just over 101,000 signatures, and just set a new goal for 125,000. Similar to the Change.org petition, it asks Lynch to take over the investigation into Bland's death:
The Department of Justice must conduct an independent investigation into the death of Sandra Bland in Texas. The circumstances surrounding her traffic stop are suspicious and deserve an independent, thorough, accountable investigation—especially in light of new video footage. We cannot allow the local police to investigate themselves. The Department of Justice has the authority—and power—to find out what happened to Sandra Bland.
A petition started on Care2 targets FBI Director James B. Comey and the Director of Texas Department of Public Safety, Steve McCraw. So far, the petition has 67,223 signatures, with a goal of 70,000. The petition seeks "an independent autopsy to determine the cause of Bland's death":
The circumstances of Bland's death appear highly suspect. The local sheriff was fired in a different city for racist conduct. An investigation by both the FBI and the Texas Rangers are investigating, but we need to keep the pressure up to ensure this case doesn't get swept under the rug.
Images: Getty Images; Change.org; Moveon.org; Care2 Petitions