The 'Mockingjay' Full Trailer is Here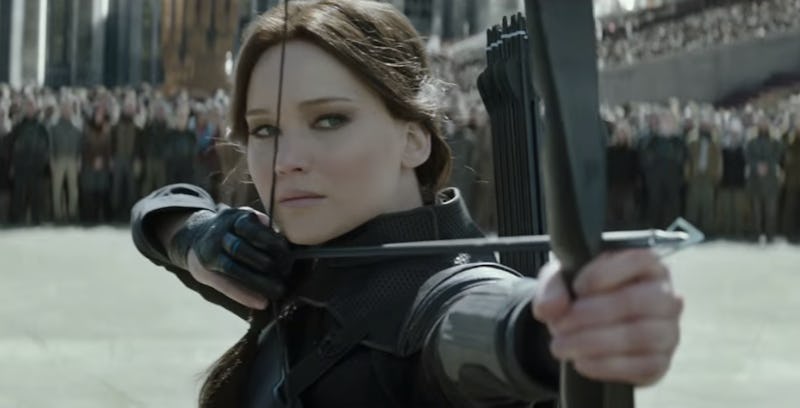 Since Comic-Con earlier this month, the Mockingjay – Part 2 producers have been slowly unveiling details about the final, Hunger Games film, with snapshots of Katniss in her new red battle gear and intimate character portraits. After months of anticipation, the full Mockingjay — Part 2 trailer is finally here, and it's as glorious and intense as you'd expect. Finally, we have a full two-and-a-half minutes of the final Hunger Games. And it's everything I ever hoped it would be.
The film picks up right where we left off in Mockingjay — Part 1, with Peeta recovering from his torture in captivity. "My dear Ms. Everdeen, make no mistake," President Snow says, "The game is coming to its end." But for the audience and President Snow, it is just the beginning.
The 13 districts are united, and this time, not against each other, but with each other against the Capitol. Commander Paylor stands before the revolutionaries before they storm the Capitol, explaining how the streets have become a minefield of "sadistic inventions of gamemakers meant to make sports of our deaths." The stakes are high, as Peeta tells Katniss that if she succeeds in assassinating President Snow, the countless deaths that he perpetrated would not have been in vain. All eyes and hopes are on the Mockingjay. As Finnick says, "Welcome to the 76th Annual Hunger Games."
I'm certainly ready for the movie. I'm just not ready to actually say "goodbye."
Image: Lionsgate