5 New Porn Stars You Need To Know About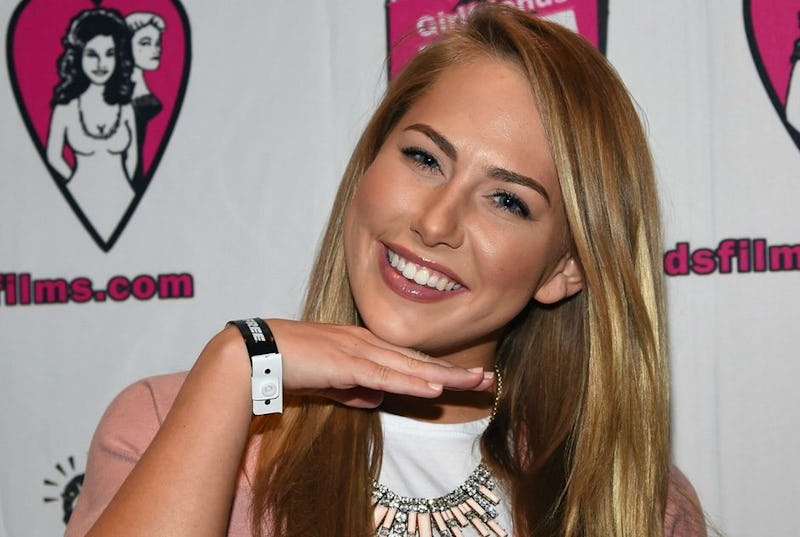 While we all may know who porn star James Deen is (swoon), the fact is that there are hundreds of other adult performers out there. If we were to include amateur pornographers, too, then we're looking at thousands of them, many of whom whose names we'll never know. The problem with pornography is that, despite a few of the performers who become household names, the industry still isn't mainstream, and in being not mainstream there are more porn actors who go unrecognized than those who are. I would like to change that for you.
The adult industry has come a long way. The people who perform in films now aren't exactly how we picture the stereotypical porn actors of the past to be. When you think back to Linda Lovelace or even to Ron Jeremy (that guy is still acting, right?), porn was pretty much all they did. The performers of today have their hands in other endeavors. For example, James Deen dispenses weekly sex advice on The Frisky and Jenna Jameson founded her own adult-entertainment company and has made her name as an author. These up and coming porn actors, and soon-to-be stars, are no different.
Because keeping you in the loop when it comes to all things sex-related, here are five relatively new adult performers to whom you should be paying attention right now.
1. Casey Calvert
In less than three years, Casey Calvert has made a name for herself as a new generation of porn actors. Unlike adult performers of the past, Calvert is an educated woman who didn't stumble into porn, but headed there because that's what she wanted. Case in point: Calvert graduated magna cum laude from University of Florida in 2012 with a Bachelor of Science in film production, with a double minor in zoology and anthropology, and her stage name was inspired by Clay Calvert, a professor at University of Florida who specializes in First Amendment law, who inspired her to be where she is today.
2. Logan Pierce
In 2013 Logan Pierce won the AVN Award for Best Male Newcomer and since then things have only been getting better for Pierce. In addition to doing porn, Pierce is also a writer, too. He's written pieces for Elite Daily, Total Frat Move, and Huffington Post. According to Casey Calvert, "Besides the fact that he's great to work with, he's got a lot going on between his ears. He's an excellent writer, and his blog is worth a read!"
3. Mia Malkova
If there's anyone who can give Casey Calvert a run for her money as the next big star of porn, it's Mia Malkova. In fact, she swiped the Best New Starlet award at this year's AVN Awards away from Calvert. Despite being born in California, Malkova chose the stage name she did because it sounded Russian and she thought that was far more appealing than other stage names. To further prove her star is on the rise, the sex toy company, Doc Johnson, announced last year that they would be creating a mold of her vagina for those looking to have a bit of Malkova at home.
4. Ike Diezel
Between his tattoos and his love for Smashing Pumpkins, Ike Diezel is kinda hard not to love. With the Best Male Newcomer award recently on his mantle from the 2014 AVN Awards after being the industry for less than two years, Diezel has quite a career ahead of him. I mean, the guy is metal fan, a director, and was in a film entitled, Don't Tell My Wife I Assf*cked the Babysitter 14, so there's that. Oh, he also has an Adrian Brody-esque nose ― hot.
5. Carter Cruise
Although she was double majoring in psychology and pre-law at East Carolina University, Carter Cruise dropped out of school in late 2013 for the porn industry. Not only has she won several awards in less than the two years she's been in the industry, but she writes sex advice for a few blogs and has been very vocal about how important it is to put an end to the stigma attached to sex and porn.
Want more of Bustle's Sex and Relationships coverage? Check out our new podcast, I Want It That Way, which delves into the difficult and downright dirty parts of a relationship, and find more on our Soundcloud page.
Images: Ethan Miller/Getty Images Entertainment/Getty Images; caseycalvertxxx whoislogan ikediezel/Twitter; /Twitter; cartercruise missmiamalkova/Instagram