4 New Details on 'The Girl In the Spider's Web'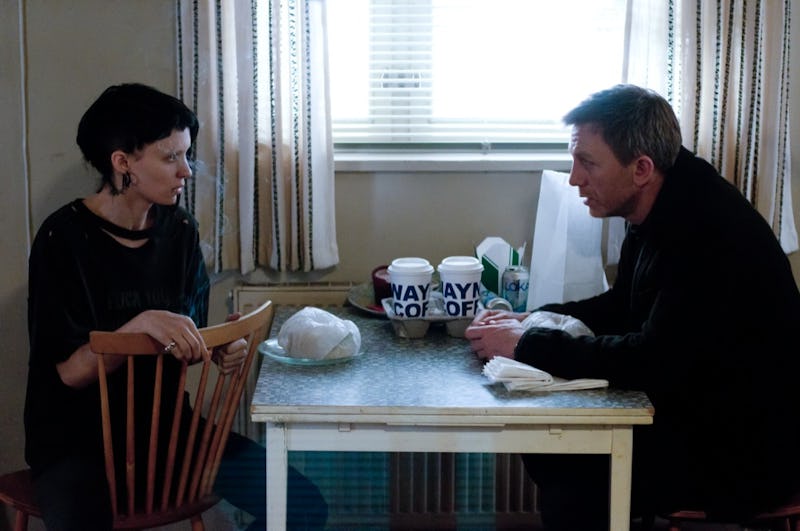 If you're a fan of Lisbeth Salander and her sort-of-eponymous series of novels, you've probably heard that there's a new entry in the Millennium series coming in September: The Girl in the Spider's Web by David Lagercrantz. Although it was originally announced in January, there's been a full embargo on information about the book, titled That Which Does Not Kill Us in Swedish. Security is so extreme that Lagercrantz wrote the novel on a computer with no Internet connection — to prevent thematically appropriate hacking, I guess — and hand-delivered it to his publisher.
Most of the advance coverage of the book has instead been focused on its controversial origins. Although the novel has been authorized by Stieg Larssen's estate, it doesn't include the pages he supposedly wrote of a fourth novel. Furthermore, Larssen's longtime partner, Eva Gabrielsson, has been outspoken in her opposition to continuing the series.
"The worst thing is how saddened Stieg would have been. He never let anyone work on his literary texts. He would have been furious. Who knows, maybe he'll send a lightning bolt at the book launch," she says. She also called Lagercrantz "an idiotic choice" to write the new novels.
Perhaps in hope of generating some more positive buzz, the book's British publisher, MacLehose Press, released a few key plot points today, giving readers our first look at what's in store for Lisbeth in the bound-to-be-bestseller.
Lisbeth and Mikael Blomkvist Have Fallen Out of Touch
Despite their rapprochement at the end of The Girl Who Kicked the Hornet's Nest , the crime-solving pair "have not been in touch for some time" at the beginning of the novel. It remains to be seen whether they have a specific reason for not speaking, or have simply been busy pursuing their own interests (hacking for her, sleeping around for him).
Lisbeth Is Trying to Hack Into the NSA, but It's Not Clear Why
According to the publisher, Lisbeth's mission to hack the NSA is "a lunacy driven by vengeance, and fraught with every possible consequence." Not very specific, but definitely intriguing.
One Major New Character Is a Scientist Working On Artificial Intelligence
The novel apparently opens with a famous scientist named Professor Balder who's in fear for his life, going to Blomkvist with a "terrifying" story. By going public, Balder wants to not only preserve his life, but also save his groundbreaking work on A.I. technology. As he sucks Blomkvist into the mystery, the journalist finds out that Lisbeth is involved as well.
The Villains Are "Ruthless Cyber Gangsters"
The exact nature of the conspiracy these characters get themselves involved with is still unclear, but whatever it is will apparently put them in the crosshairs of the "Spiders," a vicious gang of cyber criminals.
OK, I may be editorializing a bit on this one, but how could she not be? Or did you miss the part about her hacking into the NSA?
Images: Scott Rudin Productions, Giphy (5)