11 Gift Wrapping Ideas to Give Your Presents a Little Somethin' Extra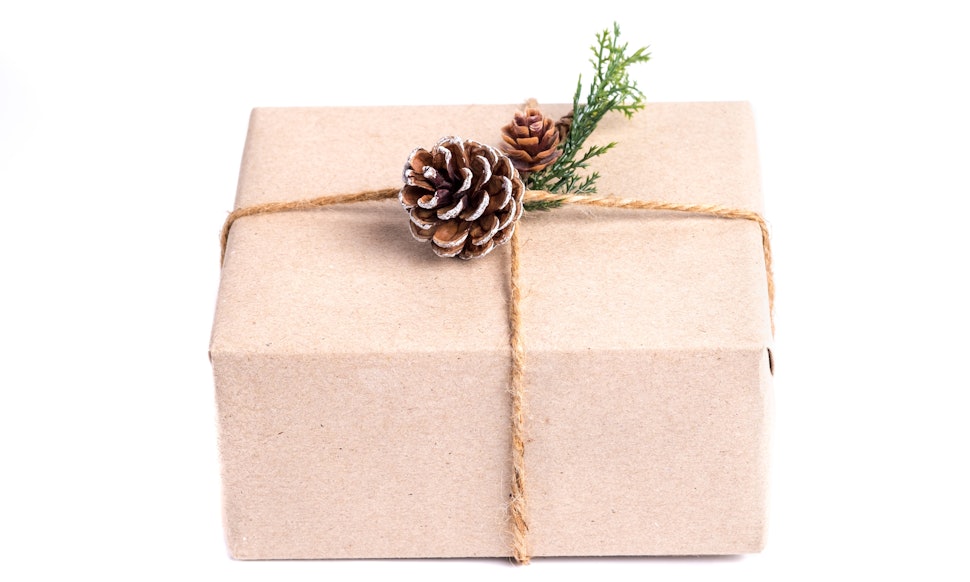 It's gift-giving time again! Remember the '90s when fancy, matchy-matched shopping mall gift wrap was all the rage? The golden days are over, folks. There are some new gift wrap sheriffs in town, and they are simple and sweet and thoughtful in all the best ways. Personalized recipe-touting gift wrap? That's a thing. We also have your ticket to DIY potato stamp success, not to mention a great crafty pom pom hack that requires just two things — yarn and a fork. From the customized to the green-and-happy, these 11 gift wrap ideas are creative and whimsical — and they won't have you stressing about six-inch ribbon curls. It's time to get your gift wrap workshop in gear.
Image: Fotolia
Clean and Simple
We love this simple, uncluttered approach to gift wrap. Brown paper packages tied up with string (and sprigs of evergreen) is a look so lovely you might even think to sing a song about it.
Image: Fotolia
Chalkboard Galore
Address your brown-paper packages with chalkboard name plates, and hop on one of the biggest design bandwagons of 2013. Want to go a little bigger? Snag chalkboard gift wrap from Etsy and have at it.
Image: Fotolia
Sugar and Spice
Giving the gift of homemade treats this year? Wrap them up in your own personalized recipe wrapping paper from Minted, and bring your offering full circle. Everybody's going to be asking for your recipe anyway, right?
Sugar & Spice Gift Wrap, $15, Minted.
Image: Fotolia
For the Wayfarer
Want to really confuse somebody this year? Give them a GPS and then wrap it up in repurposed road maps. You're so silly.
Image: Fotolia
Starch and Sass
Express Yourself
Spring for some quirky gift wrap and show your friends and family what you're all about. Crazy about kale? Everybody will be quick to spot your gifts underneath the Christmas tree with this roll from Kate Broughton's shop. Mine Etsy for other delightful gift wrap options.
Click here to see the wrapping: Vegetable Gift Wrap, $11.75, Kate Broughton
Pretty with Pom Poms
Pom poms make everything just a little bit sweeter, so trim your packages in these pretty little poufs. Make them yourself with this DIY hack, and soon total world pom pom domination will be yours. (Cue menacing laugh.)
Image: Fotolia
If You're Feeling Crafty
Can't find the right box to fit your gift-giving needs? Make your own! This DIY from Lines Across will show you how.
Image: Fotolia
Customized and Cute
Wrap Your Gift in a Gift
Does your eco-friendly heart cringe at the idea of so much wasted paper? We hear you. Wrap your gifts up in reusable (and repurpose-able) pieces of fabric. Because the best thing to wrap a gift in is… another gift. You just won Christmas.
Follow the Arrow Fabric Gift Wrap, $40, Toodles Noodles