How To Rock Overalls Like A Fashion Blogger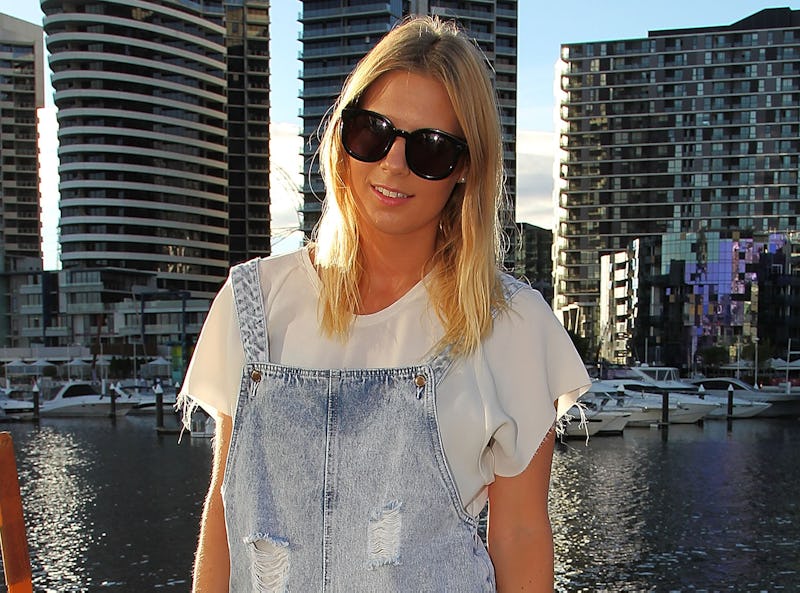 Despite their reputation as a juvenile clothing staple, overalls have taken the fashion industry by storm this season. The resurgence of overalls caused quite a few well-coiffed heads to turn when the utilitarian staple began its multi-pronged takeover of fashion blogs and red carpet events, as they appeared on some of the most influential tastemakers of our town. However, some sartorial skeptics remain doubtful that overalls can make a sophisticated statement after the age of five. Is it possible that clothing once relegated to the jungle gym and sandbox is now appropriate for boozy brunch and jaunts to the farmer's market? The answer is a resounding yes.
Paired with the correct clothing and accessories, a pair of overalls can be just as versatile as your favorite boyfriend jeans. Whether worn with a casual tee or a crisp button-down, overalls are the ideal foundation for a throw-on-and-go ensemble. Nevertheless, dusting off a staple you haven't worn since the second grade is more than vaguely daunting. If you're intrigued by the trend but simply can't wrap your head around styling your overalls, simply look to your favorite fashion bloggers for inspiration.
1. Streamlined Stripes
When in doubt about what to pair with your overalls, reach for a classic striped Breton tee. Atlantic Pacific's Blair Eadie aces the trend by keeping her ensemble in rosy pastel hues.
2. Beautifully (Color) Blocked
Overalls possess an innately painterly aesthetic, so run with your creative instincts like Barefoot Blonde's Amber Fillerup Clark and colorblock your way to sartorial perfection.
3. Oxford Comma
Traditionalists will gravitate towards Man Repeller Leandra Medine's polished take on the trend, which features a lightly rumpled oxford shirt, an menswear-inspired watch, and a cheeky cream clutch.
4. Radiant Rouge Accents
Kick your overalls up a notch with luxurious, elegant accessories. Adding a pop of color to neutral overalls, as The Fashion Guitar's Charlotte Groeneveld does with her crimson Valentino Rockstud clutch, adds sartorial oomph to the style staple.
5. Tee Time
What could be more patriotic — or more comfortable — than slipping into a baby tee and simple denim overalls? The Blonde Salad's Chiara Ferragni demonstrates how it's done in striped overalls, reflective sunglasses, and a lightly distressed wide-brim hat.
6. Go Grunge
Sea of Shoes' blogger Jane Aldridge knows a thing or two about distressed denim. By pairing lightly frayed overalls with a simple plaid button-down tied at the waist, the blogger's guest star showcases '90s grunge at its finest.
7. Athletic Allure
A Calvin Klein sports bra, unbuttoned black overalls, and a bomber jacket lend Peace Love Shea blogger Shea Marie an on-trend athletic chic look. Wind-mussed waves and platform sandals complete the look.
Images: Getty Images