When Her Kid Was Sick, Her FB Group Stepped Up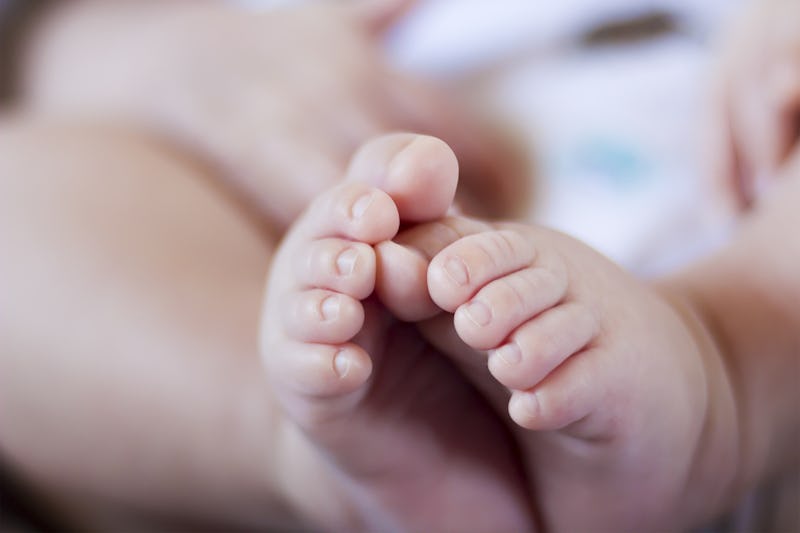 Here to remind you today that yes, people are generally good and decent creatures, is a heartwarming story out of Ontario, Canada that'll give you a slight case of the feels. According to CBC News, a young mom was caught in a super sucky situation recently when she took her sick baby to the hospital — and got stuck there for nine straight hours. Making matters even worse? Kaylee Goemans' car was in a metered spot that was running out of time fast, and she feared it might be towed. Luckily, Goemans' Facebook mom group came to the rescue and volunteered to come down and take turns feeding the meter for her. Seriously — how nice is that?
Before even heading in to the Royal Victoria Hospital in Barrie, Ontario, Goemans put about four hours' worth of coins into the meter. But after three hours went by and her son still hadn't seen a doctor, she started to worry. Would her car be ticketed — or worse, towed — before she got out? That was when Goemans' did a little quick-thinking and pulled up Facebook on her phone, where she asked members of her local mom group if they knew what could happen to her car in the event the meter ran out. Soon, nearly 100 responses to her comment flooded in — and almost every one took the young mom by surprise.
"I'm not far. I can go put change in it for you in about an hour on my way back home if you are still there," wrote Elisha LeeAnn. Fellow mom Rachel Banks also jumped in, saying, "I live not too far from the hospital. Will head over now and top up the meter for you!"
To say Goemans was totally floored by the kindness of the women in her group — who were all strangers to each other in real life — is putting it mildly. "I was completely grateful," she told CBC. "It made a very tough and stressful situation a lot easier for me. It made me able to focus on my son's needs rather than having to worry about my car being towed."
According to City News, 27-year-old Goemans went to the Royal Victoria Hospital on July 13 to have her son treated for intussusception, an intestinal disorder that causes severe abdominal pain. Though his condition is still being treated and the pain is ongoing, Goemans says she won't soon forget just what that day meant to her. As she told the outlet, "Especially in today's world, it's so hard to find people doing nice things for each other."
Making this whole story even sweeter is that fact that many of the women have asked Goemans for updates on her son's condition in the days since her hospital visit. She's even traded stories and photos back and forth with them, and vowed to repay the favor in whatever small way she can. For now, though, the simple, yet sweet story is touching hearts everywhere — and reminding us that small, random acts of kindness really do make the world go 'round.
Images: S. Raj/Flickr