Obama Talked Gun Control Hours Before Lafayette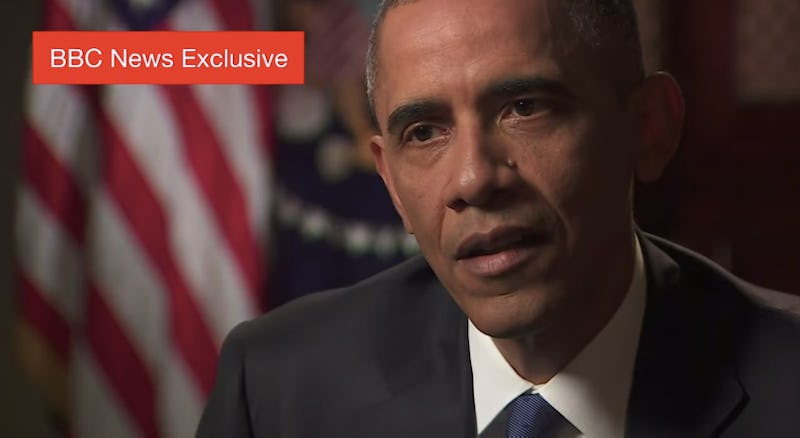 "I've had to make statements like this too many times," Obama said last month during a news conference after nine people were shot and killed at Emanuel AME Church in Charleston, S.C. And yes, during Obama's time in the White House, dozens of mass shootings have taken place across the country. City names become synonymous with these tragic attacks — Fort Hood, Texas, in 2009; Tucson, Ariz., in 2011; Aurora, Colo., and Newtown, Conn., in 2012; Washington's Navy Yard in 2013; and Charleston in 2015. So when you watch Obama discuss gun control reform yet again, it's not just what the president says, but his tone that tells the story of the country's gun control problem.
The shooting left at least nine injuries and three deaths, including the still unidentified gunman who died from a self-inflicted wound, Police Chief Jim Craft said during a Thursday night press conference. As of early Friday morning, Obama has yet to publicly comment on the shooting as he is on en route to a pre-planned trip to Kenya, though CNN reported the president had been briefed. But just hours before the shooting took place, Obama spoke with BBC and shared his frustration with the government's inability to pass serious gun control reform in response to gun violence, a narrative that has become all-too familiar.
If you ask me where has been the one area where I feel that I've been most frustrated and most stymied it is the fact that the United States of America is the one advanced nation on earth in which we do not have sufficient common sense gun safety laws even in the face of repeated mass killings.
And if you look at the number of Americans killed since 9/11 by terrorism, it's less than 100. If you look at the number of them that have been killed by gun violence, it's in the tens of thousands. And for us to not be able to resolve that issue has been something that is distressing, but it is not something I intend to stop working on in the remaining 18 months.
According to the CDC, more than 11,000 homicides and violent crimes were gun-related. But as Obama repeatedly acknowledged after the Charleston shooting, politics on Capitol will likely prevent serious reform from passing, an issue that was certainly made clear after the Sandy Hook Elementary School massacre that left 20 students and six staffers killed. Proposals for universal background checks and bans on certain semi-automatic firearms didn't pass in Congress then, and it likely won't pass now.
The upcoming presidential election provides an opportunity for candidates to make their gun control platform clear. Louisiana Gov. Bobby Jindal, who is running in the GOP primary, has been on the scene, and it has afforded him the opportunity to speak out against senseless killings. So perhaps the competitive political climate will help provide a pathway to reform. Because a mass shooting at a school, church, or movie theater apparently just isn't enough to enact real change.
Image: Getty Images (1)