The Louisiana Movie Shooter Was Identified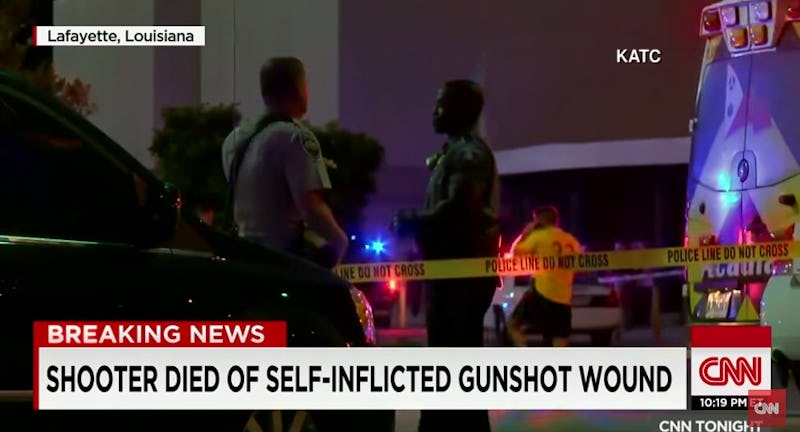 Local police in Louisiana revealed during a Friday press conference that John Russell Houser was the Lafayette movie theater shooter, who killed two movie theater attendees and then himself on Thursday night. Authorities named his deceased victims as Mayci Breaux and Jillian Johnson, and a third victim is in hospital in Louisiana in critical condition. Houser, who police say is 59 years old, sat quietly in the movie theater, which was set to show Trainwreck, for 20 minutes before opening fire and shooting 13 rounds, injuring 11 people, Lafayette Police Chief Jim Craft said Friday morning.
Louisiana police are describing Houser as a "drifter" who is from Phoenix, Alabama, and had only been in Lafayette for six months. Houser was staying at a Motel 6 on University Avenue in Lafayette. Upon searching Houser's hotel room, police found several disguises including wigs and glasses, leading them to speculate that Houser had hoped to possibly conceal his identity during or after he committed the shooting. Craft also stated that Houser had faux/ additional license plates in his car (a 1995 blue Lincoln), presumably so that he could flee the crime scene and disguise his vehicle. Craft further stated that he believes Houser was "intent on shooting and escaping."
A Medium blog post written by the Southern Poverty Law Center has further reported that Houser was apparently a far-right extremist, who had made positive remarks about the Westboro Baptist Church via Twitter, and had also written comments on various conservative extremist websites, including a site for the Golden Dawn neo-Nazi group:
Do not mistake yourselves for one minute, the enemy sees all posted on this website. I do not want to discourage the last hope for the best, but you must realize the power of the lone wolf, is the power that come forth in ALL situations.
The SPLC discovered myriad comments across several platforms where Houser indicated support for Nazi ideology and Hitler, as well as posts that demonstrate a belief in conspiracy theories related to U.S. politics and the economy.
Authorities searched Houser's hotel room and vehicle for any possible explosive devices, but have not discovered any devices as of yet. At this time, the one and only weapon known to have been involved in the shooting is a .45 caliber pistol that the police recovered from the movie theater. Due to the disguises discovered by police as Houser's other behavior during and after the shooting, Louisiana Governor Bobby Jindal and Craft both stated that it was very likely additional victims may have been harmed had the police not arrived almost immediately to the scene of the shooting.
Craft informed reporters that very little is currently known about Houser, and police are hoping that the public will call a 24 hour police hotline if they have any information that may lead police to better understand a possible motive for the shooting. The number to call if anyone has information about Houser is 337-291-8650. Craft stated that police plan provide updates every two hours if any new information is revealed.