Is Miley's VMAs Promo Signaling A Retro 2015 Show?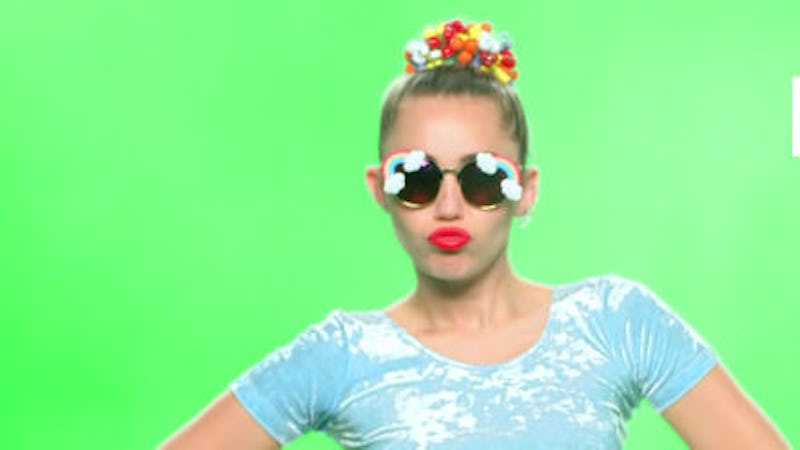 In case you somehow missed it, Miley Cyrus is hosting the 2015 MTV Video Music Awards, and let's be real: You should be very excited. (Personally, I already have high hopes, considering that Cyrus is known for her chill persona and isn't afraid to poke fun at herself.) When MTV released the first VMAs promo clip featuring Cyrus teasing her hosting gig, one thing immediately came to mind: Is Cyrus bringing back the '90s?
Dressed in the on-trend crop top and short skirt pairing, Cyrus is clearly referencing the style that was previously popular in the '90s. On top of that, she's also channeling the decade's popular daisy motif and, yes, even crushed velvet.
Not only were the '90s a great time for fashion, but they also highlighted a golden era for the VMAs. Back then, the hosting gig was a regular occurrence (Cyrus is the first host since Kevin Hart in 2012), and the performances were even more epic. The decade celebrated some of the most iconic music videos of all time, so it stands to reason that the attendees were equally amazing.
In anticipation of Cyrus' hosting gig, let's take a walk down memory lane and look at some of the best Video Music Awards moments from the '90s — and hope that Cyrus' promo signals some sort of throwback to these days.
Michael Jackson's 15-Minute Medley
In 1995, Michael Jackson performed a mind-blowing medley of his songs, while also busting out some of his iconic dance moves, like the moonwalk.
Madonna Performs "Vogue"
Madonna channeled Marie Antoinette in her 1990 performance of "Vogue."
Brandy And Monica Silence Feud Speculation
No bad blood here! In 1998, Brandy and Monica put rumors to rest when they sang their hit song, "The Boy Is Mine."
Nirvana Performs "Lithium"
Kurt Cobain opened this 1992 performance of "Lithium" by playing the first few chords of Nirvana's song, "Rape Me."
Martha Stewart And Busta Rhymes Present An Award Together In 1997
An unlikely and unforgettable pairing.
Green Day's Tré Cool Scales The Universal Globe
When Green Day won two VMAs for "Good Riddance (Time of Your Life)" in 1998, drummer Tré Cool celebrated by climbing the rotating Universal Globe at Universal Studio. The moment was made even more iconic by the fact that the musician walked away without so much as a slap on the wrist.
Britney Spears Performs "... Baby One More Time"
Not only did Britney Spears sing her biggest hit — but she brought out *NSYNC to perform "Tearin' Up My Heart."
The MTV VMAs will air on August 30.
Image: MTV/YouTube