New Photos of Bush And Cheney On 9/11 Released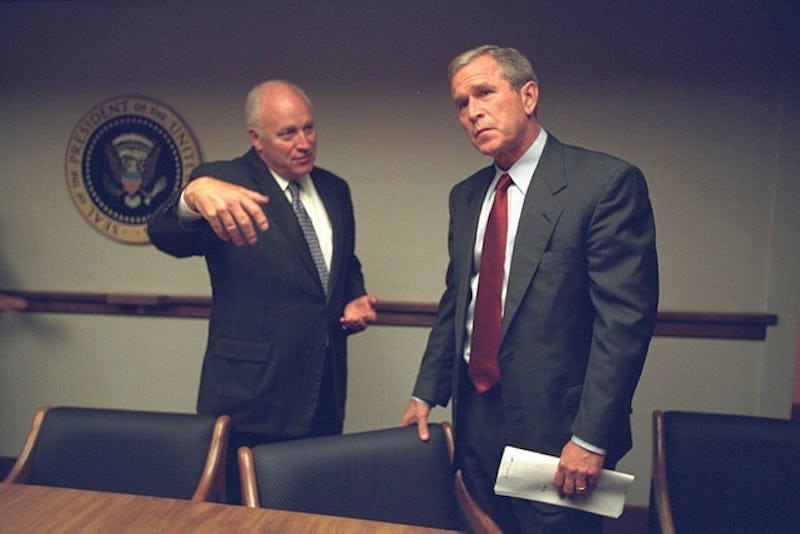 On September 11, 2001, the entire country was left transfixed and horrified by the destruction of both towers of the World Trade Center. It was the largest-ever terrorist attack on U.S. soil, and it forever changed the trajectory of American history, domestically and internationally alike. And now, nearly 14 years later, we're seeing some behind-the-scenes images from that fateful day for the very first time: the U.S. National Archive released a trove of never-before-seen 9/11 photos of Bush and Cheney on Friday, showing the former leaders as you haven't before, in the heat of the situation.
The images are more than a little shocking to see so many years later. I can still remember watching reports on the TV about what the executive branch was doing as the day wore on. All that talk of undisclosed locations, emergency protocols, visions of darkened rooms and stern faces.
And now, you can actually take a peek at what Bush and Cheney looked like on one of the darkest days in American history — the photos are available to view on the U.S. National Archive's Flickr page, 356 of them in all. Here are some of the ones that really seemed to jump out:
In reality, Cheney is most often featured of this photo-set — they were taken by his staff photographer, and for a while it probably seemed as if they'd never see the light of day. It was only thanks to a Freedom of Information Act request from Collette Hanna, a documentary coordination producer for the PBS series Frontline. Pictured above: Cheney reviewing a document with then-National Security Adviser and eventual Secretary of State Condoleeza Rice, Cheney disembarking from Marine Two with his wife, Lynne, and Cheney looking silently perturbed.
The pictures above give some particularly striking examples of massively powerful figures in unusually intimate moments — perhaps most of all Cheney, leg propped up on his desk, watching the events in New York on a tiny CRT television screen. Also pictured: then-Secretary of State Colin Powell, and the Cheneys speaking while airborne on Marine Two.
If you've got some time to spare, and you're interested in a visual history of a cataclysmic moment in U.S. history, you'd do well to rifle through the entire Flickr page. It may take a while, but it's deeply engrossing. Pictured above: then-CIA director George Tenet watching President Bush's address to the nation, Cheney observing events from his office, and President Bush, White House chief of staff Andy Card, Cheney, and Rice conferring.
Images: U.S National Archives/Flickr (10)