7 Behind-The-Scenes Photos Of The VS Holiday Shoot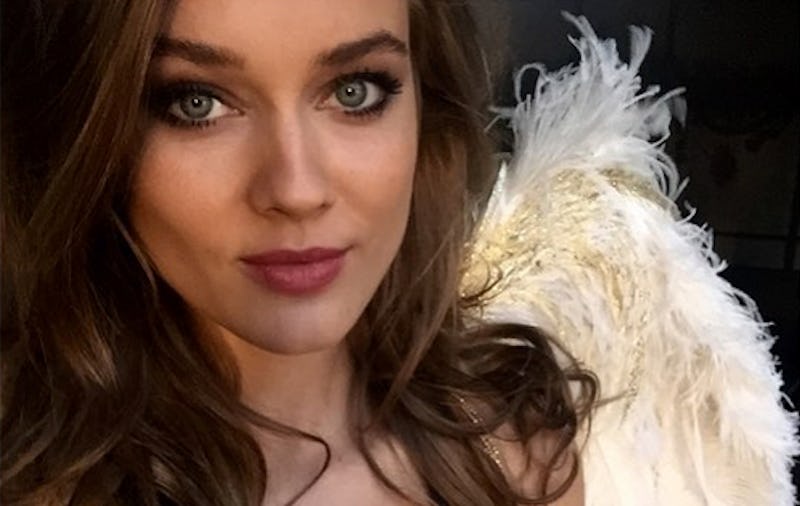 It's Christmas in July, and these Angels are having some holiday fun. Instagram has been filled with photos of the Victoria's Secret holiday shoot, which took place this past week, and this time the models went global for filming and plenty of fun times along the way. Just one glimpse of the model's fabulous outfits will have you ready for summer to end and the gift-buying season to commence.
Victoria's Secret spiced up the scenery this year with a trip to Rome and had the all-time perfect backdrops. And from the sneak peeks that the ladies posted to social media, the collection looks as sexy as ever. The models looked stunning in their outfits, which featured dark colors and ultra high-heels, as they struck a pose in front of the camera. And the women weren't afraid to get glam off-set either.
The snow might be fake, but these smiles sure aren't. From the looks of their posts, these ladies are just as excited to be on set as I am to get a preview. While it's a bummer to have to wait to see the final images, these photos will tide you over, at least for a little while. This is one Roman holiday that you won't want to miss.
1. Gorgeous Scenery
If there's anyone who can shut down a historic city to get the perfect shot, it's the Victoria's Secret Angels. I can't imagine a prettier place to film.
2. Sexy Outfits
Would you expect anything less when it comes to the holiday? I'd love to run around Rome in those fabulous skirts.
3. Big Wings
It wouldn't be Victoria's Secret if there weren't big wings and even bigger heels.
4. Fake Snow
Throwing around fake snow while dressed in the perfect lingerie? I'm in.
5. Sparkling Separates
I cannot wait for these pieces to come out. The more bling, the better!
6. Big Smiles
The models filmed the holiday commercial in Rome too, but they kept that totally underwraps.
7. Fabulous Makeup
I can't get enough of that dark eye and subtle lip that makes every outfit complete.
Looks like Christmas came early this year thanks to social media.
Image: jacmonika/Instagram