Let Your Star Sign Pick Your Next Fave TV Show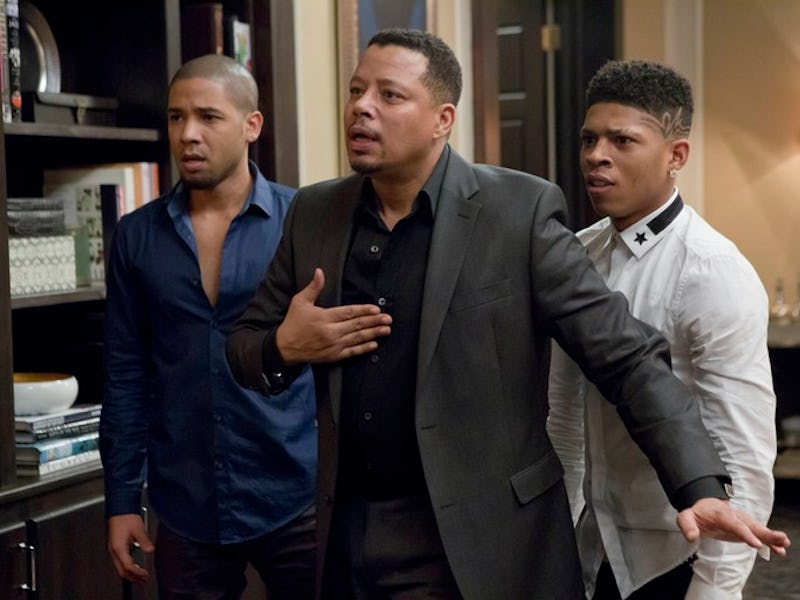 Picking a new TV show to marathon can lead you down an unending rabbit hole of Netflix recommendations. I know I have spent more time scrolling through my options than I have actually watching anything. There is nothing worse than knowing you want to start a new show, but having no idea which one you should start. Sure, you can consult best of lists and your friends, but chances are you have been there and done that. Why not look to the stars for a change? Since your star sign is all about personality, there is no reason your astrological sign can't help you with this problem as well. So, what is the best TV show to watch based on your astrological sign?
There is so much good TV out there at the moment that no one can watch it all. You totally need all the guidance you can get (I know, I do). Leaving your next marathon up to the stars is not the craziest idea ever. Whether you are a headstrong Capricorn, an emotional Cancer, or a fair-minded Libra, I have a show for you. Find your sign, and then get ready to settle in for some quality TV time. You can thank me after you have totally found your next television love.
Capricorn (December 23 — January 19)
Capricorns are hard workers with little time for frivolity. They are career-oriented, but also extremely loyal friends. They need shows about people who are as full of passion for what they do as they are. Their perfect show is The Hour. The two-season British wonder stars Ben Whishaw, Romola Garai, and Dominic West as a trio of trailblazing BBC news broadcasters in the '50s. Not only is the series daring in the way in takes on the behind the scenes world of broadcast news at its very beginning, but it also has a stunning friendship at its center thanks to Freddie (Whishaw) and Bel (Garai). Watch both seasons on Amazon Prime.
Aquarius (January 20 — February 18)
Philosophical and intelligent, the Aquarius needs a show that will challenge them. The dialogue needs to be smart, and the storytelling flawless. There is no better show than David Milch's Deadwood to speak to both their intellectual and poetic sides. The dialogue is mesmerizing, the acting superb, and the historical setting a bonus for people who gravitate toward learning. All three seasons of Deadwood are available via HBO Go.
Pisces (February 19 — March 20)
Pisces are basically the greatest people ever. They are kind, bright, and passionate. That's why they need a comedy with a big heart and something to say. They should look no further than the short, but oh so sweet, Danish series Hjørdis. The four-episode series follows the plight of a charming, but unassuming teacher as she tries to produce a play featuring the school's outcasts that will give them a voice. Hjørdis herself is a total hero that every Pisces will be able to relate to. Happily, this gem is available on Netflix.
Aries (March 21 — April 19)
It is going to take a special show to keep an Aries entertained. Since they thrive on action, adventure, and spontaneity, they need something thrilling and fast-paced with a sense of humor. That show is Graceland. The USA series almost always keeps you on the edge of your seat, but it also slows down enough to delve into the sexy and dangerous personal lives of the federal agents that are all living together under the same roof. The first two seasons are available on Netflix.
Taurus (April 20 — May 20)
The sign of the Taurus is the ram for a reason. These people are strong-willed and determined, and they need an equally strong protagonist to watch. Enter Professor Keating (played by the indomitable Viola Davis). In How to Get Away with Murder, Professor Keating is a no-nonsense, badass lawyer who leads a take no prisoners kind of life. Tauruses will not only root for Keating, they will get sucked into the mystery element as well. Catch up on the first season on Hulu.
Gemini (May 21 — June 20)
The duality of the Gemini's nature can be satisfied by a show that is all about duality and emotions. Orphan Black, wherein Tatiana Maslany plays several distinct clones, all with the same face and vastly different backgrounds, will appeal to every side of the Gemini. The mysterious, character-driven Orphan Black is as mercurial as the Gemini, and they will love the show for it. The first two seasons are currently available on Amazon Prime.
Cancer (June 21 — July 22)
I suspect all the Cancers in the audience have already seen Gilmore Girls, so a good alternative is Larkrise to Candleford. The sweet show will give Cancers their much needed home and family fix, while also feeding into that deep connection they feel to history. The British series follows a young girl who moves to Candleford to apprentice at the post office. Her quiet, but compelling coming of age story is told with grace, and the show is overflowing with eccentric characters. All four seasons are available on Netflix and Hulu.
Leo (July 23 — August 22)
Listen up Leos, it is time for you to embrace Empire. The fiery, hip hop soap opera will feed into the Leo's love of both the spotlight and the arts. This show is every bit as fierce as you are, and Cookie is your life hero, even if you don't know yet. This one is a no-brainer. Catch up on Empire Season 1 on Hulu, and then start tuning in to Empire Season 2, which has already begun to air on Fox.
Virgo (August 23 — September 22)
Virgos are basically psychics as it is. Thanks to their intuitive nature it is almost like they can see into your soul. Luckily, they also have a sense of humor. Combine those two things together, and you get Psych, a giggle-inducing, pop culture obsessed crime show about a hyper observant fake psychic and his BFF Gus. There are eight seasons, but the show will hook you instantly. Watch it all on Netflix.
Libra (September 23 — October 22)
If it's balance, justice, and beauty a Libra is looking for then the Australian series Miss Fisher's Murder Mysteries is their new best friend. The series follows a female PI in 1920s Melbourne, and it is both aesthetically pleasing and acerbically challenging. Happily, Miss Fisher's excellent adventures are available all over the place, including on Netflix and your local PBS stations if you live stateside.
Scorpio (October 23 — November 21)
Bold and prone to having killer comebacks, the perfect show for Scorpios has to feature driven people with sharp tongues. The political comedy Veep fits the bill. Selina Meyer and her staff are always clawing their way to the top while throwing off brilliant asides that will cut to the core. All four seasons of Veep are available on HBO Go.
Sagittarius (November 22 — December 21)
The Sagittarius is a curious person. Known for being philosophical, commitment-phobic, but also loyal, this is a sign full of contradictions. That's why Please Like Me, a show about 20-something Josh and his friends navigating mental illness, dating, and growing up should be their go-to show. Josh struggles with connecting, and staying connected, to people, but, despite his inner musings, he is extremely loyal to those he loves. This flawless comedy isn't streaming anywhere, but it's well worth buying Seasons 1 and 2.
I hope you found a new show to go with your sign, and, hey, if another sign's show appeals to you more, go for it! TV is very adaptable, unlike the stars.
Images: Charlie Foster/Unsplash; Netflix; BBC; ABC Australia; Chuck Hodes/Fox; Giphy (9)