7 Retail Lessons From The Hefty Hideaway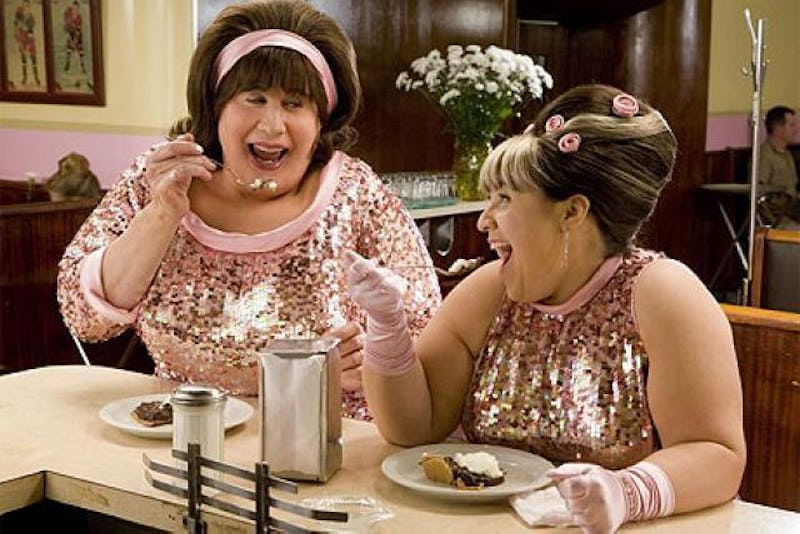 One of the main reasons I adore John Waters' Hairspray (and the musical Hairspray , for that matter) is because of the use of plus size women without the story ever being exclusively or predominantly about Tracy and Edna Turnblad's weight. Part of the plot follows Tracy's plus size style and confidence as she rubs off on her mother, who finally leaves the house after 10 years of agoraphobia brought on by weight gain.
The mantra of change sung in "Welcome to the '60s" still applies today, as the body positivity movement is changing the way we view one another. "It's changing out there! People who are different, their time is coming," Tracy sings. Personally, every time my own mom praises my plus size related articles, I just want to burst out singing.
When the pair hit up the Hefty Hideaway in both film adaptations, the experience was chock full of glitz and glamour. Shop owner Mr. Pinky says he's offering fashion for fat women who "still want the glamour" and this is something that's actually shown in the store's brand, layout, and style. For as long as I can remember, plus size shopping has been held in dark, boring corners of most stores, although, arguably, this is on the edge of changing as plus size retailers realize that fat women aren't ashamed to be fat.
With plans for such stores to brighten up and celebrate the plus rather than keep it on the "down low," there are more than a couple of tips all retailers could take from Mr. Pinky and his Hefty Hideaway as they strive to become more inclusive, celebratory of body diversity, and, of course, super fashionable.
1. Brighten Things Up
The clothes! The inside of the store! I don't know whether it's an attempt to be "chic," but in my experience, so many stores have dark walls that reflect the dark clothes trend common in so much clothing. This does nothing for the "shame" stigma that retailers are meant to be trying to shake off, as being stuck in a dimly lit cupboard isn't exactly conducive to a confidence-inducing experience.
2. Offer Free Cupcakes
I swear to god if any shop, let alone a plus size one — let alone a clothing store — was handing out free cupcakes, I would be there immediately.
3. Opt For All The Glitter
Why can I only find glittery clothes at Christmas? Where are all the pink sequins?!
4. Incorporate Musical Numbers
You know what would set your store apart from any other? Breaking into a musical number with a perfectly choreographed dance routine. Just sayin'.
5. Sell Unconventional Cut Choices
In the musical film adaptation Hairspray, I loved that Tracy was dressed in a pink sequin shift dress. How often do you get to see plus size women not wearing a "flattering," "fitted" ensemble to accentuate their "curves?" Tracy and Edna's matching outfits are to die for.
6. Lavish Fitting Rooms
Why is it that clothing stores feel it's their duty to be harshly lit closets from hell? If high street retailers can invest in sofas and if the Hefty Hideaway has teams of professionals to style you fabulously, why can't stores IRL do the same?
7. Make It Fun!
Of course, working in retail is a whole other world of hurt, and as a hardened retail lackey for over five years, I totally understand that most days you want to sit on your own and ignore everyone. If the job isn't fun, it usually isn't the workers' fault but the store's. However, if the staff is having fun — via a kickass playlist, being allowed to joke with customers, and not having strict uniform rules — then the customers can have fun, too. We should be encouraging women to take over the high street — to be comfortable taking up space and shopping both outside and offline.
Mr. Pinky, you're doing it right.
Images: New Line Cinema; Giphy; his-submissive-girl, motionlmags/Tumblr