A Timeline Of Bobbi Kristina & Nick Gordon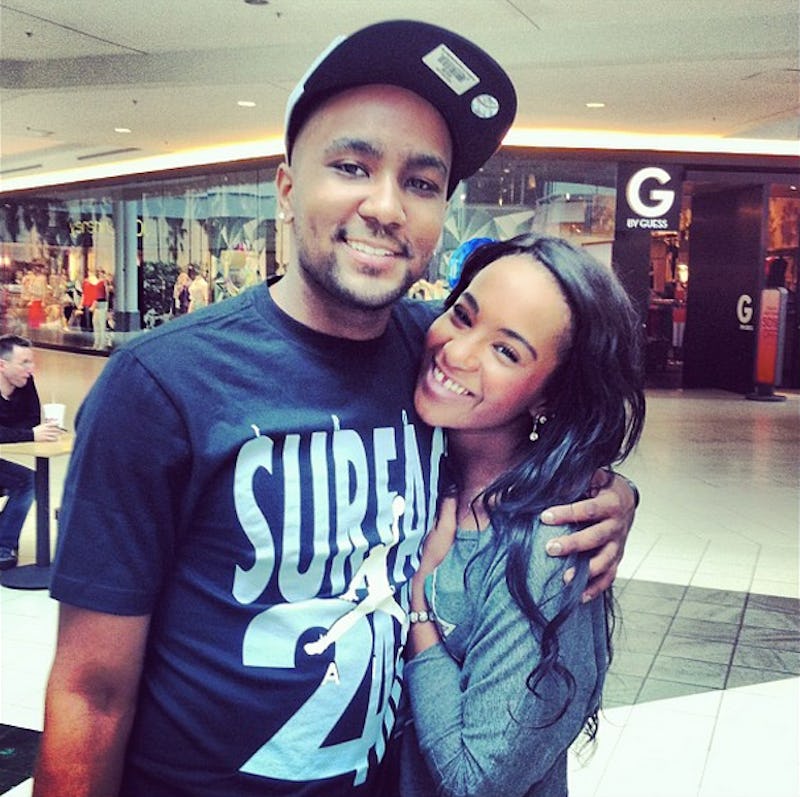 In heartbreaking news Sunday, Bobbi Kristina Brown died after a nearly six-month hospitalization in a medically induced coma. She was 22. In the months during Brown's fight for her life, there has been an ugly battle between her family and adopted brother and fiancé Nick Gordon. A timeline of Bobbi Kristina and Nick Gordon's relationship spans decades, a tumultuous affair widely known to be of concern to both sides of her famous families.
On Jan. 31, Brown, the sole daughter of singers Whitney Houston and Bobby Brown, was found unconscious in a bathtub at her Georgia home by Gordon and a friend, who reportedly attempted CPR while awaiting an ambulance. Brown was breathing when she arrived at a hospital and put on life support. Brown never regained consciousness and remained in a coma until her death.
Gordon has largely stayed out of the public light during Brown's hospitalization, though he was reportedly banned by both the Houston and Brown families from seeing her early in her treatment. And earlier this month, Brown's conservators filed a seven-figure civil lawsuit against Gordon, which included claims of violence and stealing. According to HollywoodLife.com, Gordon has been put on suicide watch following Brown's death.
While Brown may finally rest in peace, reunited with her mother at least, the aftermath of her tragic death remains to be seen. Brown was the named the sole heir to Houston's estate, The Wrap reported.
March 4, 1993: Brown is born in Livingston, New Jersey.
Late 1990s-early 2000s: According to TMZ, Houston reportedly takes in a then-12-year-old Gordon as an unofficially adopted son after learning his mother could no longer take care of him.
Feb. 11, 2012: Houston dies from accidental drowning after being discovered unconscious in her bathtub at the Beverly Hills Hilton. Brown struggles with her mother's death and reportedly turns to drugs soon after her funeral, according to the Daily Beast.
March 2012: Brown and Gordon deny rumors they are dating, though they acknowledge via their social media accounts that they have become closer since Houston's death.
Summer 2012: Brown and Gordon confirm they are dating via social media posts. They also walked the red carpet together at the premiere for Sparkle in August.
October 2012: Brown, Gordon, and other members of the Houston family star in the Lifetime reality show The Houstons: On Our Own . The 14-episode series follows the Houstons as they attempt to move on after Whitney's death.
July 10, 2013: Brown confirms via Facebook that she and Gordon are engaged, writing, "Yes, me and Nick are engaged. I'm tired of hearing people say, 'Eww you're engaged to your brother' or 'If Whitney was still alive, would we be together or would she approve of this?' Let me clear up something, we aren't even real brother and sister, nor is he my adoptive brother. My mom never adopted him. In fact, mommy was the one who even said that she knew that we were going to start dating."
Jan. 9, 2014: Brown reportedly marries boyfriend Nick Gordon.
Jan. 31, 2015: Brown is found unconscious in her bathtub at her Georgia home by Gordon and a friend. They begin CPR and call an ambulance. Bobbi Kristina arrives at the hospital breathing and alive, but doctors place her in a medically induced coma.
Feb. 4, 2015: Brown's father's lawyer Christopher Brown said in a statement she was never legally married to Gordon. "To correct earlier reports, Bobbi Kristina is not and has never been married to Nick Gordon," he said.
March 4, 2015: Brown turns 22. Her family writes via Houston's official Facebook page, "Today is Bobbi Kristina's 22nd birthday and we ask you to continue to keep her in your prayers as she is still fighting the battle of her life."
March 11, 2015: A sit-down interview between an unstable Gordon and Dr. Phil airs. In it, Gordon slurs his words as he cries over "losing Krissy." He also admits he is battling depression and substance abuse following her hospitalization. According to TMZ, Gordon went to rehab following the taping of the interview. A day later, Leolah Brown, Bobby Brown's sister, claims Gordon is "under investigation for the attempted murder."
July 14, 2015: Gordon is served with a $10 million civil lawsuit, filed by Brown's family on her behalf. The complaint alleges Gordon physically assaulted Brown as well as stole thousands of dollars from her. The suit also claims Brown planned to meet someone the day of she was found unconscious to discuss leaving Gordon because he was "not the man she thought he was."
July 26, 2015: Brown passes away after spending nearly six months in a coma, her family confirms. An unnamed sourced tells HollywoodLife.com that Gordon has been put on suicide watch after becoming "inconsolable" upon learning about Bobbi Kristina's death.
Image: realbkristinahg/Instagram