This Buzzy Pore-Cleaning Device Now Comes With Its Own Skin-Plumping Booster
Spa-like results at home.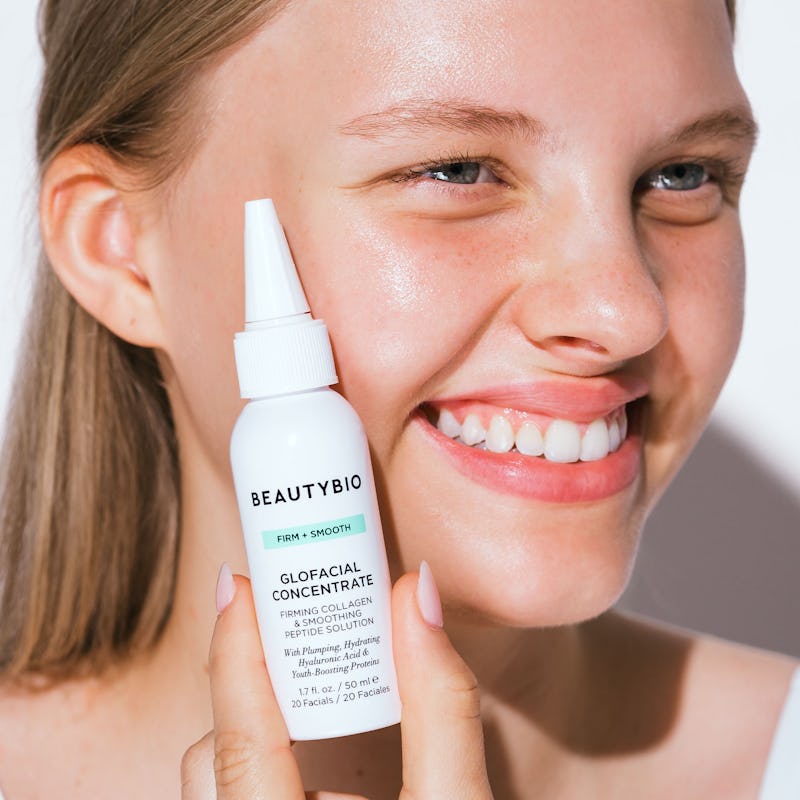 We may receive a portion of sales if you purchase a product through a link in this article.
Unless you have the budget for a weekly facial, you've probably come to realize that treating clogged pores is a tricky business. Sure, there are plenty of products with exfoliating acids to choose from; but depending on your skin type and the combination of AHAs and BHAs used, they can be too drying or not powerful enough to clear away pore-clogging debris. And then there are those infamous pore strips from your teenage years, which usually cause more harm than good. But BeautyBio has changed the at-home skin care game with the introduction of its GLOfacial tool, a handheld device that gently suctions out oil, debris, and dead skin cells from your pores while infusing them with a concentrated skin care booster. Though the brand initially offered just one salicylic and hyaluronic acid-filled concentrate when the tool launched in 2022, they've just released the GLOfacial Collagen Concentrate, which was designed to be paired with the tool to hydrate and plump the skin as it simultaneously deep cleans.
If you're curious about BeautyBio's latest concentrate — and how it works with the GLOfacial tool for spa-like results at home — keep reading for all of the details.
How The GLOfacial Device Works
Despite its small stature, BeautyBio's GLOfacial tool packs a pretty powerful punch. The chargeable device is not entirely unlike a Hydrafacial, as it works to pull gunk out of the pores with the press of a button, while then infusing pores with one of the brand's concentrates for added clarifying or collagen-boosting benefits, depending on which one you choose. The tip also includes a blue LED light that helps to eliminate acne-causing bacteria as you glide the vacuum-like tool over your skin. (While the tool itself is only recommended to be used once or twice weekly, you can use the blue light on its own to spot treat on a daily basis if you're prone to breakouts.)
While it might take a little bit of practice to get the hang of properly setting up the tool and holding it as you move it across your skin (it will help you out by beeping if you don't have the base of the tool pointed down at all times), the GLOfacial doesn't require any advanced skills. It also only takes about five minutes to use, so it's not nearly as time-consuming as an in-office treatment. Once you've finished your treatment, you'll notice that the pod labeled 'Concentrate Chamber' (where you're meant to add your concentrate and water according to the line indicators) is empty, and the pod labeled 'Waste Chamber' is full of water that's turned murky from things like blackheads, oil, and makeup that were trapped on your skin.
One more thing worth pointing out is that BeautyBio makes a mini cleaning brush with flexible bristles that are designed to clean the two chambers and the device's removable tip. You can either purchase the brush in a set that includes two replacement tips (BeautyBio recommends replacing the tip every two to three months), but the brush is also included in the larger, Complete GLOfacial Kit (along with the device, a small treatment tip, a large treatment tip, a blue light clarifying cap, the GLOfacial Concentrate, the GLOfacial Collagen Concentrate, and a storage bag).
The New GLOfacial Collagen Concentrate
The newest addition to the GLOfacial range, the Collagen Concentrate focuses on rehydrating and firming your skin after unclogging pores with the suction and blue light combo. The multi-tasking concentrate contains hyaluronic acid to bind moisture to your skin, hydrolyzed collagen to help increase skin hydration and elasticity, and peptides to stimulate collagen production. According to the brand, the GLOfacial tool helps deliver those active ingredients into the pores, as opposed to having them just sit on the surface.
The Original GLOfacial Concentrate
There's also BeautyBio's OG skin booster, which can be used instead of the Collagen Concentrate or on a rotational basis depending on your preference. Like the new Collagen Concentrate, the Original GLOfacial Concentrate contains hyaluronic acid to increase your skin's hydration levels, but it's also formulated with salicylic acid to further help clear oil and debris from your pores (something that's especially helpful if you have oily or acne-prone skin). Additionally, the concentrate includes niacinamide, which offers a whole host of skin care benefits. There are also several other skin-calming ingredients in the Original Concentrate, including chamomile, green tea leaf, and centella asiatica extracts, the latter of which works to soothe and strengthen the skin.