12 Books About Dogs That Won't Make You Cry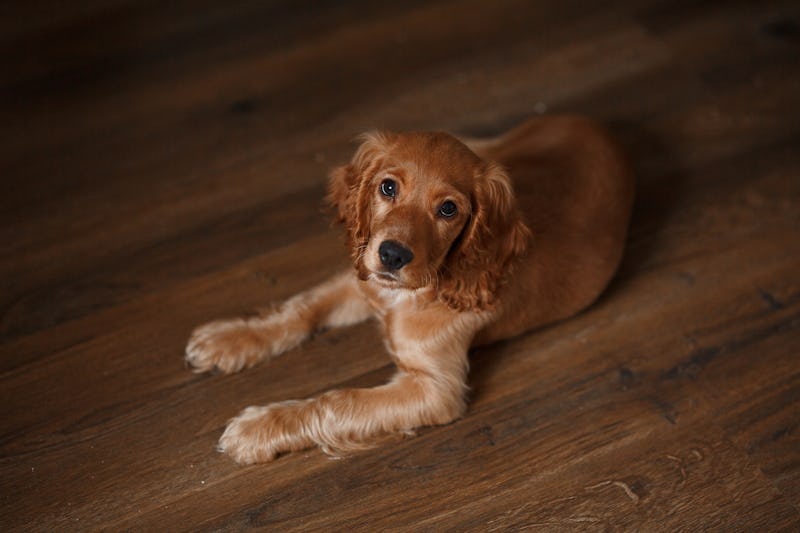 Ekaterina savyolova/Moment/Getty Images
I don't read dog books. I used to read plenty of books about animals, but I stopped bothering. After all, what was the point? There aren't any books about dogs that won't make you cry, now, are there? Somewhere along the line, I stopped watching dog movies, too. I cried for two hours after watching Old Yeller. I've never seen Marley and Me. I bawled my eyes out a few minutes into John Wick. Don't even get me started on Where the Red Fern Grows.
Growing up, the only books my brother read were about dogs. He loved Jack London, who kills far too many dogs for me to enjoy reading his work. After I read Old Yeller — a considerably less traumatic experience than watching the movie, given that I knew what was coming — my brother told me to read Big Red, which is easily my favorite dog book ever.
When did it become a rule that writers had to kill off their characters' canine companions? In almost every "heartwarming" Bildungsroman, the scruffy boy's scruffy dog dies. The boy stands just a little bit taller and more mature, then, after facing the death of his friend. I get that losing a pet is a common experience, and one that I've had, but can we please stop using it as a character development catalyst?
OK, I'll get down off my soapbox now. If you're looking for some great books about dogs that won't make you cry your eyes out, check out the 12 titles below for some feel-good reading.
1. Big Red by Jim Kjelgaard
Danny falls in love with a show dog named Red, and the two become inseparable. But the $7,000 Irish setter can't be injured, and his scraps with Danny grow increasingly risky, which puts their relationship in jeopardy.
2. Dog on It by Spencer Quinn
A K-9 academy dropout narrates Spencer Quinn's Chet and Bernie Mystery series. Riding shotgun in his private eye friend's pickup, Chet helps Bernie solve the Little Detective Agency's cases.
3. Shiloh by Phyllis Reynolds Naylor
Marty names the Beagle puppy he finds in the woods "Shiloh." But their companionship is short-lived: Shiloh belongs to the town drunk, who abuses his hunting dogs. When the puppy runs away from home and back to Marty, the boy must hide him, and figure out a way to give Shiloh a forever home.
This travelogue from John Steinbeck centers on the author's 1960 trek across America with Charley, his French poodle. Less about the relationship between man and dog than the political sea change on the horizon, Travels with Charley is an oft-overlooked treasure.
Wait, there's a book? Yes, there is, and it's fantastic. Turns out, Pongo and Perdita were never a couple; you can thank Disney for that detail. In Dodie Smith's original story, Pongo's partner was named Missus, and Perdita was the pregnant, liver-spotted Dalmatian who turned up at their door.
Plenty of animal lovers grew up with James Herriot's books, which relate stories from the English author's mid-century veterinary practice. Herriot's books were even made into a TV series, All Creatures Great and Small, which featured 5th Doctor Peter Davison as Herriot's fellow vet, Tristan Farnon. If you just want to read about Herriot's canine patients, Dog Stories is the book to grab.
Back in 2000, beloved children's book author Kate DiCamillo burst onto the scene with Because of Winn-Dixie. This poignant Florida tale centers on Opal, a girl without a mother, who adopts a dog without a home. With her new pet, Opal gets to know her broken neighbors, and learns a little more about her absentee parent.
8. Dogger by Shirley Hughes
OK, so Dogger isn't about a dog, per se, but it is about a dog toy, and that totally counts. Dave loses his best friend, the eponymous Dogger, only to find him on the prize shelf at his school's summer fair. He sets out to win Dogger back, but someone else might get to the toy first.
We all like to think that we know what our dogs are thinking and feeling, but how much do we really understand about our canine companions? Alexandra Horowitz lays out the cognitive experiences of our best friends in Inside of a Dog.
When Abigail Thomas' husband, Rich, sustains a traumatic brain injury after being struck by a car, he's institutionalized. Thomas moves closer to the facility where her husband lives, adopts two more dogs, and tries to rebuild her life in this touching memoir.
When a linguist's wife dies in a mysterious fall, the only witness is the couple's dog, Lorelei. Obsessed with uncovering the truth about Lexy's death, Paul takes on the arduous task of teaching Lorelei to communicate with humans.
Has a book character ever made more sense to me than Wallace Wallace does? The football player at the heart of Gordon Korman's novel writes a rant about the sad dog book his English teacher assigns, and refuses to turn in an alternate paper. As punishment, the teacher forces Wallace to take part in the school play, but will that change his attitude toward books about dogs?
Image: Ekaterina savyolova/Moment/Getty Images