The History Of Reproductive Rights In The US, As Told Through 20 Books
If you're looking to learn more about the issue, pick up one of these titles.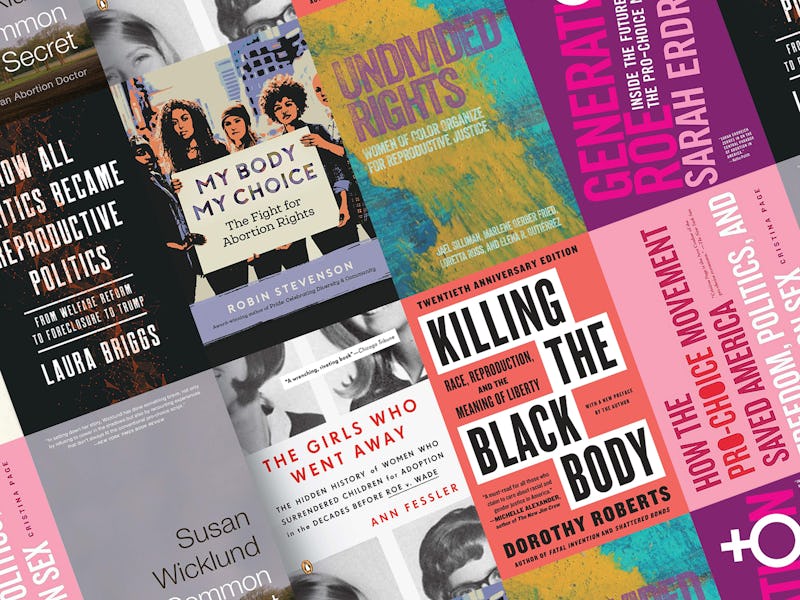 With health care access under fire across the United States, Bustle has pulled together a list of 20 nonfiction books about reproductive rights you should be reading right now — because conservatives won't stop at overturning Roe v. Wade.
With its 6-3 ruling in Dobbs v. Jackson Women's Health Organization, the Supreme Court struck down Roe — its 1973 ruling guaranteeing Americans' right to abortion access — as well as Planned Parenthood v. Casey: a 1992 case that upheld Roe and prevented states from imposing "undue burden" on people seeking abortions. Writing in his concurrence, Justice Clarence Thomas, a George H.W. Bush appointee, held that SCOTUS "should reconsider all… substantive due process precedents, including Griswold, Lawrence, and Obergefell." Those three rulings, which guaranteed married couples' access to contraceptives, struck down state sodomy laws as unconstitutional, and legalized same-sex marriage across the United States, could very well be on the chopping block next.
Now, less than two weeks after Dobbs, abortion access varies widely from state to state. Without Roe, abortion has become illegal in nine states, several of which make no exceptions for victims of rape or incest. Additional states have seen their abortion bans overturned by lower courts, leaving pregnant people and their health care providers in a state of legal limbo. Meanwhile, chronically ill people are already being denied their life-saving medications at the pharmacy, simply because those medications are abortifacients.
To make matters worse, America's most trusted centrist and left-wing media sources are drowning in an insidious wave of transphobic sentiment, one which wrongfully blames trans people for the loss of reproductive health care. Takes like those recently published in The New York Times, which make trans people into a scapegoat for the revocation of cis women's rights, ignore the fact that trans men and some nonbinary people also need abortion access and that trans people are already subject to "rampant discrimination… by health care providers." This assault on trans rights — from people formerly believed to be allies — comes at a time when a crop of transphobic new laws threaten to revoke parental rights from adults who support their children's transitions, subject student-athletes to invasive genital examinations to ensure that only cisgender children play sports, and ban drag queens from performing in the presence of children.
Activists must understand the fight they're in if they have any hope of winning it. The groundwork has already been laid for anyone interested in fighting to protect health care access, and newcomers to the battlefront would do well to educate themselves before diving in. Below, 20 nonfiction books about reproductive justice you should read as the assault on health care access continues.
We only include products that have been independently selected by Bustle's editorial team. However, we may receive a portion of sales if you purchase a product through a link in this article.
This article was originally published on