10 Creepy Books You Read As A Kid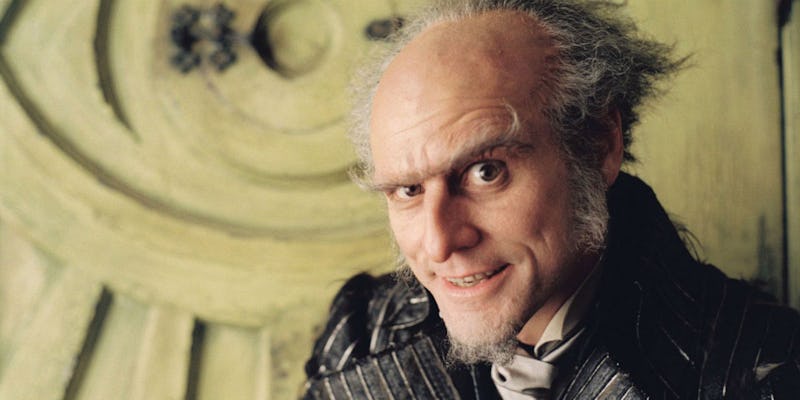 There are some books that you read as a kid that you probably wouldn't enjoy if you read them again. These are the books that were great in a moment, but were kind of forgettable and just wouldn't be the same if you revisited them as an adult. You probably won't even think to reread these books, because you won't even remember they existed.
There are those books. And then there are the books that you still can't think about without a shiver running down your spine. You know what I'm talking about — these are the books that your parents told you not to read, because they KNEW you would have nightmares, but you read them anyway under the covers with a flashlight. And then you definitely had nightmares (or even wished the villains had their own stories).
Maybe you've avoided rereading these books, because even though a part of you knows that you're older now and much more mature, you still think that those childhood scary stories might creep you out. What better time to find out if this is true, than Halloween?
Some things just get better with time, and the following books are just as spine-chilling now as they were when you first read them. So grab a flashlight and read the following books under the covers… for nostalgia's sake.
1. Coraline by Neil Gaiman
Coraline finds a passageway to another world where everything is just a little bit different, and her "other" mother has buttons for eyes. This one probably gave you nightmares as a kid, and it might still creep you out... it's always worth a reread.
2. Scary Stories To Tell In The Dark by Alvin Schwartz
Skeletons, haunted houses, and ghosts, oh my... This is the book you read out loud at sleepovers as a kid, and you should definitely revisit this Halloween.
3. Night Of The Living Dummy by R.L. Stine
For kids who wanted a thrill, Goosebumps was the go-to series. Your school library probably had an entire section dedicated to these creepy thrillers. Remind yourself of the classic Night of the Living Dummy, and you'll either laugh at how scared you used to be, or get creeped out all over again. I have to admit that I'd probably be in the latter category.
4. The Witches by Roald Dahl
Roald Dahl's books are whimsical and magical, but they also have an extremely creepy edge. The Witches may be a children's book, but it's not all sunshine and rainbows. Even as an adult this one will keep you on the edge of your seat.
5. The Monsters Of Morley Manor by Bruce Coville
As a kid I was obsessed with Bruce Coville, because many of his books had unicorns in them (and I loved unicorns). His book The Monsters of Morley Manor didn't have any unicorns in it, but it did have everything from werewolves to aliens, so it's the perfect reread for Halloween.
6. The Halloween Tree by Ray Bradbury
A group of friends go on a journey to find their friend. If you finished Stranger Things and you need a classic to reread this Halloween, The Halloween Tree is the book for you.
7. Bunnicula by Deborah And James Howe
The cover of this book always freaked me out as a kid. Rediscover the tale of a vampiric rabbit this autumn.
8. And Then There Were None By Agatha Christie
I loved Agatha Christie novels as a kid, and our library had a great selection of Miss Marple and Hercule Poirot mysteries. But then I read the chilling And Then There Were None and had to take a break for a while, because I was so terrified. This iconic mystery is definitely worth a reread at Halloween.
9. The Carnivorous Carnival By Lemony Snicket
A Series of Unfortunate Events was one of my favorite series as a kid, and all of them have the perfect Gothic tone for Halloween reading. The Carnivorous Carnival, with its ensemble of circus performing characters, is a great go-to reread.
10. Lord Of The Flies By William Golding
This classic is the creepiest of all — you probably still remember being scared as you read it in high school, and it'll evoke those same emotions when you give it a reread.
Image: Paramount Pictures (1)