9 Authors Who Finished A Novel During NaNoWriMo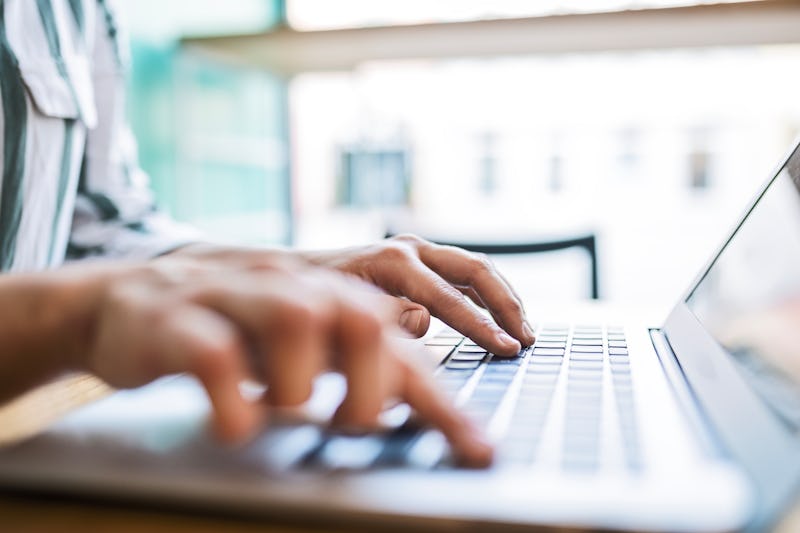 Nastasic/E+/Getty Images
November's famous writing challenge is underway again, and hopeful writers everywhere are pouring their hearts out onto the pages, each one hoping they'll become one of the famous authors who finished a book during NaNoWriMo. Believe it or not, plenty of writers have done it before — who is to say you can't be the next one?
NaNoRiMo, or National Novel Writing Month, is an annual event that challenges aspiring writers all over the globe to try and finish a 50,000 word novel in 30 days. A unique way to recommit yourself to your craft, NaNoWriMo is an incredible experience that pushes the boundaries of your writing skills, dares you to expand your imagination, and inspires you to finally finish something you've always wanted to: your very own novel.
While it can be an intense and demanding exercise, National Novel Writing Month has a proven track record of producing some pretty amazing results. Debut and seasoned authors alike have taken the challenge and produced groundbreaking novels, award-winning books, and even bestselling series. A deadline-driven exercise that gives authors the inspiration, the enthusiasm, and the support they need to create great books, National Novel Writing Month is the creative writing exercise you've been waiting for.
Thinking of signing up and participating yourself? It's not too late to try and join the ranks of these 9 famous authors who finished a book during NaNoWriMo. What are you waiting for?
1. Stephanie Perkins
Beloved YA author Stephanie Perkins is no stranger to the challenges of NaNoWriMo. Many of her bestsellers, including Anna and the French Kiss, Lola and the Boy Next Door, and Isla and the Happily Ever After, started as National Novel Writing Month projects. Perkins's advice? "The only way you can mess this up? That's if you stop writing. So keep going! Keep sucking! You're doing great. I'm proud of you."
2. Carrie Ryan
Even the most complex series all start with a single idea, and New York Times bestselling author Carrie Ryan got hers during NaNoWriMo. Forest of Hands and Teeth, the first in her critically acclaimed dystopian zombie series by the same name, started during the November writing challenge, and has now grown three complete novels and several other stories.
3. Amelia Atwater-Rhodes
A published author at the age 14, Amelia Atwater-Rhodes is a big fan of NaNoWriMo, and uses the yearly challenge to help her finish books nearly every year. Her novels including Bloodwitch, Token of Darkness, and Mancer were all products of National Novel Writing Month. Fans are all wondering, what does this year hold?
4. Julie Murphy
In 2011, Julie Murphy sat down and put pen to paper (okay, fingertips to keyboard) and finished Side Effects May Vary during NaNoWriMo. The author, a deadline-lover herself, says of the challenge, "Man, I love NaNo. To me, it's the Ironman Triathalon of writing—but with more junk food provisions—because if you've completed it, you wear it as a badge of honor."
5. Marissa Meyer
If you want to write a bestselling YA series, you might want to try Marissa Meyer's strategy: finishing it all during NaNoWriMo. In 2008, Meyer set out to win a the contest for most words clocked in November in order to win a walk-on role in Star Trek, and although she didn't win, she finished three novels that became drafts for her Lunar Chronicles series.
6. Bru Baker
Romance novelist Bru Baker finished her first novel during 2010's NaNoWriMo. Island House, a gay romance she completed during the challenge, was thrilled to get a contract for her novel, but admitted, "I had no idea certain genres of fiction were looked down on by some people because they weren't part of mainstream fiction." Since her first book, though, Baker has gone on to publish several books, all thanks to her experience writing in November.
7. Melissa DeCarlo
In 2009, after giving up writing for seven years, author Melissa DeCarlo decided to give it another shot one fateful November. One NaNoWriMo, several drafts, and nearly six years later, The Art of Crash Landing became a published novel. DeCarlo's advice? "1. Don't give up. 2. Don't give in."
8. Donna Gephart
From literary novels to children's stories, just about everything gets written during NaNoWriMo. Just ask Donna Gephart, beloved middle grade author who finished Olivia Bean, Trivia Queen during a 2009 National Novel Writing Month after struggling to come up with an idea for her next novel. Sometimes, a little push is all it takes.
9. T. Greenwood
Author of 10 novels, T. Greenwood finished one of them, The Hungry Season , during a NaNoWriMo. A true believer in the challenge, Greenwood now teaches creative writing and encourages other authors to finish their own book.
Images: Nastasic/E+/Getty Images