These Podcasts Are Genius If You're Struggling To Fall Asleep At Night
Because sleep is essential.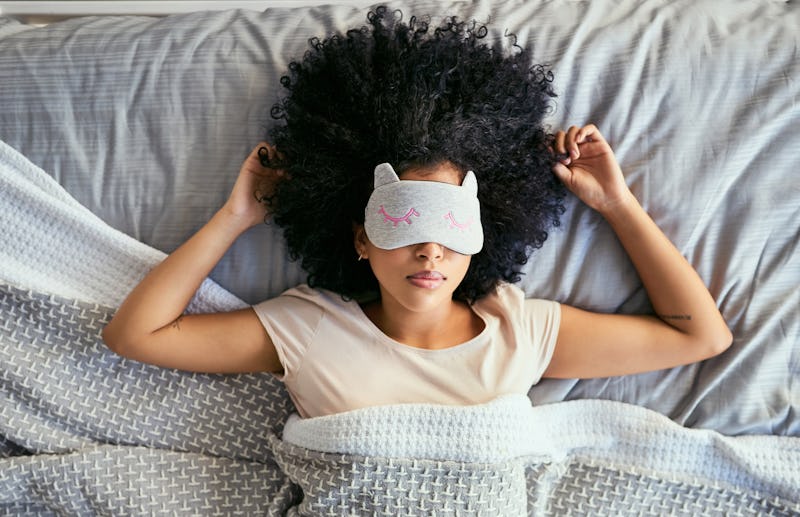 LaylaBird/E+/Getty Images
If you have an interest, there's a podcast for that. But, beyond expanding our knowledge of a certain subject, podcasts can also be good to fall asleep to.
With the NHS claiming that one in three of us suffer from bad sleep, insomnia is a clearly a problem a lot of us are looking to tackle. Sleep is just about one of the most important parts of a healthy life. "We spend about a third of our lives asleep," the Mental Health Foundation says. And, they explain, if you aren't getting the recommended amount of sleep, you are almost definitely doing damage to the other two-thirds of your life. "Sleep is essential," they add.
Although the statistics around this particular sleeping habit are few and far between, what we do know is that, in 2011, a study commissioned by the National Sleep Foundation found that 60% of Americans watch TV immediately before going to sleep "every night or almost every night."
Having suffered from periods of insomnia in the past, I have tried many different methods to help me sleep, from herbal remedies to cutting caffeine to attempting meditation. However, the one thing that has really changed my sleep is listening to podcasts. It may sound silly, but having something to drift off to has been majorly beneficial for me, and I would recommend it for those looking for ways to relax before bed. Below is my list of top podcasts to help get you on an express train to fall asleep to.
Additions by Sophie McEvoy.
This article was originally published on