What Does A Map Of Panem Look Like?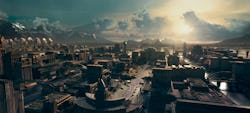 One thing I've been wondering since I first read The Hunger Games, is what exactly does Panem look like? Now Lionsgate has finally released an official Panem map that shows where all the districts are. It's part of their promotion for The Hunger Games: The Exhibition, a museum exhibit opening in New York City this summer. The experience allows fans to visit areas made to look like District 12, the Capitol, the tribute train, and more. That's all very exciting, of course, but I'm most excited about this Panem map.
Although the books take place in America, it's a dystopian version of the country. Panem was created after rising floods obliterated much of the coasts, leaving just 12 districts where there were once 50 states. The uncertainty of what survived leaves modern-day fans wondering whether their hometowns would have made it, and what district they would now be in.
There are some hints throughout the books about where certain areas are. We knew that District 12 was located in the Appalachia near the east coast. And it was always assumed that The Capitol was in Colorado because Katniss says it's surrounded by the Rockies. But other than drips and drabs of info, there was no official way of knowing where things were. So, some fans took it upon themselves to create Panem maps, and they looked pretty good.
But the fan maps were missing one thing: input from the author herself. Fortunately Lionsgate has access to Suzanne Collins. They were able to create an official map of Panem, and they've finally released it, much to the delight of fans.
So, did your city survive the ocean floods? Which district would you be in? Now we can finally know for sure.
Image: Lionsgate