8 Movies to Watch On Disney+ To Celebrate Asian American and Pacific Islander Heritage Month
There's a wealth of films on Disney+ to celebrate AAPI Heritage Month.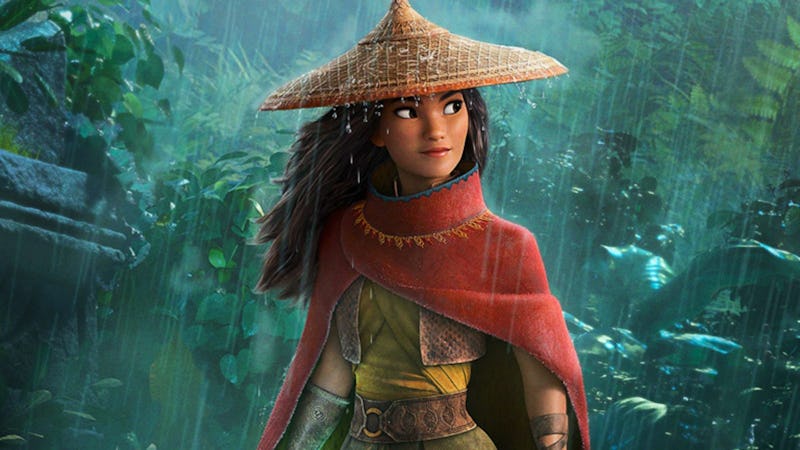 In 1978, President Jimmy Carter signed a joint resolution creating Pacific/Asian American Heritage Week — a time to celebrate the accomplishments and contributions made by those of Asian and Pacific Island descent in the U.S. (President George H.W. Bush extended the observance to the full month of May in 1990, and it has since been renamed Asian American and Pacific Islander Heritage Month.)
With the recent rash of violence against Asian Americans, it's more vital than ever to honor and hold up the impact made by this vast and diverse group of people — whether through marching, donating, or experiencing AAPI culture through its own unique lens.
To that end, with AAPI Heritage Month upon us, here are eight movies created by and/or starring AAPI talent streaming on Disney+ this month — from the classic Mulan to the newest Disney animated film Raya and the Last Dragon. Sign up today to see it all.
1. Mulan
When it comes to the tale of everyone's favorite badass soldier in disguise, you've got a couple of viewing options: the 1998 animated version starring Ming-Na Wen, or the 2020 live-action version starring Yifei Liu. Whichever you choose (may we humbly suggest a double-feature?), you'll surely find yourself cheering once again for the brave girl who saved her father—and an entire nation.
2. Lilo & Stitch
This Academy Award-nominated movie, in which a young girl named Lilo (voiced by Daveigh Chase) finds and adopts a mischievous alien as her new pet "dog" and names it Stitch (voiced by Chris Sanders), embraces the Hawaiian ideal of 'ohana—the view that family isn't just the ones who are blood-related to us, but also the ones we have chosen as our intentional family. Or, as Lilo's late father put it: "'Ohana means family. Family means nobody gets left behind — or forgotten." It's an inspiring and inclusive principle to live by—not just in May, but all year long.
3. Moana
Extend your stay in the Pacific with the tale of Moana (voiced by Auliʻi Cravalho), a Polynesian girl who sets out on an adventure to find the demigod Maui (voiced by Dwayne Johnson) to convince him to restore the heart of the goddess Te Fiti, which will save Moana's island home. With a soundtrack of catchy songs co-written by Lin-Manuel Miranda, you'll be humming for days.
4. Bend It Like Beckham
This 2002 soccer, er, football classic stars Parminder Nagra as Jess, the daughter of British Indian Sikhs, who despite her parents' protest, secretly joins up with the local team at the behest of her new friend Jules (played by Keira Knightley). And, sure, while the story is set in the UK and not the US, it deftly brings South Asian experiences and culture to the fore. (And did we mention there's a pretty juicy romance at the heart of it too?!)
5. Raya and the Last Dragon
The newest film from Walt Disney Animation Studio, Raya and the Last Dragon stars Kelly Marie Tran as the titular warrior, who must track down the last living dragon to help save her mythical world of Kumandra. Come for the beautifully told story of trust and teamwork, and stay for the absolutely stacked cast—which, in addition to Tran, includes Awkwafina, Gemma Chan, Daniel Dae Kim, Benedict Wong, and Sandra Oh.
6. Bao
The winner of the Best Animated Short Film Oscar in 2019, this allegory centers on a Chinese-Canadian mother who raises a sentient steamed bun as her own. With a brisk run time of just 8 minutes, writer-director Domee Shi manages to expertly craft a moving (albeit dark) story about the love and loss of parenthood.
7. Up
Is it possible to watch Up without completely emptying your tear ducts? We have yet to do it! When the Pixar film debuted in 2009, it earned a host of accolades from critics, not just for its thoughtful portrayal of grief, but also for featuring an Asian American lead character (Russell!!) voiced by an Asian American actor (Jordan Nagai). Fun fact: The character was actually modeled off of Pixar storyboarder Peter Sohn, who is Korean American.
8. Big Hero 6
Inspired by a series of Marvel comic books of the same name, Big Hero 6 follows a teen robotics expert named Hiro Hamada (voiced by Ryan Potter), who lives in the futuristic city of San Fransokyo (a mash-up of San Francisco and Tokyo) and teams up with a health-care robot named Baymax (voiced by Scott Adsit) to avenge his brother Tadashi's untimely death. It's an action movie that also happens to have a lot of heart.
Sign up for Disney+ today to celebrate all these incredible films, characters, and creators.
We may receive a portion of sales from products purchased from this article, which was written by our Branded team.