Akwaeke Emezi's Romance Is The Book Of Hot Girl Summer
You Made A Fool Out Of Death With Your Beauty is a story of love, grief, and self-discovery.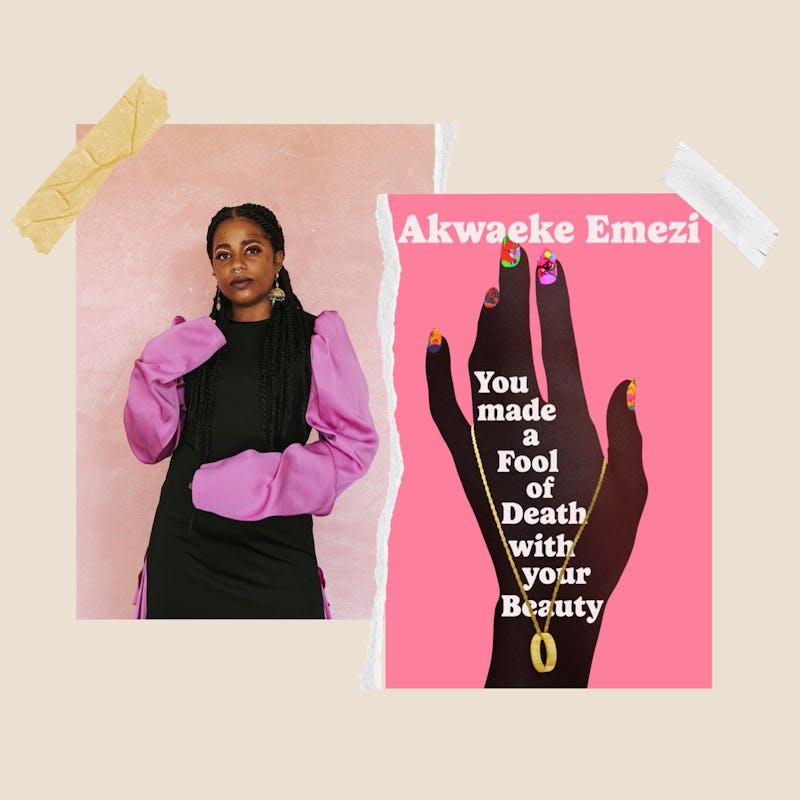 Courtesy of Akwaeke Emezi
Having already been picked up by Amazon Studios and Michael B. Jordan in a seven figure deal, Akwaeke Emezi's romance debut, You Made A Fool Of Death With Your Beauty, already promises to be one of the hottest reads of the summer, and now, it's about to land on a bookshelf near you. You Made A Fool Of Death With Your Beauty follows the story of Feyi, an artist who's dealing with the death of her husband, and how she copes with this grief whilst navigating love and romance once again. It's a story of self-discovery, the messiness of modern dating, and finding happiness and freedom outside of the typical societal boundaries, with the odd profanity thrown in of course.
This may be Emezi's romance debut but they are also the author of the memoir Dear Senthuran, New York Times bestseller The Death of Vivek Oji, a New York Times Notable Book Freshwater, and Pet. They also recently appeared on TIME's Next Generation of Leaders in 2021, alongside actor Anthony Ramos and singer-songwriter Rina Sawayama.
In this section excerpted from Akwaeke Emezi's novel, You Made A Fool Of Death With Your Beauty, Feyi has a rather steamy encounter with a stranger, Milan, at a house party.
Excerpt from You Made A Fool Of Death With Your Beauty by Akwaeke Emezi
Milan was the first person Feyi had fucked since the accident. They hooked up in a bathroom at a Memorial Day house party in Bushwick, with Feyi's glass of prosecco spilling into the sink and Milan's large hands sliding behind her thighs as he lifted her onto the bathroom counter. Speckled tiles stretched around them, washed bloody in the light of the red bulb someone had screwed into the ceiling, and a linen shower curtain hung around the bathtub, thick with monstera leaves. Feyi threw her head back, his mouth at her throat, and her long pink braids dripped over the faucet, the tips dragging against the draining bubbles of her drink. "Tell me if you need to slow down," Milan said, his voice all tangled up, busy with want. "I know we just met or what ever."
He said it as if it could matter, or as if it was a reason to stop instead of a reason to go even faster. Feyi had first seen him back on the rooftop, when the party was in full force around them. She'd liked the way his eyes followed her as she walked, how tall he was, how broad. Her best friend, Joy, had leaned in, linking her arm with Feyi's.
"Whew, check out those thighs!" she'd whispered. "He thick as fuck. I'ma need him to turn around so I can see that ass."
Feyi had rolled her eyes. "So glad you don't have a dick," she said. "You'd be a fucking menace."
"I'd be particularly interested in his ass if I had a dick," Joy replied.
"I take that back. You're already a menace." Feyi snuck another look at the thighs in question. "Besides, you can just use a strap, you know."
"Nah, it's not the same. I wanna feel him squeeze around me." Joy had flexed her fingers into a fist to illustrate the grip, and Feyi stifled a laugh, her braids sweeping across her collar bone. Milan glanced in their direction, catching Feyi's eye and smiling at her from across the roof.
Feyi had already decided who she wanted to be that night, so she stared right back at him, unabashed, drinking in his terra-cotta skin and dark copper beard. When he nodded to his boys and started walking toward her, Joy squealed and vanished, leaving the two of them alone. Feyi wanted to cut through any potential small talk—just slice it away neatly—
so she touched the buttons of Milan's shirt as soon as he was close enough.
"You're hot," she'd said, before he could even open his mouth. "Are you seeing anyone?"
A flicker of surprise had crossed his face, but Milan recovered quickly. "Nah," he replied, tipping his head to one side as he held her eyes. "You?"
For a moment, there was the scream of tires and the mad chime of broken glass, the soft petals of white lilies, and a clod of dirt breaking apart in Feyi's hand, but she brushed it all aside like smoke.
"Single," she'd said in return, stepping right into his personal space. He smelled of rain and bergamot. "And—how do they say it?—ready to mingle."
It would have been a corny line if she wasn't so beautiful, and Feyi knew it—knew how to part her lips in their full wine red, how to look up at him from under thick black lashes, how to inject a lifetime of suggestion into her voice. It was all a game, a simple formula, and there was nothing wrong with using these cards she'd been dealt. Besides, if she looked closely enough at the whole thing, none of it really mattered. He was a different kind of beautiful, and that was enough.
Although she and Joy had been drinking since brunch, Feyi wasn't drunk yet, just tipsy enough to choose him, to dive back into the deep end with his body. From the way this terra-cotta stranger had placed his hand on her lower back, welcoming her against him, he seemed to be on board with her plan. Joy was somewhere by the bar, surely restraining her glee at seeing Feyi make such a blatant move.
"I'm Milan," the stranger had said, his wide and delicious mouth curving into an amused smile.
Do we really need names? Feyi had thought, but she smiled back anyway, her hand splayed against his chest, his heart gal loping steadily beneath her palm. "I'm Feyi."
Milan had glanced around the roof. "Wanna get out of here?"
Nice. He was playing along perfectly, no hesitation, no coyness.
"Not too far. I came with my girl."
He'd nodded and looked back at her. They were close enough for his breath to brush against her skin, for her to see the dark flecks in his brown eyes as he took in her face, his gaze lingering on her mouth. When he spoke again, his voice had dropped, low and rough. "Downstairs?"
Feyi had raised an eyebrow, hiding how his lust was like a match igniting hers. He wanted her, badly enough to ask only the important questions. "You're solution-oriented. I like that."
Milan took her hand, and they left the rooftop, squeezing past people on the stairs, then ducking around a corner as he led her into the bathroom. Feyi watched the muscles in his back move under his shirt as he closed and locked the door, then tracked the caution in his eyes as he turned back to her.
"So . . . ," he said, giving her space, not assuming. It was sweet. It was so unnecessary. Feyi did not need to think about this. She put her drink down on the counter and pulled her blouse off over her head, her pink braids getting briefly caught in the black cotton, leaving her breasts covered in nothing but a thin bralette, small gold rings pressing through the sheer mesh.
The stranger—Milan—inhaled sharply, the want in his eyes going aflame. "You're fucking beautiful," he growled, still holding himself back. "Your skin, it just . . . drinks up the light."
Feyi smiled and said nothing. Instead, she stepped up to him, pulling his face down to hers, his mouth down to hers, his willing and ready tongue down to hers. He seized her greedily, his hands digging into her flesh, his hips pressing an iron length against her stomach. Feyi felt like a monster and a traitor, but it was fine, it had to happen.
It was precisely what she had come here for.
You Made A Fool Of Death With Your Beauty is published by Faber and is out now.