All The Clues About Aly & Zach's Relationship Status After The Bachelor
A Broadway ballad might've spoiled their ending.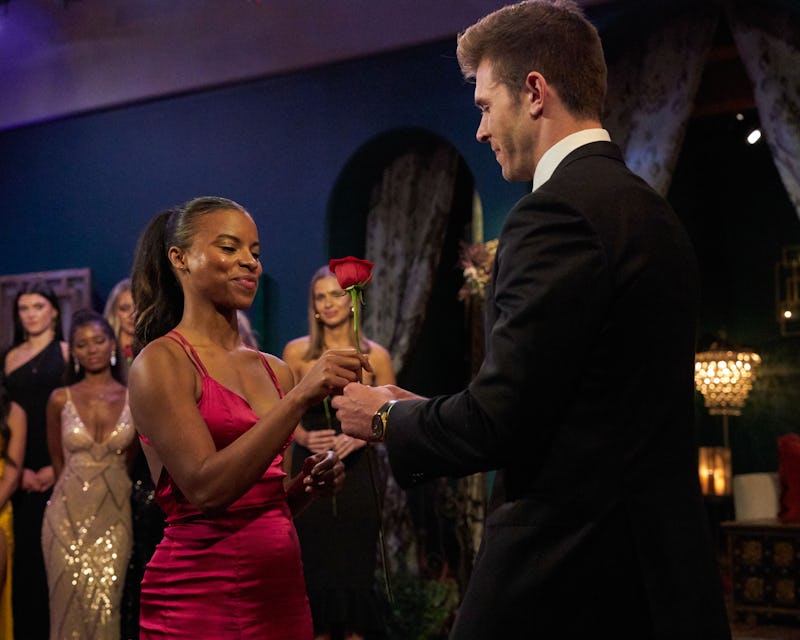 ABC/Craig Sjodin
In The Bachelor's Jan. 30 episode, Season 27 contestant Alyssa "Aly" Jacobs joined Zach Shallcross for a group date — but a major portion of the outing ended up on the cutting room floor. Prior to the cocktail party fans saw on TV, the women reportedly put on a puppet show with Zach's famous uncle, Patrick Warburton, aka Puddy from Seinfeld, that inexplicably never made it to air. According to Reality Steve, Aly volunteered to go first, performing a bit in which puppet versions of herself and Zach shared their first kiss, prompting audience encouragement for them to make it happen in real life. Though Zach didn't kiss Aly in the unaired scene, previews already teased that he chose the 26-year-old healthcare strategist to take a leap of faith by going skydiving for a one-on-one date in the Feb. 6 episode. "The things you do for love," she jokes in one clip.
Just three weeks into the season, it's a bit early to predict if the pair's next big thrill will be an engagement. Still, their romantic one-on-one date, which also included quality time at the winery they landed in post-skydiving, has sent Bachelor Nation hunting for clues that Aly and Zach are together after The Bachelor. As expected, neither of them has slipped up and offered any evidence of their relationship status on social media, but Aly might have offered a couple of subtle hints.
Just one day before she announced her Bachelor casting via Instagram on Jan. 4, the Atlanta resident "felt compelled to share" a video of herself belting out "I'm Here" from Broadway's The Color Purple, an empowering ballad that broadly symbolizes standing tall through sorrow and begins with the line, "I don't need you to love me." As Aly revealed in her caption "These lyrics always seem to touch me and have remained relevant through so many seasons in my life." Sure, it could have been coincidental, but the timing seemed to be telling, nonetheless.
Meanwhile, after Zach's season wrapped filming in late November, Aly was already back to being the Atlanta Braves "#1 fan from the stands," as she captioned a collection of Instagram photos of her favorite memories from serving as a member of baseball club's Tomahawk Team. According to Aly's LinkedIn, she's also still working as a project manager for Children's Healthcare of Atlanta, while Zach is living in Austin, Texas, where he has a job as a tech executive.
As for Zach, he's "very happy" nowadays, and, yes, he found love on The Bachelor. "How everything went, sure, it was an absolute whirlwind with ups and downs, and it will have its drama, that's for sure. That's natural. It's The Bachelor, that happens," he told Glamour of a potential finale engagement. "But with how everything goes, I can tell you that I certainly did find love; I can't say what that form is or what it looks like, but it is there and I'm very happy."
For those into explicit spoilers, Reality Steve confirmed suspicions that Aly doesn't win Zach's final rose. Thanks to The Bachelor's trailer, fans already know that Aly is among the 11 women who accompany Zach to London for the season's fifth rose ceremony. Per the historically spot-on blogger's sources, Aly's Bachelor journey ends either there in the United Kingdom or in Estonia immediately afterward, as she does not make the cut to Zach's final seven women. Later, Reality Steve also revealed Zach's reported winner on Feb. 6, and if his insiders are correct, he confirmed that she is not Aly.