Fans React To Kim Kardashian In American Horror Story: Delicate
Viewers have likened her character to momager Kris Jenner.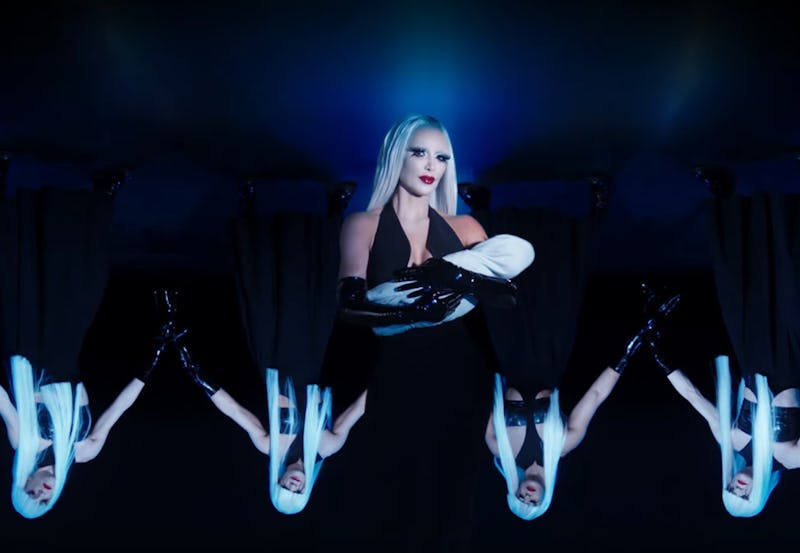 FX
It's official, the businesswoman, reality superstar, and aspiring lawyer Kim Kardashian can now add bona fide actor to her resumé. On Sept. 20, American Horror Story Season 12, titled Delicate, made its TV debut. Partly inspired by the Danielle Valentine-penned novel Delicate Condition, the new season follows the story of an actor, Anna (portrayed by Emma Roberts), who believes "a sinister figure is going to great lengths to make sure her pregnancy never happens." Once she is pregnant, the mystery only intensifies, and her symptoms go "horribly, painfully wrong."
Starring alongside the likes of Michaela Jaé Rodriguez, Zachary Quinto, and Cara Delevingne, Kardashian plays the character Siobhan Walsh — a no-nonsense publicist and best friend of lead character Anna. Following the episode's much-anticipated debut, fans were finally able to witness Kardashian's acting chops, and many agree that the reality star absolutely killed it.
"Kim Kardashian just devoured every other actor. I'm dead," one AHS fan enthused on X, formerly known as Twitter. "Kim Kardashian killed it tonight on AHS Delicate, she is a true born actress," another user said of her performance, while one viewer also added: "Hold on, why is Kim Kardashian eating this role?"
Meanwhile, other fans drew comparisons between Kardashian's portrayal of Siobhan and her real-life momager, Kris Jenner. "Not Ryan Murphy casting Kim to play her mom Kris," one user joked. "Kim Kardashian is basically playing her mom Kris Jenner in American Horror Story," another fan commented, while one viewer also wrote: "She's acting as her mom lmao. Hella cute." A third chimed in: "Kim Kardashian basically being Kris Jenner in AHS Delicate is amazing."
Speaking ahead of the new season, Kardashian's AHS co-star Quinto gave her acting skills a glowing review, telling PEOPLE: "She seemed really in her element, and I was really impressed by her spirit and her openness."
Meanwhile, during an interview with Variety back in May, the SKIMS founder spoke of her decision to venture into acting, sharing: "I think it's really fun to step outside of your comfort zone and try something new and grow. And I'm so excited for the experience."