Amy Schumer Trolled Emily Blunt & John Krasinski In Her A Quiet Place II Review
The comedian teased the creative couple as she praised the film.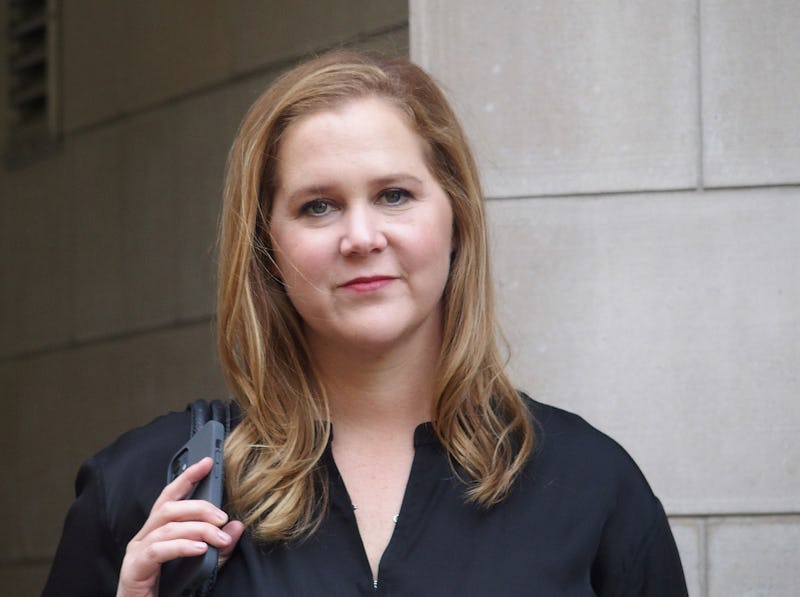 Bobby Bank/GC Images/Getty Images
This celebrity couple has it all — or do they? After Amy Schumer watched A Quiet Place II, she shared her review on Instagram on Sunday, May 30 — and used the post as an opportunity to troll Emily Blunt and John Krasinski. Schumer posted a photo from the film on her account, reporting in the caption that she "loved every second" of the sequel and that it was "even better than the first one which blew me away." The comedian went on to joke that the movie was worth seeing, even though she thinks "Emily and John have a pretend marriage for publicity."
Krasinski and Blunt, who began dating in 2008, tied the knot in 2010, per Cosmopolitan. The couple now has two daughters — Hazel, age 6, and Violet, age 2. Krasinski and Blunt also became creative collaborators with 2018's A Quiet Place, with the former Office star directing and the two playing a husband and wife. The two actors have become one of Hollywood's most beloved couples over the years, sharing sweet anecdotes about everything from how they support each other through the pandemic to praising each other's acting talent.
The Quiet Place II collaborators seemed to have a sense of humor about Schumer's post. Krasinski commented on Instagram, writing, "Thank you Amy!... for blowing up our whole marriage spot."
Schumer wasn't the only one of Krasinski and Blunt's friends poking fun at the film online. Last week, Dwayne Johnson joked about watching A Quiet Place II with his family on Instagram, posting a photo with his daughters Tiana and Jasmine. He wrote that he'd spent a "weekend breakfast with my favorite ladies watching A QUIET PLACE" and bragging, "My girls ain't scared of sh*t." Johnson then clarified that the post was a joke and that his daughters had actually watched The Lion King "for the 8,000th time." Krasinki responded to Johnson's post as well, commenting, "Oh man, I'm so honored! I hope the girl's lov— wait what!?"
Johnson's family might have not been the first in line to see the horror movie, but A Quiet Place II is doing well at the box office anyway. The film brought in approximately $48.4 million in ticket sales and is projected to reach around $58 million over Memorial Day weekend, according to CNBC. Schumer wrote in her Instagram post that it was "amazing to be in a movie theater" while seeing the film, and it seems many other movie-goers were choosing A Quiet Place II as their first post-vaccine trip to the movies as well.