Andrew Rannells Based His The Prom Character On An Ex
"He talked about [Juilliard] often, in the way Trent talks about it, just sort of casually dropping it into conversation."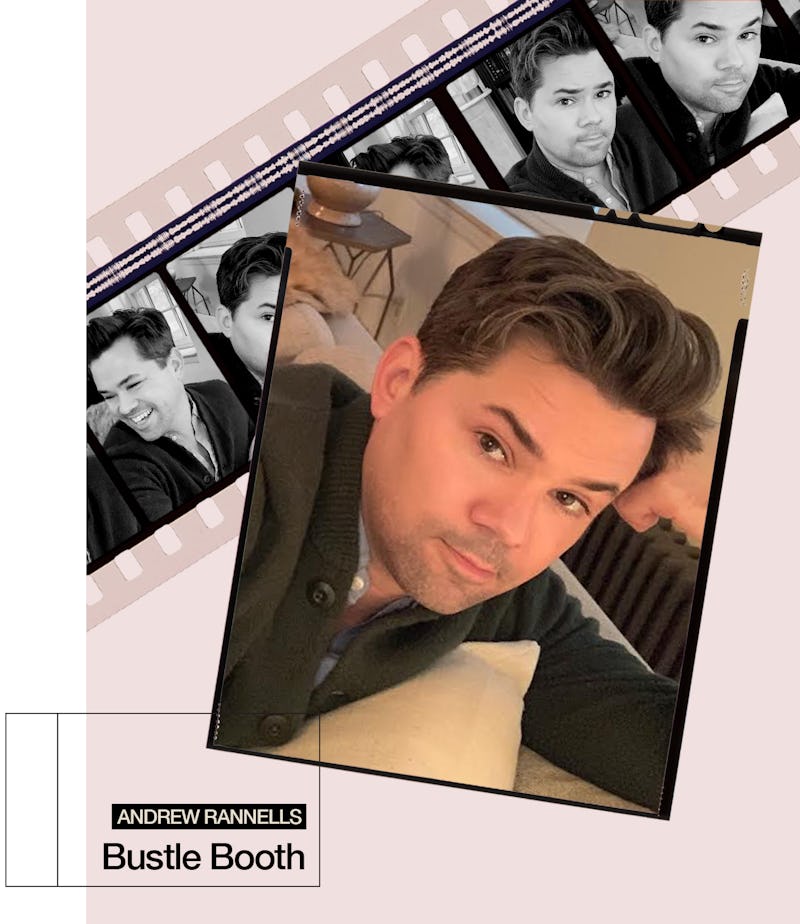 No one is ever truly prepared to act alongside legend Meryl Streep for the first time, but for Andrew Rannells, the setup was... less than ideal. Their inaugural scene together required him to fake-vomit right in front of her over and over again. "It's not exactly what I thought that moment would be," he tells Bustle. "And now it's forever in a movie."
Rannells co-stars with Streep in the film adaptation of the musical The Prom, which is available on Netflix beginning Dec. 11. The Prom follows four down-on-their-luck Broadway actors, including Rannells' Trent Oliver, who travel to a conservative Midwestern town to help a student after she's prohibited from bringing her girlfriend to prom. But this motley crew of narcissistic actors (played by James Corden, Nicole Kidman, Streep, and Rannells) have ulterior motives: They're banking on the stunt to give their floundering public personas a much-needed boost.
Rannells has a knack for bringing humanity to self-absorbed characters like Trent, who otherwise would come across as a bit too much. To theater audiences, he's best known for originating the role of the pompous, over-confident Elder Price in the Broadway smash hit The Book of Mormon, which earned him a Tony nomination; TV fans likely remember him as Lena Dunham's equal parts arrogant and adrift college-boyfriend-turned-gay-roommate Elijah in Girls. Most recently, he starred in Netflix's adaptation of The Boys in the Band as Larry, a menacing artist struggling with the idea of monogamy.
But Trent might be Rannells' most fully realized take on this type yet. At the start of the film, Trent is a washed up actor-turned-bartender, pouring drinks at a Broadway bar and regaling patrons with tales of his Juilliard days. To get into character, Rannells channeled an ex-boyfriend who'd also gone to Juilliard and loved to brag about it. "He talked about it often, in the way Trent talks about it, just sort of casually dropping it into conversation," he says. "I thought that was hilarious."
Over the course of the film, Trent's experience with the high schoolers helps him evolve into a multidimensional person committed to finding his true place in life. "Certainly if anyone's feeling a little alone, hopefully [Trent's journey] will give them a little comfort to know that it takes a minute to find your people," he says. "But your people are out there."
Get to know more about Rannells – including his love of Rock Hudson — in his Bustle Booth questionnaire below.
In The Bustle Booth
What's your coffee order?
Double cappuccino with almond milk.
What are the saved weather locations on your phone?
New York. LA. Omaha. London. And Palm Springs.
What's your sign?
Virgo
Favorite overused movie quote?
"NOW a warning?" from Death Becomes Her.
What was your favorite cartoon as a kid?
The Smurfs
What's one movie or TV show you're currently obsessed with?
The Undoing on HBO
Who is your celeb idol?
Rock Hudson
If you had to be on a reality TV show, what would it be?
Anything on HGTV
Go-to karaoke song?
"Born to Run" by Bruce Springsteen
What's something that's inspiring you lately?
My mom
What is something you would want people to say about you?
"He makes me laugh."