Andrew Rannells Teases 'Girls' S6 Character Growth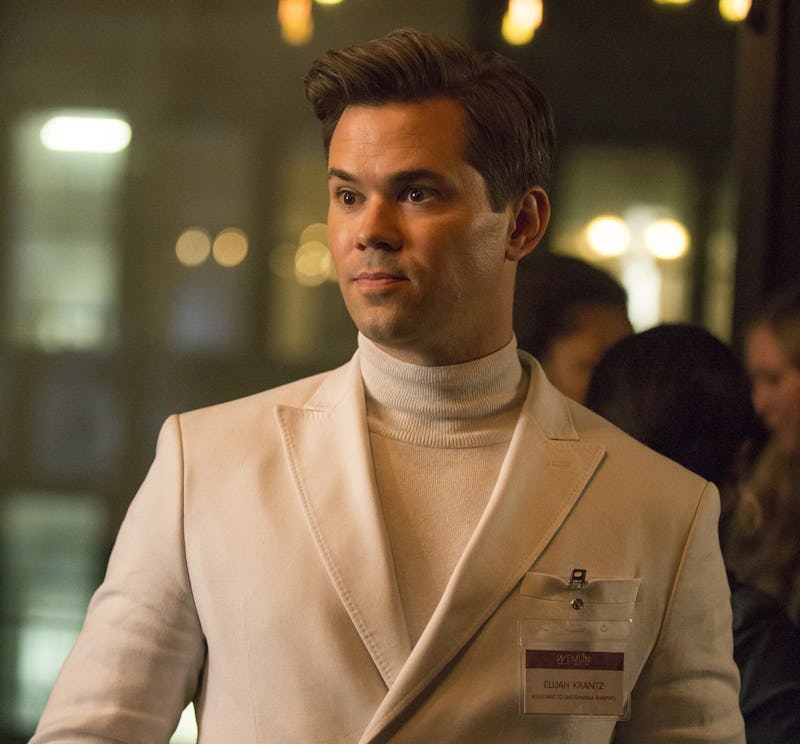 Craig Blankenhorn/HBO
For five seasons, Girls has been a show about being young and lost and bumbling. It's raw, sardonic, and astonishingly honest, following a close-knit circle of 20-somethings as they ungracefully navigate adulthood from post-collegiate Brooklyn. But, as Andrew Rannells, who plays Hannah's self-indulgent BFF Elijah, tells Bustle, Girls Season 6 is finally about growing up.
When the season opens, Hannah is diving back into writing, Shoshanna is starting a new marketing job, Marnie is stumbling through her divorce from Desi, Jessa is still living in exile with Adam, and Elijah is networking with the Broadway crowd — at least, by his definition. But the first few episodes show inklings of growth, and by the end, the ever-dysfunctional friend group may well be on their way to becoming full-fledged, functioning adults.
For Rannells, that was an important leap to make, because it recalled his own experience coming of age in New York. "That's something I'm so proud of on Girls that we got to do. When I moved to the city I was 19 and I was going to college and I very much had that experience in my mid to late 20s, sort of figuring out, 'What the hell am I doing?'" he says. "It's hard. It's hard to admit, particularly when you live [in New York] and there's so much going on around you and it feels like everybody is higher functioning than you are … It's tough to realize that. And it's taken them six seasons, but I feel like this is the time when they're like, 'Oh God. We really have to figure this out.'"
Rannells says Elijah has had an especially rough time coming to grips with what it means to be a grown-up. Over the course of the show, he's struggled with finding himself, sifting through drugs, drinking, and directionless relationships. Like much of the cast, he was never likeable: He was unaware and selfish and sometimes flat out nasty, but that was sort of the point.
"I've always been very proud of the fact that Lena [Dunham] has allowed that character and me to be a human, to definitely be flawed, and to not have to be a gay posterboy for every gay friend," Rannells says. "It's not a Will & Grace dynamic, it's an Elijah and Hannah dynamic, and that's a little messier. Or a lot messier. There's a lot more underwear."
Of course, Girls has always been about the, well, girls, but Rannells was never relegated to the sidelines. After being introduced to audiences as Hannah's onetime college flame, he came barreling out of the closet and back into her life. By Season 2, he'd become her on-again, off-again roommate, and, now, as they head into their sixth and final run, he's become an integral part of her inner circle. But as the women around him begin to blossom, Elijah, too, will need to build a life of his own.
"I think everybody else is starting to pull themselves together a little, and he really has to quickly figure out what he wants and what he's going to do," Rannells says. "When we started with these characters they were in their early to mid 20s, and now they're reaching the end of their 20s and it's time to sort some sh*t out. And he does, which is great."
As for what the future holds, Rannells says Elijah keeps it true to form: "The way that I always thought of Elijah is that he is the star of his own show, and the way that Lena wrote him was very much that way. He's never gonna be anybody's sidekick. He's his Carrie Bradshaw."
Catch the beginning of the Girls growing up when Season 6 starts Feb. 12 on HBO.