Andrew S. From The Bachelorette Is Related To A Franchise Alum
Plus everything else to know about the fan favorite.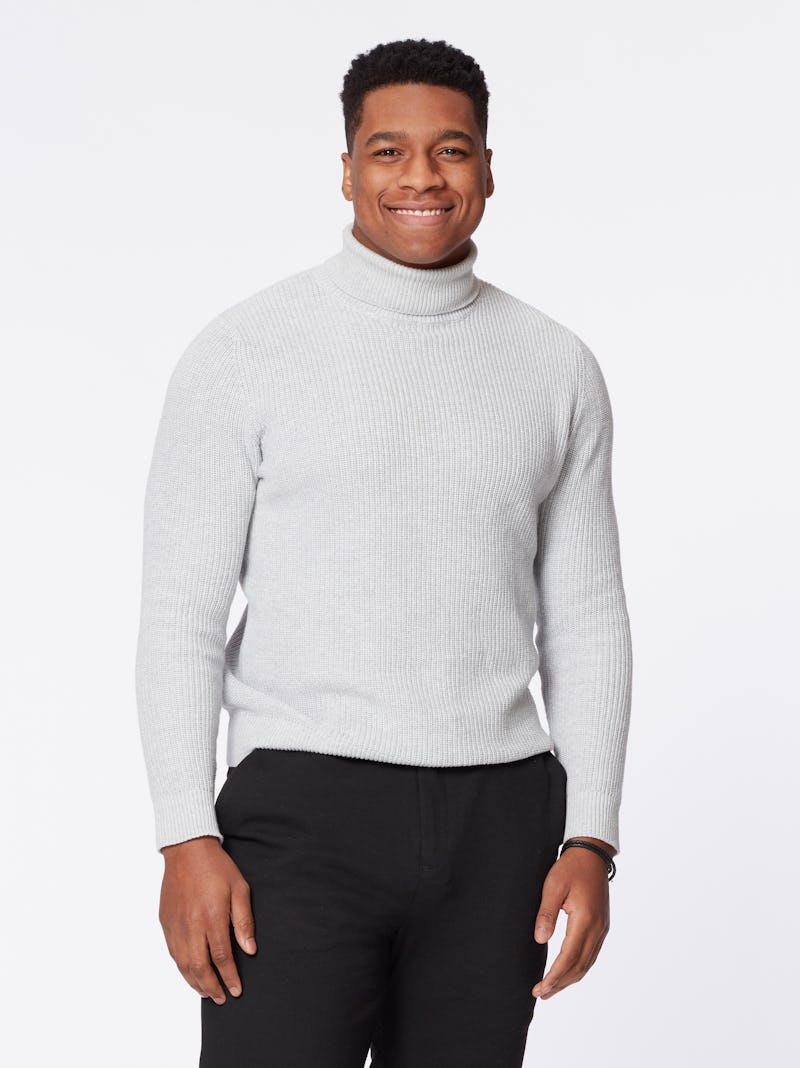 ABC/Craig Sjodin
Between Tyler Cameron, Jordan Rodgers, and Colton Underwood, The Bachelorette has featured its fair share of current and former athletes. Katie's season is no different: the American-born Andrew Spencer is a football player in Vienna, Austria.
Considering the success of his fellow athletes on the Bachelor franchise, the odds that Andrew makes it far are good. However, there's more to Andrew than just his athleticism: he's proved himself to be a man of conviction, someone who's impervious to drama, and a Taco Bell connoisseur. Here's what else to know about the 26-year-old, who thus far seems poised to be a frontrunner.
Andrew Plays Football For An International Team
There are few occupations more beloved than "athlete" on The Bachelorette. However, unlike most athletes who appear on the show, Andrew is still competing. The Chicago native took his talents from the small Division II school of Winona State to the Dacia Vienna Vikings, one of Europe's foremost American football teams. His cousin and former NFL tight end, Clay Harbor, nominated Andrew for The Bachelorette after appearing on both Becca Kufrin's Bachelorette season and Bachelor in Paradise himself.
Andrew Has Another Job In The States
When he's not playing football, Andrew is coaching it in Chicago, where he also works as a teaching assistant in the off-season.
Andrew's Instagram Is Full Of Travel Pics
One quick scroll through Andrew's Instagram will show you that he's a man of the world. Jetting back and forth between his hometown of Chicago and the various European cities in which he plays, Andrew's social media presence is an international variance of exciting locales. His feed also shows off his sense of fashion, exhibiting his closet of colorful shorts, classic coats, and crisp suits. Naturally, there are a lot of photos of him playing football too.
Andrew Loves A Grand Gesture
Just as with his job, distance doesn't seem to be an issue for Andrew when it comes to his relationships. His Bachelorette bio says that he's the type of guy to "make a grand romantic gesture... driving for hours just to hand deliver lunch and fresh flowers to that special woman." That's good for Katie, who currently lives 2,000 miles away in Seattle.
The one dealbreaker Andrew points to in a partner is a lack of communication — an issue that has torpedoed countless relationships over the course of the Bachelor and Bachelorette's history. However, if there's one Bachelorette who understands the necessity of communication, it's Katie. As she proved during Matt James' Bachelor season, the woman knows how to be direct.
Andrew Doesn't Like Drama
He's certainly developing a distinct voice throughout his time on Katie's season, and no, I'm not talking about the clunky fake British accent he used during his limo entrance. Andrew has become the voice of reason amongst Katie's men, and that diplomacy was on full display during Episode 4. As most of the men in the house began turning on fellow contestant Thomas for his comments about wanting to become the next Bachelor, some of the contestants wanted to approach Katie and warn her. Andrew was squarely opposed to the idea, believing that everyone should be focussed on their own relationships with Katie instead of delving into drama. Andrew seems to operate under the assumption that Katie is perceptive enough to judge the character of her suitors for herself — a quality fans really seemed to gravitate to.
Andrew's Biggest Supporter Is His Cousin, Clay Harbor
It's often said that Bachelor Nation is like a family — an outrageous and absurd family, but a family nonetheless. In Andrew's case, his family within Bachelor Nation is much more literal, as he's cousins with Clay Harbor, who appeared on Becca Kufrin's Bachelorette season as well as a Bachelor In Paradise. Clay is a big and very vocal proponent of his cousin, having taken to Twitter to sing his praises and compare turtlenecks. Whatever Andrew's fate is this season, it seems that he'll at least have Clay, who has already begun a Bachelor campaign for his cousin.
This article was originally published on