Angela Bassett "Did The Thing" & Imitated Ariana DeBose's Viral BAFTAs Rap
The 2023 NAACP Entertainer of the Year made sure DeBose was OK first, though.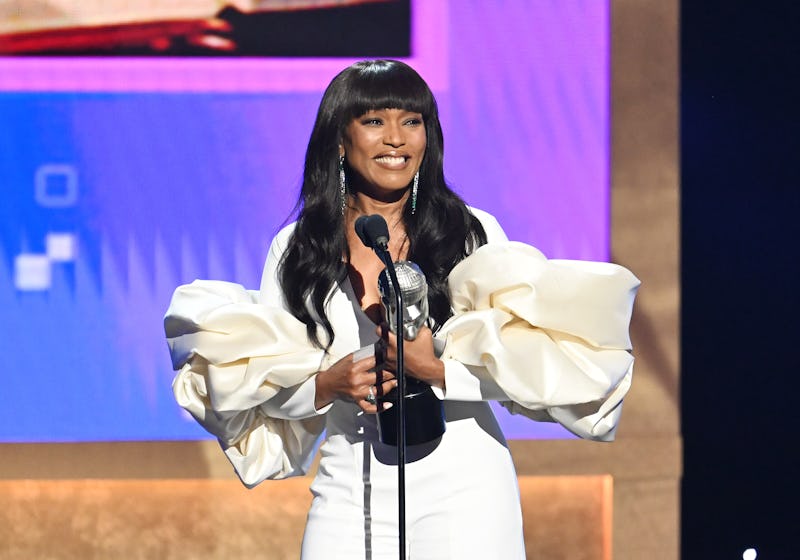 Gilbert Flores/Variety/Getty Images
Ariana DeBose's viral rap at the 2023 BAFTAs launched (more than) 1,000 memes, and it appears Angela Bassett has seen fans' posts. While accepting her Entertainer of the Year trophy at the 54th NAACP Image Awards on Feb. 25, the Black Panther: Wakanda Forever star quipped, "I guess Angela Bassett did the thing," lightheartedly mimicking DeBose's cadence from her infamous BAFTAs shoutout. The star-studded crowd at the Pasadena Civic Auditorium weren't the only ones who appreciated the reference: DeBose posted a clip of the moment from Bassett's acceptance speech and congratulated the actor on her win.
As anyone who's been on social media over the past week is now well aware, the most-memed moment from DeBose's BAFTAs opening number included the line: "Angela Bassett did the thing, Viola Davis, my Woman King, Blanchett, Cate, you're a genius, and Jamie Lee, you are all of us!" Her performance sparked a wide range of responses, with many poking fun at the West Side Story Oscar winner, particularly for her "did the thing" delivery. Though the Broadway star appeared to deactivate her Twitter account afterward, she later commented, "Honestly I love this" on a carousel of Instagram memes.
Still, Bassett reached out to DeBose to check on her in the aftermath. "I DM'd her last night. I did. It was beautiful," she revealed to Variety at the Feb. 25 awards show. "I just wanted to make sure she was OK because, you know, it's a lot of attention. And she is A-OK."
Indeed, DeBose shared several memes on Instagram the same day, writing, "The internet is wild y'all! ... Appreciate all the love." Her post also included videos of onstage references from Lizzo and Adele, a tweet from Halle Berry, and a photo of flowers and a note she received from Wanda Sykes. DeBose also brushed off criticism in a preview for an upcoming interview on BBC Radio 2's The Zoe Ball Breakfast Show, telling the host that she "might be one of the few" people who loved her rap. "I'll take it, because you're my people!" she responded, later adding, "And apparently gay Twitter seemed to like it. So that's good. I'll take it."
DeBose also shared more details about the performance's backstory. "Honestly, it's not like I'm like, 'Hey BAFTA, let me in.' They actually called me, believe it or not," she added. "But that was the assignment. Like, 'Come celebrate women,' and I was like, 'Absolutely!' We did that and it was fun. Not gonna lie. I had a blast."
Meanwhile, Bassett really did do the thing at NAACP awards, taking home a second trophy for her role in Fox's 9-1-1 and also accepting a third statue with Ryan Coogler for Wakanda Forever. Next, she'll appear at the Academy Awards, where she's nominated in the supporting actress category for her role as Queen Ramonda in the Marvel hit, making her the first actor to be recognized by the Academy of Motion Picture Arts and Sciences for a performance in an MCU project. Meanwhile, she's already won the 2023 Golden Globe and Critics Choice awards for supporting actress, and is nominated for a 2023 SAG award.
As Bassett said in her NAACP Entertainer of the Year acceptance speech, "When I think about my career, I can't help but reflect that often times when I've seen the light at the end of the tunnel, there was often someone there who looked like me with open arms, assuring me that there was a place for me as an actor."