Angelina Jolie Hinted She's Acting More & Directing Less Due To The Brad Pitt Divorce
"I had a change in my family situation that's not made it possible for me to direct for a few years."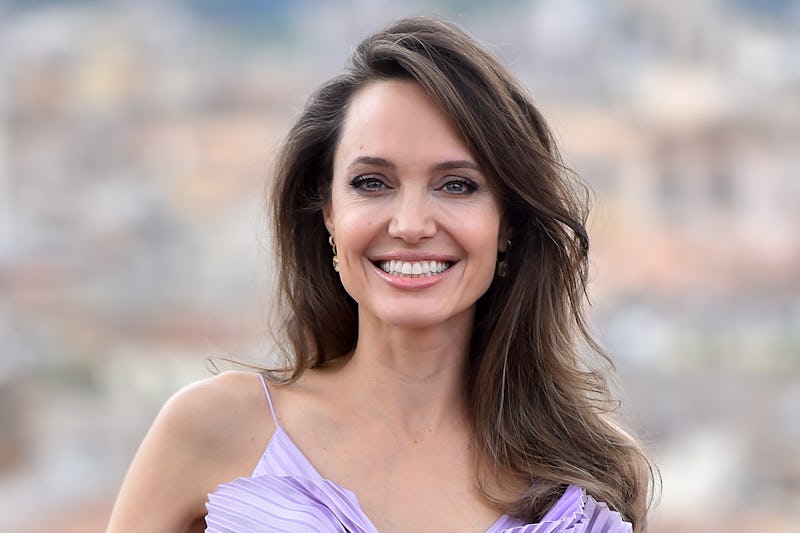 Mondadori Portfolio/Mondadori Portfolio/Getty Images
There's a reason why you'll be seeing Angelina Jolie on your screen more than usual this year. Jolie revealed that she's taking on more acting roles due to a "change in her family situation," she said in a new interview published on Wednesday, April 21. The actor has been embroiled in divorce proceedings with husband Brad Pitt, and subsequent custody battles over their children, after they separated in 2016.
Jolie explained to Entertainment Weekly that her current situation has prevented her from pursuing new directing projects, which notoriously take a long time to complete. "I love directing, but I had a change in my family situation that's not made it possible for me to direct for a few years," she said. "I needed to just do shorter jobs and be home more, so I kind of went back to doing a few acting jobs. That's really the truth of it."
While she didn't mention her split directly, she certainly seems to be alluding to it. Jolie filed for divorce from Pitt in September 2016, after an alleged physical incident involving Pitt and their now 19-year-old son Maddox. The pair are parents to six kids in total, including teenagers Pax, Zahara, and Shiloh, and 12-year-old twins Knox and Vivienne. Initially, Jolie asked for full physical custody of all six of their children, causing a years-long custody battle between the two that's still being resolved today.
Jolie's return to the acting world includes a heavily anticipated role in Marvel's Eternals, as well as upcoming thriller Those Who Wish Me Dead, which will be released in theaters and on HBO Max on May 14. And as she told EW, her experience directing two films, 2014's Unbroken and 2017's First They Killed My Father, has expanded her viewpoint as an actor. "I'm more aware of what the director needs, and what other challenges they're facing, and how many different pieces are moving," she said. "You realize that while you are going to be freezing and crying, there's also pyrotechnics going on, or multiple other situations. It pulls you out of yourself."
Although divorce proceedings were initially anything but peaceful, with accusations of media manipulation and lack of child support payments, Jolie and Pitt seem to be in a much better place today. In a February interview with British Vogue, Jolie revealed that she bought a new Los Angeles home that's only five minutes away from Pitt so her kids could be closer to their dad. As for herself, she said the past few years "have been pretty hard," but her family is getting to a better place. "I've been focusing on healing our family," she said. "It's slowly coming back, like the ice melting and the blood returning to my body."