A Line Of Duty Fan-Favourite Making A Comeback In This Weekend's Ep
"Pat's back... she's got some new clobber and she's ready to bust some balls."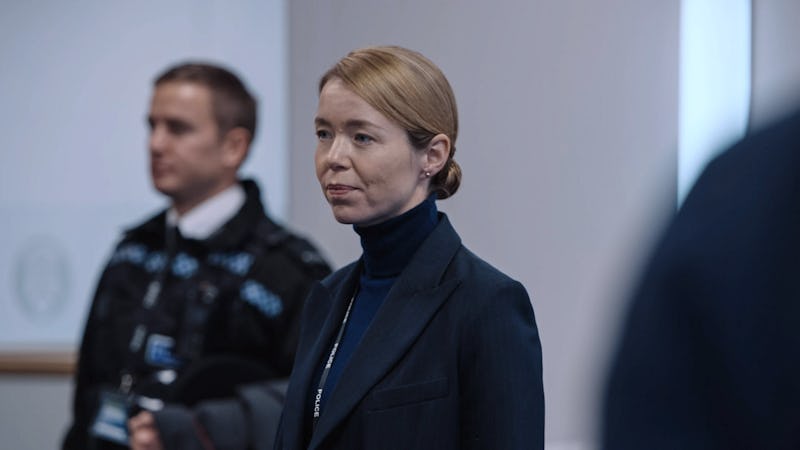 BBC
The latest outing of BBC's Line of Duty has managed to grip the nation once again, and if you thought the series had exhausted every possible twist and turn, viewers have yet another AC-12 bombshell to look forward to with the return of a fan-favourite Line of Duty character.
As Metro reports, BAFTA award winner Anna Maxwell Martin of Motherland and Bleak House fame will return to Line of Duty as Detective Chief Superintendent Patricia Carmichael in the drama's forthcoming episode on Sunday, April 18. The no-nonsense character of DCS Carmichael first appeared in the show's fifth season, during which she was drafted in as an independent investigator from unit AC-3 as the integrity of Superintendent Ted Hastings was called into question.
"Pat's back, I can't remember what she's doing there, nor would I be allowed to blab, but suffice to say she's got some new clobber and she's ready to bust some balls," Martin said of her shock Line of Duty return.
Per Radio Times, fans are currently reeling from the bombshell conclusion of the show's most recent episode on Sunday, April 11, during which it was revealed DCI Joanne Davidson's (Kelly Macdonald) DNA matches with an unknown figure who is already stored on the police database.
Line of Duty's latest plot twist has sparked some major viewer speculation surrounding the identity of DCI Davidson's mystery relative, with some fans drawing the conclusion the character of Tommy Hunter (Brian McArdie) is the relative in question.
Per Radio Times, the character of crime boss Tommy Hunter appeared in the show's debut season and became one of the first-ever Line of Duty villains. Since then, Hunter has been mentioned on numerous occasions, and most recently in season five by Lisa McQueen.
The character's Glaswegian roots have led some to believe Hunter could very well be related to Scottish-born DCI Davidson. However, the sudden return of DCS Patricia Carmichael following the drama's latest twist is also a mighty coincidence. So, could DCS Carmichael be related to Davidson? For now, at least, we'll just have to wait and see.
Line of Duty continues on Sundays at 9 p.m. on BBC One.