Florence Pugh Had The Best Response To Rumours She's Dating Will Poulter
"This is getting a little silly now," she wrote.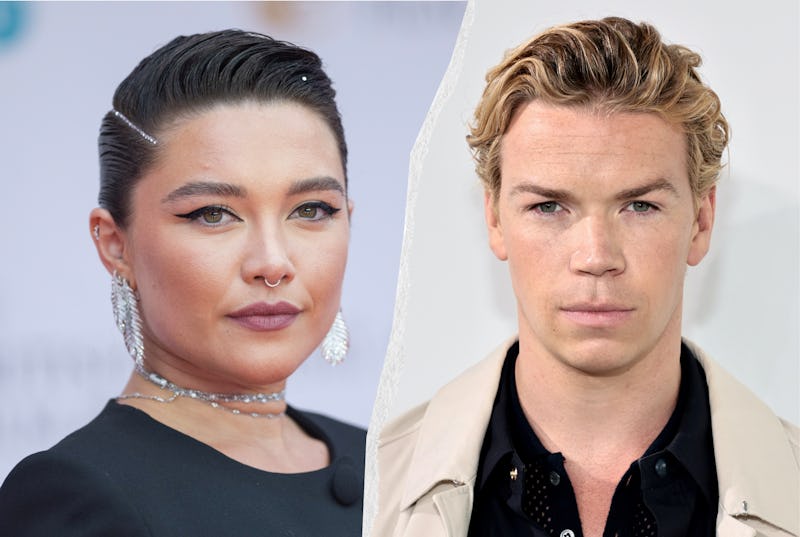 Samir Hussein/WireImage/Getty ImagesJamie McCarthy/Getty Images Entertainment/Getty Images
Rumours first started swirling in November 2021 that there was trouble in paradise for unlikely couple Florence Pugh and Zach Braff. Celebrity gossip account Deuxmoi posted a "blind item" — information from an unconfirmed source with the names of the celebrities redacted — in November 2021. Reddit took off with it and all signs pointed to the breakup of Braff and Pugh. The couple's 21-year age gap was a talking point, but they defied critics and have been together since at least April 2019. Although neither party has confirmed or denied the breakup, fans noticed that Pugh has been looking pretty friendly with Midsommar co-star Will Poulter.
It's understood that Florence and Poulter first met in 2018 on the set of Scandinavian psychohorror Midsommar. More recently, they've been spotted partying together in Ibiza for friend Harris Reed's 26th birthday. Florence shared her own photos from the trip, captioning them:
"*blissful siighhhh* Wonderful people. Beautiful time. Feeling a bit overwhelmed by the amount of incredible people I was able to hug. Thank you sunshine. Thank you Ibiza. #imadesomanynewfriends!! 💛☀️🍯🍸"
But it was photos published in the Daily Mail of the two drinking cocktails, making sure that their suncream was topped up and looking very cosy led to speculation that the pair are an item.
However, Pugh took to Instagram stories to shut the rumours down and to say that one of the Daily Mail photos had been digitally altered to make her and Poulter appear closer than they actually were.
She wrote: "This is getting a little silly now. No, Will Poulter and I are not dating. We went to the beach with our friends, who are always about half a metre from us in every picture, but have been cleverly cut out/framed out so that it looks otherwise.
"You can LITERALLY see my best friend in the corner of so many shots and Archie's arms at the sides. I understand that the nature of this job is that you sometimes get your privacy completely bulldozed by paparazzi, but to fabricate this stuff actually does more damage than good.
She added: "Thanks for saying we look sexy. Doesn't mean we're doing the sexy."
While she didn't directly refer to the status of her relationship with Braff, she did call out fans for celebrating its apparent end and asked for the trolling to stop.
"On another note, a very important note. There's no need to drag people through this," she wrote. "Regardless of your opinion on who I should or shouldn't be with, at the end of the day, if you're complimenting someone by trolling another person… you're just bullying. There's figuratively no need to be horrible online — no need. Think about what you write. Think about who it affects.
It's not the first time Pugh has criticised social media users' reactions to her relationship. In April 2020, she took to Instagram to address the hate she was receiving about her and Braff's age gap. In the video, she said "within eight minutes of the photo [of Braff] being posted, 70% of the comments were hurling abuse and being horrid." She then went on to say "It's the first time in my entire Instagram life that I have had to turn off the comments on my page."