Harry & Francesca Had A Tumultuous Breakup After Too Hot To Handle Season 1
"It was very, very toxic on both sides."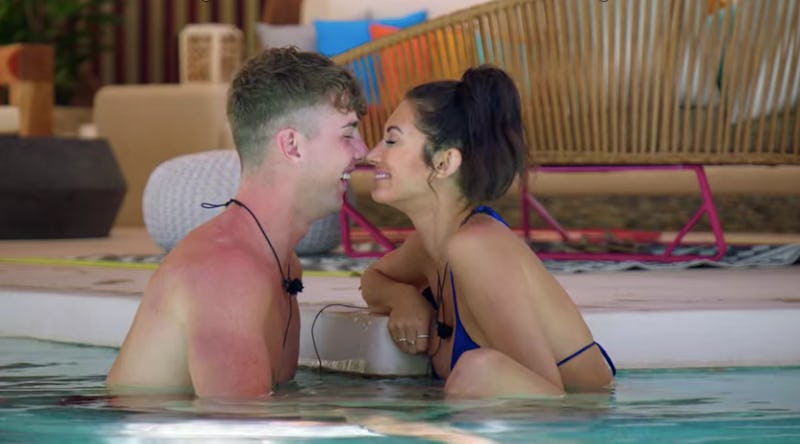 Netflix/Screenshot
Francesca Farago and Harry Jowsey may have been the first couple to break the no-sex rules on Too Hot to Handle, but when they showed up to the virtual reunion a year later still together, it seemed to have proved worth it. Harry even (fake) proposed to Francesca with a ring pop.
However, Francesca posted a YouTube video revealing that they'd broken up in June, only a month after their faux engagement. She said she was heartbroken and that they'd planned to move to California together, but with her in Canada and Harry in Australia, COVID restrictions made traveling to see each other — let alone moving to a new country — difficult and dangerous.
Following their split, both Harry and Francesca were linked to several other stars, with each lamenting that they couldn't go anywhere without the paparazzi noticing. "If I go to dinner with anyone and there's photos[s] taken, we're automatically dating and expecting a child," Harry said on the Let Me Finish podcast in October 2020 when asked about the rumors that he was dating Larsa Pippen. "We all have friends, we all hang out, and we all go to dinner. There were five of us at that dinner so do the math on that."
Francesca made a similar statement in one of her YouTube videos after it was reported that she was dating former Bachelorette winner Jef Holm. "It's hard because I go out to dinner or I just start talking to someone casually, and there's photographers or it gets blown up," she said.
Speculation aside, Francesca did date The Only Way Is Essex star Demi Sims for several months at the beginning of 2021. Their relationship was Instagram official, with Francesca posting frequent photos of them cuddling and kissing. (Both women are openly bisexual.) In a TikTok video, Francesca revealed that their romance progressed quickly. They moved in together on the first day they started dating, became girlfriends on day three, and tattooed their names on each other on day seven. But in May 2021, Francesca confirmed on YouTube that they'd broken up because the romance "fizzled" and they didn't have matching love languages. "We were only talking to each other for a few weeks online before we met and then we moved in together right away so we never had that dating period or getting-to- know-you period," Francesca said, adding that the romance ended "not on good terms" and claiming that Demi blocked her immediately afterward.
Following her split from Demi, Francesca briefly reunited with Harry in May 2021, with Harry posting photos of them getting cozy and holding hands together in Mexico. Francesca also made a couple TikTok videos about their reunion. "Me coming to Mexico to wait for my visa for America to come through … [then] my ex coming for his birthday," she captioned one video. In another, she sung along to the Dua Lipa lyrics, "You want me. I want you, baby," while hinting that her ex wanted her back. But in her YouTube video about Demi, Francesca clarified that she used the wrong audio in the video and didn't mean to hint that she was falling for Harry again.
Indeed, their reunion was short-lived. By June 2021, Francesca confirmed that she and Harry had broken up again. "We were getting back together. We were getting to know each other slowly. And then, he was just being extremely disrespectful to me online," she said without delving into specifics. "[He] was saying things that I would love to hear … and then his actions didn't match."
For his part, Harry told Us Weekly that after their brief rekindling, he and Francesca would never get back together. "[There was] just clear miscommunication on [a] lot [of] fronts," he said. "It was very, very toxic on both sides … I can tell you now [until] forever [that] I'll never be put in a relationship or put myself in that situation again."
This article was originally published on