Amazon's Them Is A Blend Of Supernatural & Tragically Real Horror
When the Emory family moves to Los Angeles, they're met with terror at every turn.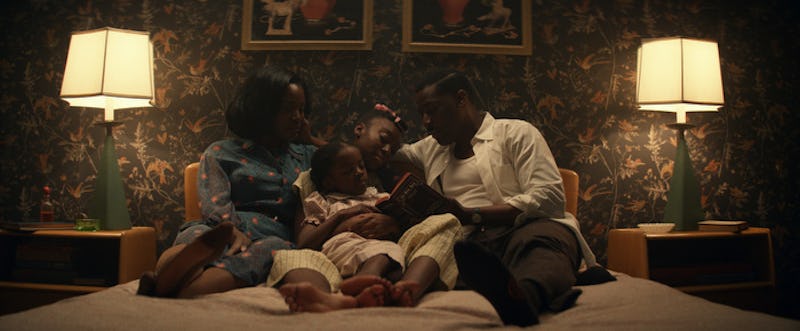 via the Amazon Studios press site
When Henry and Livia "Lucky" Emory move their family to Los Angeles from the Jim Crow South at the start of Amazon's Them, they're hoping for a better life and future for their kids. What they find is a series of horrors: racism from their all-white neighborhood, haunting specters, and evil forces bloom around every corner.
Henry (Ashley Thomas) and Lucky's (Deborah Ayorinde) story is not an unfamiliar one. While the characters aren't based directly on real people, they're the heads of one of the millions of Black households who participated in the Great Migration. Between the period of 1916 to 1970, approximately six million Black people relocated from the Rural South to various cities across the North, West, and Midwest of the U.S. The migration was just as much prompted by the places they were leaving — where openly racist policies created a "treatment that [didn't] warrant staying," as one Chicago Defender article put it in 1916 — as it was by the places they hoped to end up. World War I had caused a great need for industrial laborers, and recruiters put ads in Black newspapers in the South to entice Black people to find work all over.
Black populations in cities outside the South grew enormously — 66% in New York, 148% in Chicago, 500% in Philadelphia, and 611% in Detroit, all just between 1910 and 1920. As the numbers grew, so did Black culture within pockets of the cities. Amid the Harlem Renaissance in New York, authors, artists, musicians, playwrights, and more made the neighborhood a cultural mecca.
But as Them shows, racism has never been just a Southern problem. Racist violence and riots were common across the country, as was segregation. Black renters and homeowners were prohibited from living in certain neighborhoods (a practice known as redlining). Where they could live, they were often charged more and saw higher rates of declining home values, and the Federal Housing Administration would often refuse to insure mortgages in or near Black neighborhoods. Even if they managed to find a place to stay, terrorism was everywhere: white people assaulted Black soldiers who returned home from WWI just for wearing their uniform, and there was mob violence against communities like Tulsa's Black Wall Street as well as in Washington, D.C., Chicago, and more.
It's a legacy that still looms in the present day U.S. The terror of waking up "and looking through my social media and news and seeing cell phone videos of Black folks being terrorized in some way" is what drove Little Marvin to create Them.
"Who gets their keys to [the American Dream], who, historically speaking, have not gotten their keys to it and why? There's really no more quintessential part of the American dream than the dream of homeownership," Marvin told Deadline. "It's no secret that public spaces have been weaponized against Black folks since the dawn of this country but what I hadn't seen was the tension between the public and the private and that most private and safe spaces as a home."