Ashley Will "Never" Get Back Together With Lascelles After Temptation Island
The Season 4 reunion seemed to seal their fate.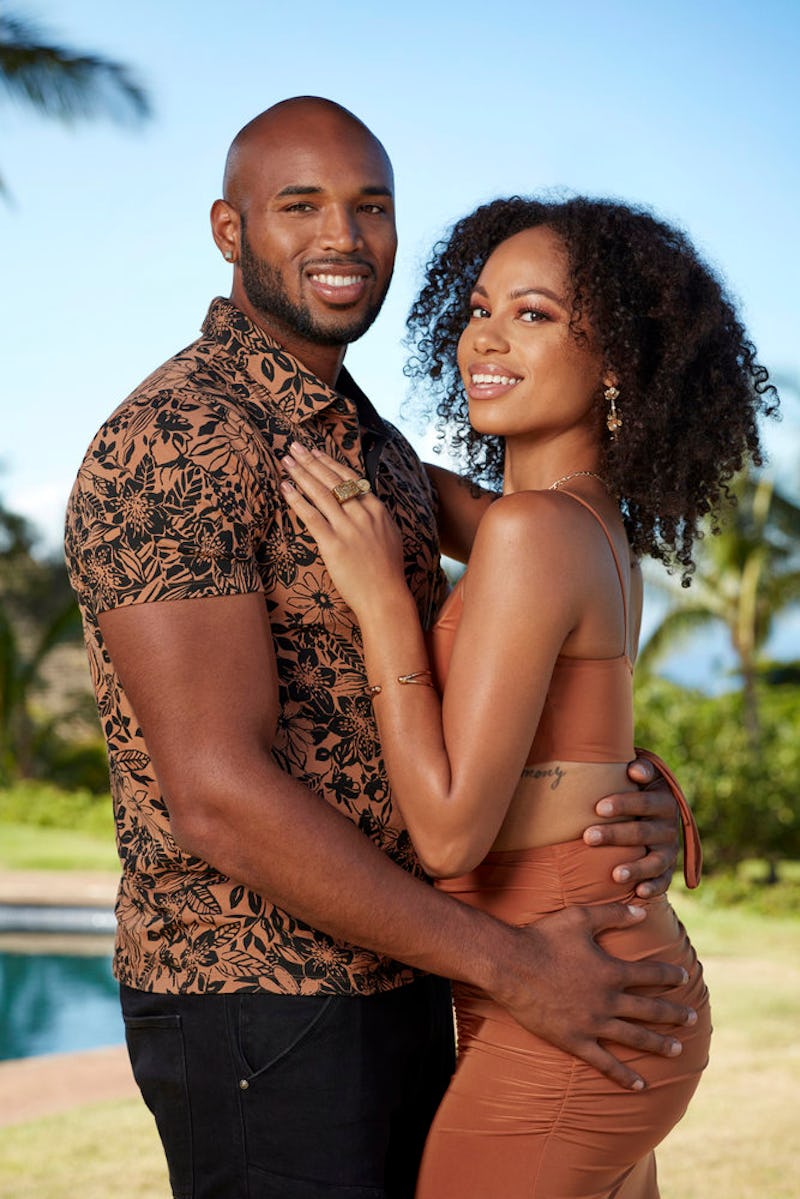 Patrick Ecclesine/USA Network
With seven years under their belts, Temptation Island's Lascelles Lagares and Ashley Rodriguez had been together longer than the other Season 4 couples. Though the New Yorkers had that shared history to their credit, 26-year-old content producer Ashley signed them up for the USA reality show, questioning why Lascelles still hadn't proposed and hoping the experience would help them grow their "unbreakable" love.
Meanwhile, Lascelles, a 27-year-old recruiter, personal trainer, and model, described them as a "super power couple." However, their Temptation Island bio noted that they were "admittedly co-dependent," and he seemed "willing to do anything to make Ashley happy, even at the expense of his own financial and emotional needs."
By Temptation Island's third episode, however, Lascelles had already formed a deep connection with single model Trace Winningham, and even told her that she was exactly what he needed in his life. Watching the footage back, a tearful Ashley's jaw literally dropped, as she watched her boyfriend having the open, vulnerable kind of conversation that their relationship had been lacking.
"You come on this experience and you meet someone for just two days, you know absolutely nothing, just like five facts about this person, and you're telling me that she is what you really need in your life?" Ashley said during the March 30 Temptation Island after show. "Where is your head?"
Reacting to the episode separately, Lascelles explained that he was simply adjusting to going from a "pretty strict" seven-year relationship to being single on the show. "I wasn't expecting to feel this way so early on," he added on the after show. "You know, I've barely met Trace and things are picking up so fast that it's like I couldn't slow it down. Everyone gets a piece of Lascelles, and that's a common theme that's been in my life. Like, I've always been giving ... all my energy to everyone who might not deserve it."
He added that it was "heartbreaking" watching it all play out on screen. "I love Ashley, and the last thing I want to do is hurt her. And so the feeling of me hurting her and possibly losing her forever, that's something that I can't see myself living with."
Things only devolved for Lascelles and Ashley from there. Despite initially turning him down for a second date, Trace gave Lascelles another chance to "shape up" and explore their relationship, rather than giving attention to other singles. "Forget Ashley. I need to be with you," he told Trace in one episode, adding that he needed her in his life "as a girlfriend, future wife," and couldn't have imagined living without her.
At the final bonfire, Ashley initially told Lascelles that she wanted to leave the island with him and "work things out." He began his reply by saying that was "not gonna leave alone," explaining that what he had with Trace was "special." That's when Ashley cut him off to tell Mark she wanted to change her mind and leave alone. Unsurprisingly, Lascelles and Trace then mutually decided to leave Maui together.
During the Temptation Island Season 4 reunion, Lascelles explained that he knew he was "going to face a lot of hell" when he returned to New York. "But I knew the first thing I wanted to do was talk to Ashley about everything," he told Mark. Ashley further detailed the five-hour conversation in which they discussed "exactly what happened" in their respective houses, concluding that they had different visions going into the show. "But it still doesn't feel the same anymore," she said, adding that she had previously envisioned a final bonfire scenario that ended with them being engaged.
After the reunion revealed that Lascelles and Trace are also no longer together, another revelation seemed to close the door on him and Ashley for good. Much to everyone's shock, Alexa Coppola dropped the bombshell that Lascelles had hooked up with both her and Meghan Pilkington in a club on the same night in October 2021 after filming wrapped. Though Lascelles blamed it both on him being "under the influence" and the women initiating the makeouts, he was "still talking" to Trace at the time, too.
"This literally just clarified everything. Like, you are so disgusting," Ashley told him at the reunion, revealing that Lascelles had also told her he still loves her just one month earlier after he found out she was talking to a new man. "I'm never going back to you. That's it. Over. I'm enjoying my new life as a beautiful single woman and I get to continue with the guy I'm talking to."
Prior to the reveal, another Temptation Island single, Madelyn "Juicy" Rusinyak, had already predicted that Lascelles would cheat on Ashley, noting she immediately noticed his wandering eye. "So Lascelles would say things as people would walk by and it shows you know, in the first episode," she told Distractify in an April 7 interview. "We'd be like, 'Oh, all right, OK.' And I was thinking, you know that man, he's gonna cheat."
Up until that point, it appeared that the pair was at least on good terms. For starters, they're still operating their joint social media channels, albeit separately. Shortly after celebrating their seven-year anniversary in August 2021 — around the same time Temptation Island began filming — they posted a video announcement on their LiveWithLash YouTube channel that they were taking a break from posting.
Since then, Ashley has continued to produce solo content on their channel, while Lascelles has covered their joint "Get Fit with Lash" Instagram content. Ashley commented on Lascelles' shirtless April 4 workout video from her personal account, writing, "Get it," and adding a flame emoji. As of publication, they also still follow each other on social media and haven't deleted their couples' photos and loving comments, though now that the reunion has aired, that could soon change.
This article was originally published on