Lexi From The Ultimatum: Queer Love Has A New Girlfriend After Her & Rae's Breakup
A reunion post-script revealed they ended their engagement.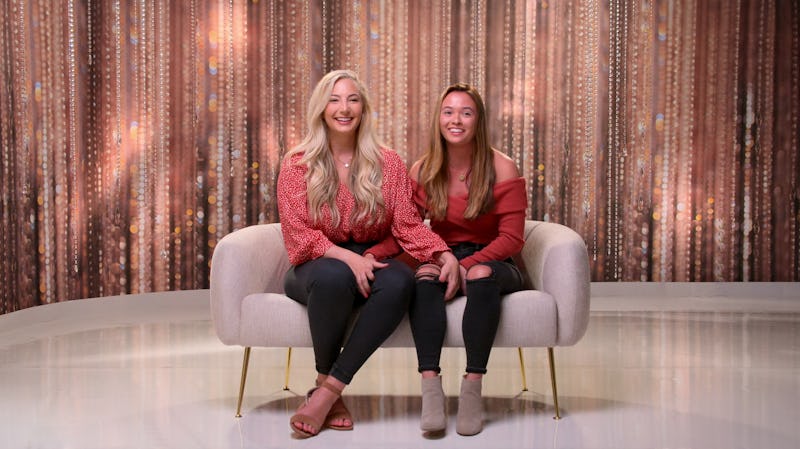 Courtesy of Netflix
Even after more than three years of dating, The Ultimatum: Queer Love's Lexi Goldberg and Raelyn "Rae" Cheung-Sutton still weren't on the same page about marriage. In a last-ditch effort to save their relationship, Lexi issued Rae the ultimatum on the Netflix reality series. "I was part of this because my relationship was at a standstill, and I didn't know what to do," Lexi tells Bustle of her reason for joining the show. "I really truly think that I put my heart on the line in this experience. I feel like every day was so emotionally charged and so heart-heavy because I cared."
Lexi and Rae eventually got engaged on The Ultimatum, which filmed between September and November 2021, and were still together at the reunion taping in January 2023. However, the couple broke up "a few weeks" later. "The reunion brought up some really old wounds that we thought had healed properly and just hadn't," Lexi explains. "There were questions we had to ask each other about the ways in which we wanted to show up for each other as partners, and I think we both realized that it just wasn't right. There were things that we both needed that we just weren't going to get from one another."
Lexi continued that her conversations with her first trial wife, Mal Wright, about religion, ethnicity, and race "brought up so many more questions with Rae" that they "just didn't really ever consider being a problem" in the past. "Then I was like, no, I think these are going to be problems, especially if we talk about being married in today's climate, bringing children into this world, and how we're going to protect each other and our families," Lexi adds.
Nowadays, she likens their relationship to "distant cousins," where Rae will "forever have a close place" in her heart. "I have nothing but love for her and wish her nothing but the best, but we're probably not going to the bar to have drinks tomorrow," the 26-year-old Los Angeles native says. "It's super cordial in person, but it feels like that chapter in my life is closed. I think a lot of what I did in our relationship is going to make her such a better significant other for someone else. But we closed that door and separated our lives in that sense."
The breakup wasn't the only unexpected turn her love life took after the reunion. Lexi reveals to Bustle that she has an "amazing" new girlfriend who she started dating around late April. According to the Queer Love star, who's been splitting her time between L.A. and Miami, they were best friends but "never opened the door" to a potential romance before. After realizing their feelings for each other, Lexi jokes about falling into a "gay spiral" and says she "could not be happier" today. Their "latest and greatest adventure" is possibly adopting another dog.
"I'm with somebody who has celebrated me for me and gives me a lane to dress however I want to dress and be whoever I want to be. I've never felt more comfortable in my skin," Lexi gushes. "It's the best relationship I've ever been in."
Meanwhile, Lexi and Mal, who she refers to as her "forever first wife," are closer than ever: "Mal is forever family. If I don't talk to her every day, I feel like I'm missing half of my day because I haven't spent it talking to her," she jokes. "Mal has been a part of every day of my relationship, too. It's hilarious because I feel like Mal has become my girlfriend's best friend as well."
Meanwhile, Mal also seems to be friends with Rae. "I love you and love watching this journey boo," she commented on one of her co-star's May posts. After Rae and Vanessa Papa had sex early in the season, Rae still wasn't sure if she wanted to marry Lexi by the penultimate episode. "I think forever is hard for me," Rae told her now-ex during their "last date night as girlfriends" in The Ultimatum's eighth episode. "This is a big commitment. It's a weird situation. It is the ultimatum. Like I feel back-against-the-wall, and it's either making a decision or losing you. But there's like so many factors that kind of get in the way or, like, block me or make me second-guess things."
Though Rae's Instagram only hints that she's recently been spending time with family and friends, she reflected on her Ultimatum journey in a May 15 post, writing, "Representation matters and seeing the Netflix LGBTQ+ community come together to celebrate being out and proud reminds me of how far we've come. Younger me would be so so proud to know I was a part of something bigger than myself. Embracing and loving yourself is a never ending learning experience so make sure you surround yourself with love, acceptance, and positivity to help you through the journey."
This article was originally published on