Xander & Yoly Reveal Their Relationship Status After The Ultimatum: Queer Love
Plus, find out where they stand with Vanessa and Mal.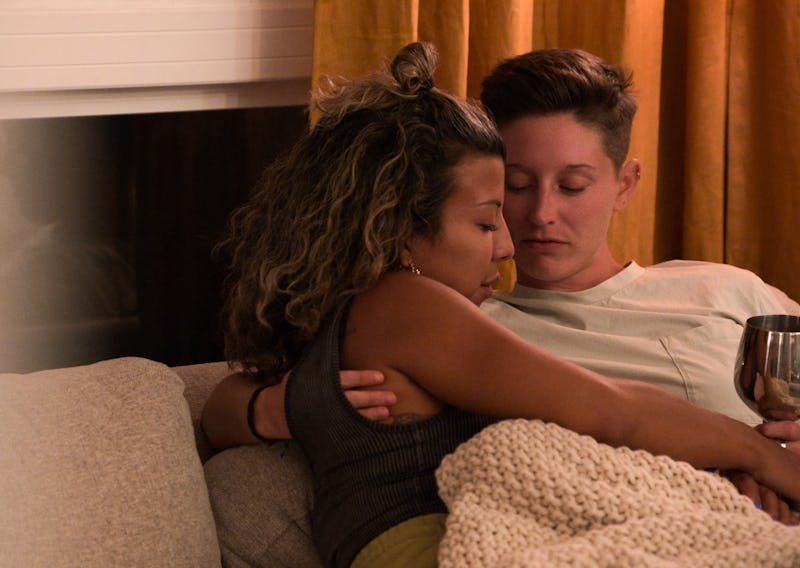 Courtesy of Netflix
After the first batch of The Ultimatum: Queer Love episodes dropped, Yoly Rojas saw why many fans were hoping that she and Xander Boger stayed together. "Today I learned what y'all mean when you say you 'ship me and Xander,'" the fashion stylist captioned in a series of behind-the-scenes Instagram photos from their trial marriage on May 29. As viewers learned in the Queer Love season finale, Yoly got engaged to her original partner, Mal Wright, crushing newly single Xander's hopes for their future together, following her breakup with Vanessa Papa.
As Xander and Yoly revealed on the Queer Love reunion, however, they remained in touch after filming and even attended Coachella 2022 together. "We tried to feel things out [post-filming], but I think the ship had kind of sailed, and I think that I had my own feelings about certain things between her and Mal," Xander tells Bustle of where she and Yoly stand today. "I would still call her my friend, and I love her. I would do whatever I could for her, if she needed it, but it's not something that I'm putting too much of my energy toward."
Yoly, for her part, agrees that they weren't as good of a match as they'd initially thought. "There's also a lot of chemistry there, and we connected and saw eye-to-eye with so many things, but there are certain attributes that I need that she doesn't possess," Yoly adds. "Xander is wonderful and would be a great mother and partner to anybody, honestly, but I don't think she's necessarily what I need."
One factor working against the duo: Xander, who's a certified yoga instructor, lives in Kailua-Kona, Hawaii, and runs Movement rX, a program that uses an "integrated approach of physical therapy and preventative care to optimize your movement, improve your confidence and performance for the activities you love," per her website. Meanwhile, Yoly is still based in Chicago, where she runs a styling and image consultancy business.
Despite leaving the show single when The Ultimatum: Queer Love wrapped filming in November 2021, Xander says that she learned to love herself more during the experience. "My whole life, I've kind of jumped from relationship to relationship, so I never really had time for myself except for this past year and a half," she says. "I've also just learned to trust myself more, and I feel that I can give myself the answers and confidence I was always looking for someone else to give me."
Meanwhile, Yoly walked away from The Ultimatum, finding out that she is "capable of loving two people at the same time," despite being a self-described serial monogamist. "That surprised me," she explains. "I was like, 'Oh sh*t, these feelings don't negate each other; they don't make me feel less about either one of them. I love them both for different reasons.'"
Are Mal & Yoly Still Together After The Ultimatum?
When it comes to Yoly's original partner, Mal revealed during the Queer Love reunion that they were also "happily broken up." In December 2021 — the month after cameras stopped rolling — Mal posted an Instagram photo with Yoly at a wedding in Tulum, Mexico. Their relationship ended shortly afterward, though they're not entirely on the same page about the timeline.
According to Yoly, the wedding in Mexico took place two weeks after filming wrapped. "Mal had a one-way ticket back to Florida, where she was at for two months," she says. "In that time, she said I'm moving out. So we were together two, maybe three weeks if I'm pushing it, post-show, post-engagement. That's it. She didn't move out until three or four months later, but she had plenty of little friends between that time."
Despite some "ups and downs," Yoly, who's currently single, says she and Mal are mostly on good terms now, though. "I will always love her, but it's almost too sensitive and I get too upset. So, she's saved in my phone right now as 'Do Not Answer.' I sent her a screenshot and was like, 'Girl, you're staying like this for now,'" the stylist jokes. "But we're good. She's family, and someone I'll always have a connection with and love for." (Yoly can't say the same for Vanessa, though, revealing that her co-star currently has her blocked on social media.)
Mal, for her part, is still close friends with first trial wife Lexi Goldberg, who refers to her "ex" as "forever family" and shares that they still talk almost every day. Lexi says that her father even invited Mal to her brother's recent graduation party. It's totally platonic, though: Lexi also reveals that she has a new girlfriend, following her and Raelyn "Rae" Cheung-Sutton's post-reunion breakup.
Are Xander & Vanessa Still Together After The Ultimatum?
Though exes Xander and Vanessa mutually agreed they were ready to pursue a friendship at the January 2023 reunion taping, the goodwill only lasted "for a few weeks," according to Xander. "There are a lot of things I haven't necessarily forgiven her for or that I am ready to move past, so I think we're probably going to need a little bit more time," she says. "I don't think that she's going to be someone that I call up just to talk, but I still love her, and if she needed me, I would try to be there for her. But we're not necessarily on friendly terms now."
Xander — who's "open to dating," but "not actively seeking it at the moment" — also recounted a tense interaction when she and Vanessa came face-to-face at a Netflix Pride event on May 11. "We did not really communicate," the physical therapist recalls. "She was not happy that I had brought one of my friends to the party, so I was just like, 'If you want this to ruin your night, go for it. I'm gonna enjoy my night.'"
Vanessa, for her part, agrees that a friendship with Xander might be more of a "long-term goal" at this point. "Watching the show back, I found out more things that I didn't know and I'm sure that she did, too, so it's just a lot of processing," Vanessa, who says she's "trying to date" now that she's living in Los Angeles. "A friendship with Xander is definitely still my intention, but it's hard in the immediate aftermath of something so public."
Vanessa also admits that watching the season at home was a "cringey" experience. "Post-filming and during filming, I did a lot of reflection, and of course, watching it brings back a lot more memories," she adds. "My main takeaway from watching it is that I recognize what a strong, overwhelming personality I can be, and I totally get that people are thrown off by me. But I was in this pot with people who didn't necessarily enjoy my presence — they gave me a really hard time — and I learned to survive through that. So, I think I'm proud of myself."
Still, she and the other three Ultimatum stars are currently single — and definitely no longer dating each other.
This article was originally published on