Are Nick & LC Together After Perfect Match?
A former Bachelorette entered the chat.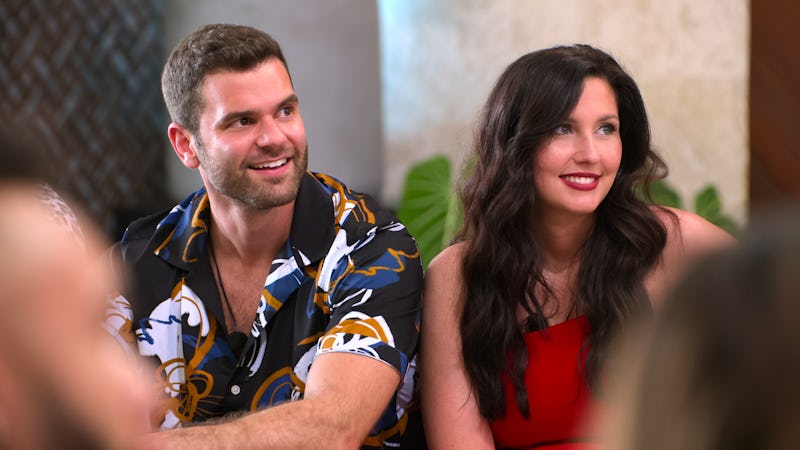 Netflix
Perfect Match aired its final batch of episodes on Feb. 28, which means it's time to start sleuthing to see which couples are still together and which parted ways after leaving Panama. Some stars made a lasting commitment to each other (Joey Sasso and Kariselle Snow literally got engaged), while others ended the show in firmly casual territory. As it turns out, Nick Uhlenhuth and Lauren "LC" Chamblin belong to the latter category.
After starring in The Circle and Love Is Blind, respectively, Nick and LC made their way to each other late in the competition on Perfect Match. That's the nature of the game, as new singles were constantly filtering in. However, LC was the very last to arrive — and though she said she was already into Nick from afar, they didn't have long to build a connection.
During Episode 12, Nick said he was concerned about them living in different states. "It's just, like, an extra roadblock on top of not really having too much time to get to know each other yet," he said. But LC didn't seem too worried about that. "I really hope that we can figure it out outside of here," she said.
"I do think that there is potential there, but right now, like, I can't say you're my perfect match," Nick answered.
The couple didn't try to force anything — and by the end of the final episode, Nick said, "it would be kind of ridiculous" to say they're a perfect match. By that point, LC said she agreed with that. "Yeah, I think it would be kind of insane for us to be like, Perfect match. He's the one," she explained. "I'm not gonna say something that I don't feel is genuine. And I'm not saying it just 'cause we're here."
While Nick and LC ended the show on good terms, and they didn't seem to have a strong romantic connection, have things progressed between them since filming?
It doesn't seem likely. They do follow each other on Instagram, but there aren't any hints about a potential relationship. In fact, quite the contrary: in a post about the Perfect Match cast at Netflix's Your Place or Mine premiere in February, Nick used a cropped photo in which LC didn't appear (even though she was at the event and posted about it herself). It's likely a total accident — but it's also not a great indicator that there's anything going on between the pair.
An even more compelling clue about Nick and LC's relationship status after Love Is Blind? Recent speculation that Nick might be dating Bachelorette alum Katie Thurston, after Nick appeared in her birthday Instagram post on Jan. 3. The pair also reportedly shared a New Year's kiss, according to reality TikToker @zacharyreality.
Nick and Katie posed together in photos on his page, too. Katie's comment? "Starting off 2023 with a bang 🙌."
Katie has also commented on several of Nick's more recent posts — praising his sense of humor in one and saying she was proud of him in another.