Nicole & Chris Hinted They're Still Together After Married At First Sight
Here's everything we know about the couple so far.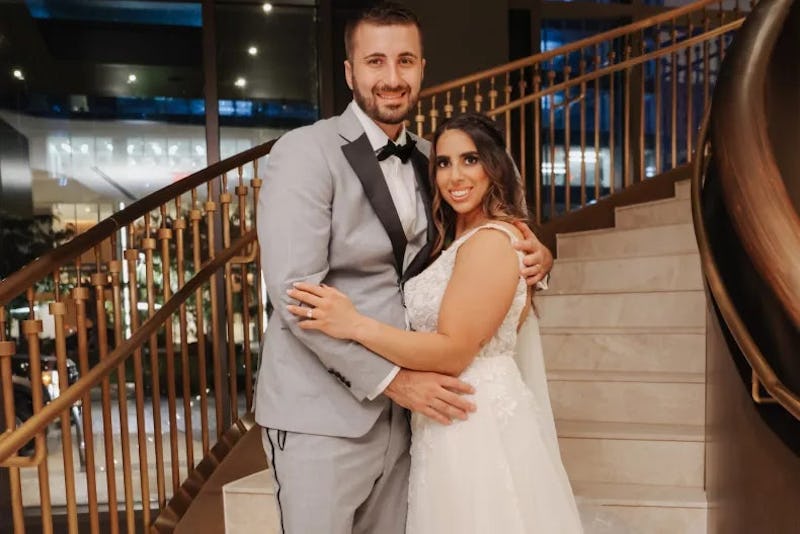 Haley Maria Smith Photography/Lifetime
As far as weddings go on Lifetime's Married at First Sight, Season 16 couple Nicole Lilienthal and Christopher Thielk's big day was surprisingly romantic. From exchanging similar wedding gifts to their seemingly effortless first conversations, the duo quickly became a fan favorite to go the distance among the season's five new pairs. Though Decision Day is still several weeks away, it seems viewers were on the mark, and Nicole and Chris are still together in 2023 — or are at least on good terms.
Though Nicole's Instagram is currently set to private, there are some small clues on Facebook. Not only are she and Chris, 36, friends on the social media platform, but when the Nashville-based business coach changed his profile photo on Jan. 7, Nicole, 32, was among those who "liked" his Facebook post. While that may not be a clear sign that Nicole and Chris are still married, that isn't typical behavior for someone who went through a nasty split or divorce.
One thing that they had going for them on MAFS is that they're both Nashville transplants who are looking to find "true love." Chris, whose bio highlights that he's "ready for marriage," relocated from Chicago to start a new chapter but he hasn't had an easy time meeting people due to the challenges of the COVID-19 pandemic. Meanwhile, Nicole spent the first 30 years of her life in New York City before she "had enough of the toxic energy and even more toxic dating scene" and relocated to Tennessee for a change. Her timing wasn't great either though: She moved there in the midst of a devastating tornado and pandemic-related lockdowns, which also prevented her from getting to enjoy her new city.
Regardless of where Nicole and Chris stand today, their MAFS journey will still be filled with some bumps in the road, beginning with their wedding day. In People's preview of the Jan. 18 episode, Nicole's father, Mark, had some tough questions for Chris. "My biggest concern, of course, as the father is how are you gonna treat my daughter?" he asked Nicole's new husband before adding to his list. "My concern, of course, is who is this person gonna be? Are you a criminal? Are you a scam artist? Are you, you know, just a bad person?"
Chris, for his part, attempted to alleviate some of Mark's fears, describing himself as a "very local and committed person" who's ready to be married. Nicole's dad still had some concerns though. "It's gonna be easy [now], you're gonna go on a honeymoon now... this is great, this is fun," Mark replied. "But life's gonna get in the way. Where you gonna live, what are you gonna do? ... Life is hard anyway. Are you willing to work on that hard life together?"
Viewers will see those challenges play out on MAFS. In one scene from the Season 16 trailer, Nicole asks Chris, "Do you love me yet?" to which he responds, "Not yet." Only three episodes in, there's still a lot left to play out in the eight-week social experiment though.