Sam & Aussie Confirmed They're Still Engaged After The Ultimatum
The Queer Love couple revealed their relationship status during the reunion special.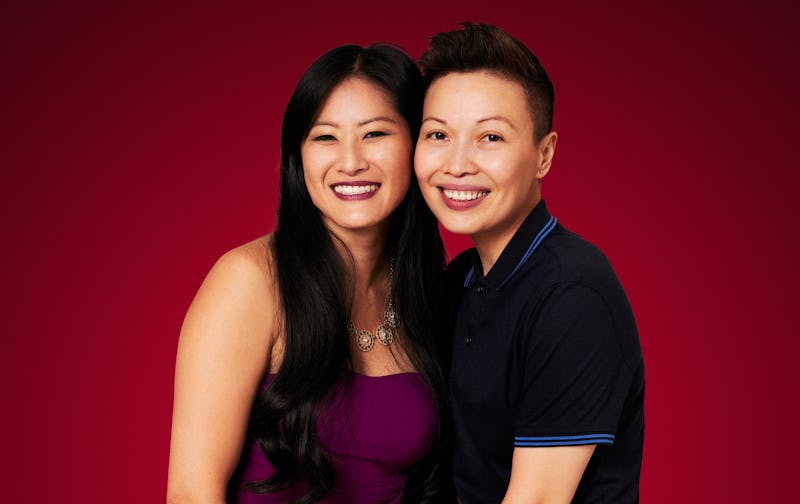 Simone Thompson/Netflix
After first meeting in an online LGBTQ+ group during the pandemic, The Ultimatum: Queer Love's Sam Mark and Aussie Chau took their romance offline. One and a half years later, Sam, 31, was ready to get engaged, but her 42-year-old Australia-born partner was on a different timetable. "I want to live with you for five years, and if this is meant to be, where I want to go to that marriage state, then I'm open to it," Aussie explained in the Netflix reality series. Prior to Ultimatum Day, it still was unclear if Sam and Aussie were going to stay together, though.
Despite being a decade younger, Sam was often the voice of reason and emotional support for Aussie and prioritized her partner's needs over her own. Though the couple had been together for well over a year, Aussie, who's still processing some childhood trauma, hadn't introduced Sam to Aussie's "pretty close-minded" family yet. The couple's primary issue related to communication. On the final night of their three-week trial marriage, Aussie temporarily walked out, just as Aussie had done to Mildred Bustillo during the first trial marriage phase. "What I can tell you with certainty is that this is not what I want in a marriage," Sam said in Episode 8.
Though Sam told Aussie in the Queer Love finale their three-week trial marriage was marked with several moments of Aussie "walking away," they left the show engaged after filming wrapped in November 2021 and were still together when the reunion taped in January 2023.
During the reunion taping, the couple revealed that they still haven't gotten married, though. Sam, who still hadn't met Aussie's family, even joked that Aussie look like a "deer in headlights" when she reminds her partner that being engaged means that a wedding comes afterward. Though they still have yet to announce their engagement to their families, Aussie revealed plans to have a wedding ceremony in Australia and another in the States "so everyone can attend."
Prior to the reunion airing, Sam and Aussie had given mixed clues about their relationship status, though. For starters, they didn't follow each other on Instagram — though they do now — nor were there any signs of each other on their respective accounts outside of show promo. That being said, neither shares much personal info on social media anyway.
On March 7, Sam, who primarily uses Instagram to promote her work as a certified tarot advisor and healer, posted about having just "experienced some of the lowest lows" she could remember in years, however. "That feeling of absolute overwhelm and hopelessness and just wanting to give up. Instead of continuing on that path, I made the choice to transmute my anger, my grief, and my sadness into one of hope, empowerment, and creative freedom," the Glendale, California, resident captioned her post. "The hope I was able to find inside of me while everything felt like it was crumbling and breaking me down to my knees manifested right before my eyes and ears."
Despite the cryptic post, Sam and Aussie seemed to confirm they're still together at a Netflix Pride event on May 11. Though all of the other original couples stood separately in the cast group photo, Aussie's arms were around Sam. While it isn't definitive proof, they were hardly the picture of an ex-couple that had gone through a messy breakup.
Meanwhile, Aussie's Instagram primarily consists of re-posts relating to social justice advocacy and psychology. On May 25, Aussie reflected on The Ultimatum filming experience. "It still feels surreal that I was part of Netflix's first queer reality dating show," Aussie wrote. "I'm not a reality tv kind of person but felt an inner calling to do this. It took a lot of courage to step outside of my comfort zone and I'm grateful that I did. I was 100% committed to the process & gave it my all. I'm proud of my fellow cast members for doing the same."
This article was originally published on