Tiff & Mildred Had A Messy Breakup After The Ultimatum
Things got heated between the exes at the Queer Love reunion.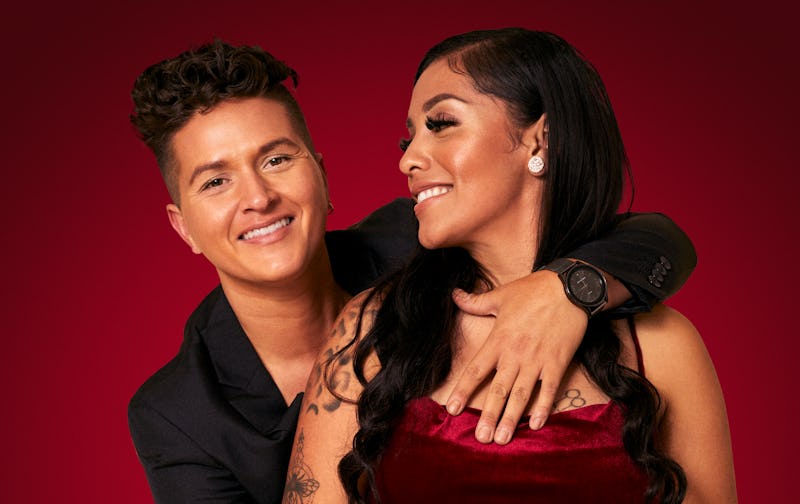 Simone Thompson/Netflix
Following a painful divorce from her wife, The Ultimatum: Queer Love's Mildred Bustillo found what she was looking for when Tiff Der slid into her DMs. After two years of dating, Mildred, 33, issued an ultimatum on the Netflix series: "We either get engaged, or we're done." Despite their strong connection, Tiff, 32, still had some major reservations about marriage based on their constant arguing and larger communication issues. Heading into Ultimatum Day, Tiff and Mildred's relationship remained on shaky ground.
After castmate Aussie Chau left their trial marriage early, Mildred reunited with Tiff. By the final night of their trial marriage in Episode 8, Tiff noted a change of heart. "Coming into this experience, I wasn't deeply thinking about marriage, and all of a sudden, now I actually am thinking about marriage with you," they said. The conversation went left when the topic turned to Mildred's first marriage, and Tiff admitted it was "very scary" that Mildred was "never in love with" her ex-wife but married her anyway.
The conversation devolved into an argument, but the mom — whose son was 16 when filming took place in late 2021 — remained steadfast. "I know that right now I'm solid, and I know what I feel," Mildred said. "And if that's something that is not enough for you, then maybe that means you're not the person I need to marry." Though Tiff and Mildred got engaged in the Queer Love finale, by the time the reunion filmed in January 2023, they revealed they broke up in September 2022 and were "not on speaking terms" anymore.
After moving in together, Mildred said that there were "no plans for the future" or wedding talk, and she felt they'd fallen "right back into the same thing where we're not serious about our future." So, Mildred eventually moved out of their home. Tiff, for their part, cited their "overall unhealthy relationship" for the split. When host JoAnna Garcia Swisher asked what the breaking point was, Mildred, who also cited financial disagreements, shared that she was arrested after throwing a picture frame and pet gate during a domestic incident with Tiff. When the police took her engagement ring off, she says she never put it back on. Tiff also admitted to having a problem "connecting with" Mildred's son.
As the conversation turned increasingly heated, Tiff eventually walked off stage and never returned. On June 7, Tiff reflected on their breakup and the Queer Love reunion. "Although the reunion felt like a bandaid that got ripped open to a snapshot of what my daily relationship life looked like, I also left the stage because I realized it's not my battle to fight anymore," they wrote. "I can only be pushed away so many times before I won't return. I have healed tremendously since September but it's not a linear process. It's crazy how one may have zero feelings left, but can still walk around completely lost while trying to pick up crumbs to their own worth. I am healing. I am enough. But never again."
While their first trial wife, Sam Mark, comforted them outside, castmate Yoly Rojas is the one who went to bat for Mildred. "Being a fellow Latina, there's a big stereotype of us being loud, spicy, combative, etc. I didn't like the way people were talking over her," Yoly, who says she no longer speaks to Tiff, tells Bustle. "She's explaining her side of the story, and I'm hearing it as open as can be. That just didn't sit well [with] me. She can't necessarily pop off because now she looks combative and crazy and spicy. So it just made sense for me to speak up a little bit, at least for her."
In the months that followed the reunion, it doesn't seem that Tiff and Mildred reconciled. For starters, they don't follow each other on Instagram, and what's more, there are no photos or further signs of each other on their accounts.
Regardless of whether or not Mildred is now single — the mom did post about a "date night" in January — she captioned an April Instagram photo, "Current status: Happy." After celebrating an undisclosed business success in Puerto Rico the same month, the Long Beach, California-based Zumba instructor posted some cryptic social media captions. "Healing yourself can be offensive to people that benefited from your brokenness," Mildred wrote on April 28. Days later, she posted another Instagram caption that read, "I hustle harder when my feelings are hurt. You will never find me where you left me at..." After The Ultimatum premiered in May, Mildred joked that she was "eating [her] feelings" while watching the first batch of episodes.
Tiff, for their part, has been living more than 100 miles away in San Diego, where they co-host the "unfiltered" weekly Fweebs Podcast with Karina Gonzalez. In November 2022, Tiff posted a telling Instagram caption of their own. "This is the part where the smiles become more frequent, life tastes a bit more sweet, the sound of laughter plucks my heartstrings, and I can start to see bold colors of love and life spill onto a blank canvas — a new beginning having the freedom to create it the way I want," Tiff wrote. "Not because the world and circumstances around me have changed yet, but rather because I'm on my way by constantly changing the way I choose to look at them. I will manifest."
If you or someone you know is experiencing domestic abuse, call 911 or the National Domestic Violence Hotline at 1-800-799-SAFE (7233) or visit thehotline.org.
This article was originally published on