Saoirse Ronan's Boyfriend Jack Lowden Is Her Biggest Fan
We love a supportive king.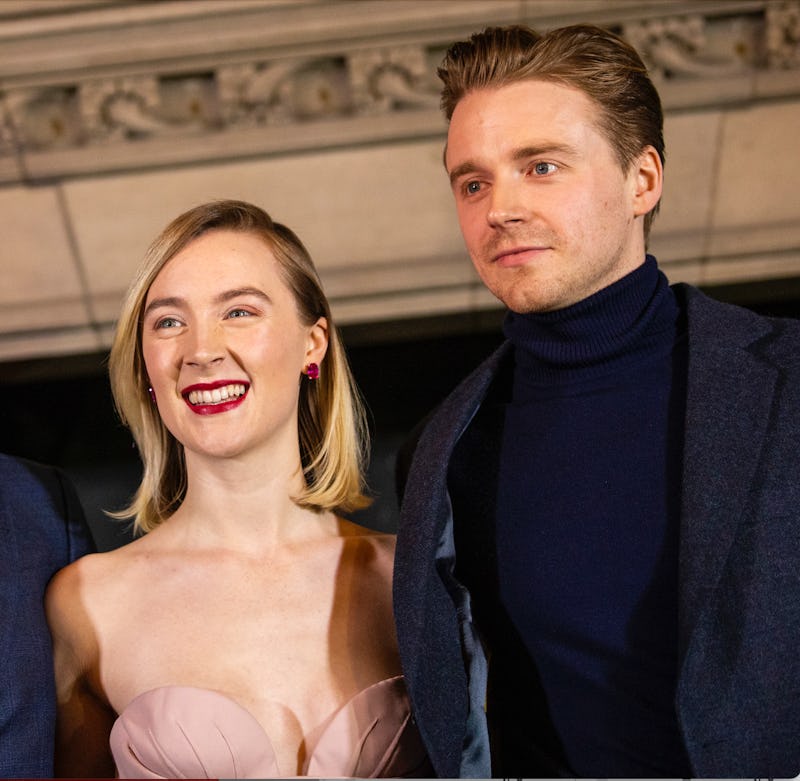 Getty Images
Following his starring role alongside Saoirse Ronan in Mary Queen of Scots, Jack Lowden has quickly become one of Britain's most sought-after actors. Rumoured to be a potential choice for the next James Bond, the actor stars opposite Gary Oldman in the AppleTV+ thriller Slow Horses — which just so happens to be about a team of British Intelligence agents.
While he remains hush-hush on whether Bond's casting director, Barbara Brocolli, has made that all-important call, there is one thing he seems to be more open about: his connection to Ronan. Rumoured to have started dating shortly after Mary Queen of Scots premiered, the couple hasn't officially announced that they're, well, a couple. But thanks to Lowden's social media, it would seem they've made it Insta official at least.
If you've become unknowingly invested in the couple since their performance as husband and wife in Mary Queen of Scots, read on to find out how their relationship has continued to blossom.
December 2018: Rumours Start To Circulate
Rumours of a relationship started circulating in December 2018 when Ronan and Lowden were seen together at an afterparty for Mary Queen of Scots in New York, according to Page Six. "We don't know when they got together, we only found out on Tuesday night when they rolled up together — but they seem very happy and sweet," a source told the publication.
January 2019: Spotted At A Glasgow Pub
The film celebrations continued well into 2019, when Ronan and Lowden were seen at a local Glasgow pub, The Laurieston, during its opening weekend.
May 2019: The Met Gala Dress
May 2019 marked the first of many snaps Lowden started sharing of Ronan on social media. Alongside a picture of the Irish starlet wearing a gorgeous full-length Gucci gown, Lowden wrote: "Met Gala casual."
https://www.instagram.com/p/BxJvzMQg2mI/
August 2019: Hanging With The Crew
Congratulating his pals for creating the dance company Balletworks, Lowden shared a snap of him and the crew, which featured a sneaky appearance from Ronan.
https://www.instagram.com/p/B06k4sNA-gI/
June 2019: Edinburgh Film Festival
In June 2019, Lowden shared a photo of Ronan standing outside Edinburgh Castle as they attended the Edinburgh Film Festival, which he also happened to tag in the photo (Ronan isn't on social media).
https://www.instagram.com/p/By8Zi_UAsAR/
June 2020: "I sea ya good lookin…"
During a visit to the port town of Leith, the actor posted a picture of his beau looking out to sea with the pun-tastic caption "I sea ya good lookin…"
https://www.instagram.com/p/CBGTVdCATxT/
September 2020: Jack Lowden Spotted By Saoirse Ronan's Flat
As reported by the Daily Mail, Ronan and Lowden were seen near her West London flat in September 2020, where they "took time to relax in a park before sitting down outside a Notting Hill bakery."
February 2021: "La Resistance"
In February 2021, Lowden shared a rare photo of Ronan looking directly at the camera. "La Resistance," he wrote to accompany a distinguished looking Ronan dressed all in black while holding her sunglasses.
https://www.instagram.com/p/CLbsMhsgmPz/
June 2021: Euros Preparation
In June 2021, Ronan and Lowden prepared for the Euros match between England and Scotland by hilariously recreating a scene from Braveheart. "Some of the best horse acting I've seen," The Crown's Josh O'Connor said in the comments.
https://www.instagram.com/p/CQQVVcfCJ6a/?utm_source=ig_embed&ig_rid=df559c5e-14b6-48dd-8fc6-20c0a116eba1
October 2021: Out and about in London
Following the opening night of Lady MacBeth, Ronan and Lowden were spotted taking an autumn stroll in the streets of London. "They have been together for a while now and looked very relaxed in each other's company," a source told the Daily Mail. "As Jack was talking, Saoirse seemed very engaged in what he had to say."
Later that month, the couple were seen together after Ronan finished a performance of Lady Macbeth at the Almeida Theatre.
January 2022: Night Out
In January 2022, Lowden shared a snap of him and Ronan on what looks to be a fun night out with some friends.
https://www.instagram.com/p/CYbLzaNgW4q/
January 2022: Australian Open Date
The beginning of 2022 also marked Ronan and Lowden's first public appearance together as a couple, where they were seen attending the Australian Open. This comes after Ronan was cast in the Amazon Studios sci-fi thriller Foe, which is shooting down under.
https://twitter.com/TennisHQ_/status/1487359950535995397
January 2022: Jack Lowden sharing news that Saoirse is starring in a film he's producing
On January 31, Lowden revealed that Ronan will star in an adaptation of Amy Liptrot's memoir The Outrun. Directed by Nora Fingscheidt (The Unforgiveable), Lowden is also listed as a producer with his new production company Arcade Pictures per The Hollywood Reporter.
This article was originally published on